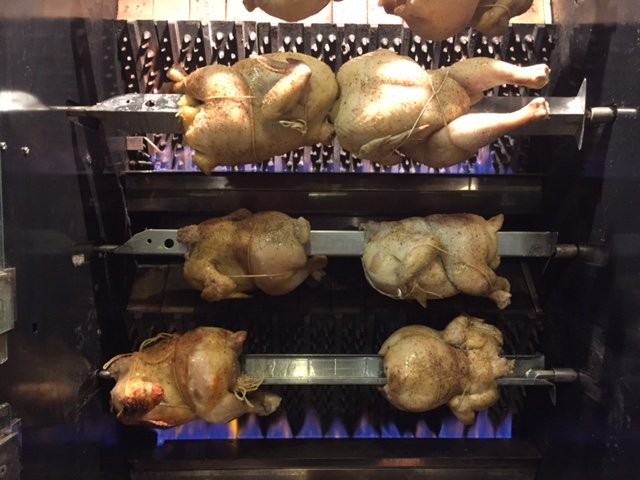 Welcome to the Mid-Week Menu, our roundup of East Bay food news.
1) As
previously reported
, the folks behind nearby Tigerlily have taken over the Epicurious Garden's former vegan spot, the Source Mini, and rebranded it as a salad bar and rotisserie. Now, the new restaurant —
Herb n' Chicken
(1511 Shattuck Ave., Berkeley) — is softly open for business and will serve a limited menu until its official grand opening on Friday, October 2. Overseen by Tigerlily sous chef Josh Gjersand, the menu will feature
Rosie organic chickens
cooked whole on the rotisserie, handcut fries, and an assortment of salads, including a build-your-own option. Herb n' Chicken — did you catch the pun? — is positioning itself as a healthy grab-and-go option for Cal students and families in the North Berkeley area.
[jump] 2) Office workers in the Jack London district have a new casual, inexpensive lunch option: Steel Rail (439 Water St., Oakland), a sandwich shop with a reggae soundtrack, is now open,
Inside Scoop
reports. Check out the
menu
, which covers all of the typical cafe-deli territory with its selection of soups, salads, and sandwiches — for me, the muffuletta is the one that immediately jumps off the page. Lots of California beer and wine on tap.
3) Victory Point Cafe (1797-A Shattuck Ave.), Berkeley's first board game cafe, is open for business,
Berkeleyside Nosh
reports. Admission is $5 a pop — to stay and play as long as you'd — and the
menu
consists of snack bowls, baked goods, a handful of sandwiches, plus the full spectrum of coffee drinks.
Meanwhile, over in Old Oakland, the Endgame board game shop's
new cafe expansion
is "about 90%" ready, with construction entering its final stages, according to a recent
Kickstarter update
. Look for a soft opening sometime in October.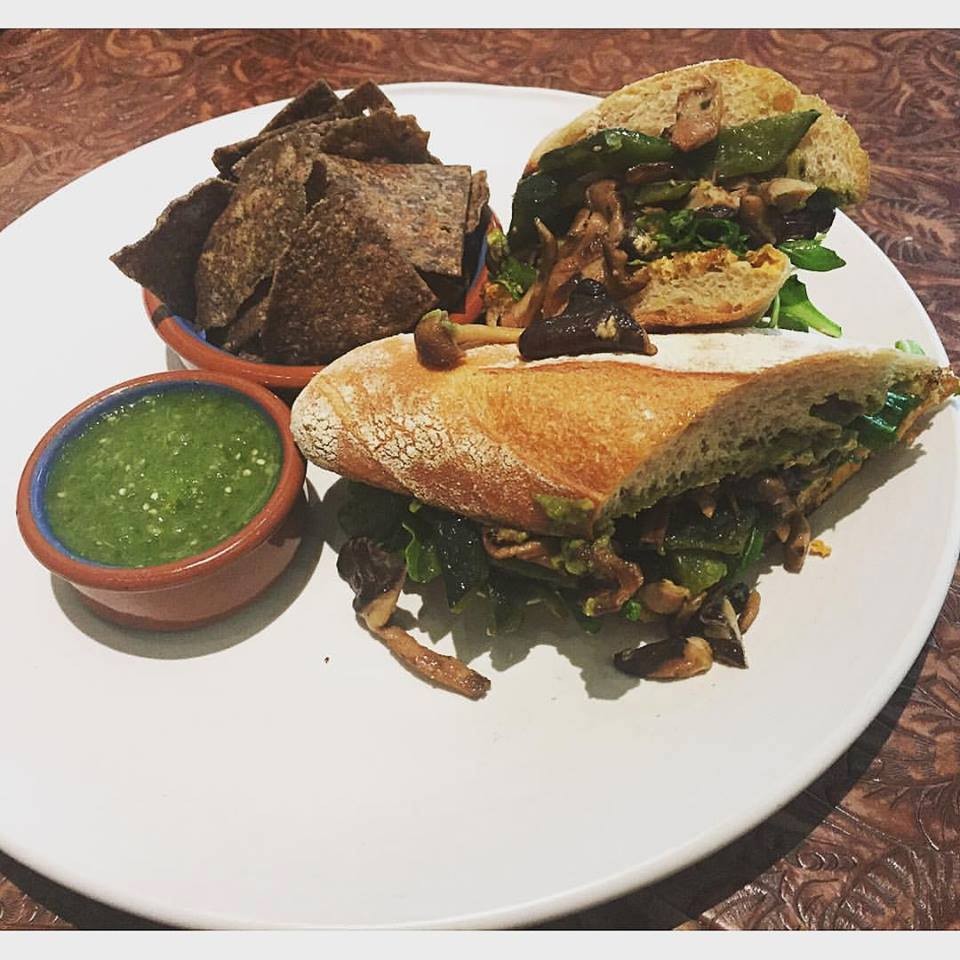 4) Calavera (2337 Broadway, Oakland), the subject of last week's
restaurant review
, has launched both
lunch and brunch service
within the past couple of weeks. For lunch, the main menu addition is a couple of $13–$14
tortas
, served with a side of the restaurant's excellent housemade chips. Brunch, served 10 a.m.–3 p.m. on both Saturday and Sunday, will feature a handful of egg dishes, such as an enchilada dish with a 63-degree egg, and a version of
chilaquiles
.
5) As previously
noted
, the folks behind the Ñora Spanish Cuisine caterer and mobile paella vendor — a fixture at Bay Area food festivals — are opening a brick-and-mortar tapas bar called La Marcha in the former Tomo's Japanese Cuisine space at 2026 San Pablo Avenue. The latest update:
Inside Scoop
reports that the restaurant will offer complimentary bites with the purchase of a drink during its two happy hour periods — on in the late afternoon and another just before closing. Look for a mid- to late-October opening.
6) In other news of mobile operations going brick-and-mortar,
Berkeleyside Nosh
reports that Brittany Crepes and Galettes — whose stand you can find at,
among other places
, the Grand Lake, Temescal, and Montclair farmers' markets in Oakland — has taken over the former Wrap N' Roll location at 913 University Avenue in West Berkeley. That's great news for crepe lovers, but let us take a minute, too, to mourn the passing of
Wrap N' Roll's awesome kathi roll
, which, sadly, I hadn't gone back to try in far too long. Hopefully, the creperie will do better in that somewhat out-of-the-way location.
7) Here's a novel, community-minded recipe contest: The HOPE Collaborative is sponsoring a
"Corner Store Chef Challenge"
that will give chefs — both pros and amateurs — the opportunity to come up with recipes for healthy, delicious dishes that can served at corner stores in East and West Oakland for less than $5. It might be a little late to submit unless you already have something up your sleeve (the deadline is 5 p.m. today), but everyone's invited to
buy a ticket
for the culminating event, held on Monday, October 5, 5–8 p.m. at Oakland's Humanist Hall (390 27th St.). Chef-restaurateur Charlie Hallowell (Pizzaiolo, etc.) will MC, Sarah Kirnon (Miss Ollie's) will serve as judge, and all guests will have a chance to taste and vote for their favorite dishes.
Bay Area Bites
has additional details about the event.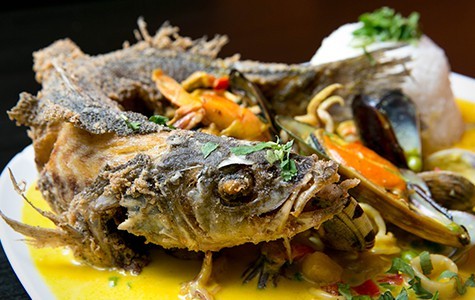 8) You've heard of the Oakland and Berkeley incarnations; now, the city of El Cerrito is hosting its very first
Restaurant Week
, from Thursday, October 1 to Sunday, October 4. It might be a good time to check out some of the outstanding Peruvian dishes at
El Mono
(which is offering a 15 percent discount) or to perhaps pay a visit to interesting regional-Chinese newcomer
Noodles Fresh
(which is offering free appetizers with the purchase of an entrée).
9) Oktoberfest is coming up, and for those looking to make merry — and drink plenty of beer — this weekend,
Diablo Dish
has a nice roundup of East Bay celebrations, including
Oaktoberfest
, on Saturday, October 3, in Oakland's Dimond district, and the
Oakland Nature Friends Festival
, up in the Oakland hills, on Sunday, October 4.
10) ICYMI, I wrote about what is likely the
first whiskey distillery
to open in Oakland since Prohibition. Last but not least, this week's issue of the Express is our biannual
Taste edition
, and it's a doozy, with stories about
al pastor tacos in Richmond
,
teahouses in Berkeley
,
decadent vegan desserts
, and much, much more.
Got tips or suggestions? Email me at Luke (dot) Tsai (at) EastBayExpress (dot) com. Otherwise, keep in touch by following me on Twitter @theluketsai, or simply by posting a comment. I'll read 'em all.