Welcome to the Mid-Week Menu, our weekly roundup of East Bay food news.

1) Great news for fans of Berkeley's Great China (2190 Bancroft Way): Nearly two years after a grease fire shut down the popular Chinese restaurant, and after a long series of delays and false starts, the owners have announced — via the latest message on the restaurant's answering machine — that Great China will likely reopen this week, sometime between Wednesday, December 11 and Saturday, December 14. We know we aren't the only ones who have looked forward to being reunited with the restaurant's sublime Peking duck, "double skin" noodles, and other regional specialties. Note that Great China is now located around the corner from its fire-damaged Kittredge St. location, in a newly remodeled space last occupied by a Looney's BBQ.


Berkeleyside Nosh
has additional details about the new space and updated menu (including new tea and dessert programs). Check the restaurant's
Facebook page
for the exact opening date.
ETA: Looks like their first official day back in business is going to be Monday, December 16, starting at 11:55 a.m.
[jump]
2) Barkada (4316 Telegraph Ave., Oakland), one of my favorite new bakery-cafes — and purveyor of one of the best chocolate croissants in the East Bay — recently launched its new weekend brunch program, which is set up to highlight pastry chef/owner Christina Bondoc's breads and other baked goods. So, there's a burger served on house-made olive oil brioche buns and a corned beef eggs benedict served on house-made english muffins. The brunch menu also features gluten-free crepes and French toast made with Community Grains whole-grain levain. Brunch service is from 8:30 a.m. to 3 p.m. on Saturdays and Sundays. Barkada also now serves dinner every night; the November menu posted on the cafe's website includes such dishes as grass-fed beef bourguignon and pizza topped with rabbit sausage from Hog's Apothecary.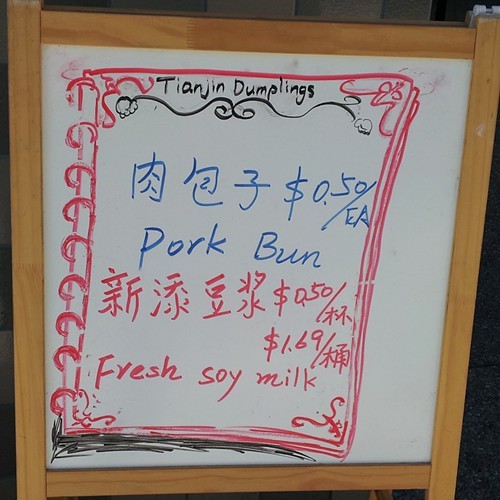 3) I ask, and I receive: Just months after I observed that fresh soy milk was the one menu item Oakland Chinatown's
Tian Jin Dumplings
(989 Franklin St.) needed to add to become the perfect breakfast takeaway spot (especially for these cold December mornings), what do you know? The takeout window now offers hot soy milk, delivered to the shop fresh daily, available either sweetened or plain. I haven't had a chance to try it yet, but given that the soy milk is priced at just $0.50 a cup (are you kidding me?), you can bet I'll be making my next a.m.
jianbing
run sooner rather than later.
4)
Tablehopper
reports that a new bar called Drexel is coming to Uptown Oakland, at 382 19th St. Features will include a back mezzanine area with skee ball and, possibly, shuffleboard. ETA is February 2014.
5) A new Korean restaurant called
Gogi Time
(2600 Telegraph Ave.) is now open in Oakland, according to
Tablehopper
and a post on the restaurant's
Facebook page
. The
menu
is split between Korean barbecue and Chinese hot pot, each with an all-you-can-eat option.
Galeto Brazilian Grill
, that is apparently in the works in Old Oakland, at the former location of
LCX Noodle House
(
1019 Clay St.
). Details are slim, but based on the name of the restaurant and the photo on its
Facebook page
, it would appear that Brazilian-style charcoal-grilled chicken will be prominently featured. Meanwhile, a phone call over to
Le Cheval
(1007 Clay St.), the LCX's sister restaurant down the block, confirmed that the noodle house has been shuttered and that the its menu offerings have been folded into the larger restaurant's menu — but apparently only during lunch hours (before 4 p.m.).
7) The
San Francisco Business Times
reports that
Smashburger
, the Denver-based fast-food chain, is planning to open a whopping nine new locations in the East Bay, possibly starting with one at the intersection of San Pablo Ave. and 40th St. in Emeryville. Local burger joints that use an approach very similar to the chain's signature "smash-and-griddle" burger-cooking technique include Oakland's Trueburger and Alameda's Baron's Eats, so we'll see if the chain will be able to distinguish itself in the market. (HT
Eater
.)
8) It's been a while since we've done an update on the latest East Bay bagel news. A couple of tidbits: First, apparently
Beauty's Bagel Shop
bagels are
now available
Tuesday through Friday at Downtown Oakland's
Awaken Cafe
(1429 Broadway). Good to know. Meanwhile, over in the Jack London neighborhood,
Authentic Bagel Company
(462 2nd St.) has
expanded its hours
— the bagelry is now open for retail business five days a week, Thursday to Monday, from 8 a.m. to 3 p.m. Also, I'm not sure when this started, but ABC bagels and other assorted baked goods are now available on
Good Eggs
.
9) ICYMI, an
Oakland-based startup called Kuli Kuli
is bringing moringa, a West African "superfood," to the Bay Area, in the form of a nutritional bar.
Got tips or suggestions? Email me at Luke (dot) Tsai (at) EastBayExpress (dot) com. Otherwise, keep in touch by following me on Twitter @theluketsai, or simply by posting a comment. I'll read 'em all.