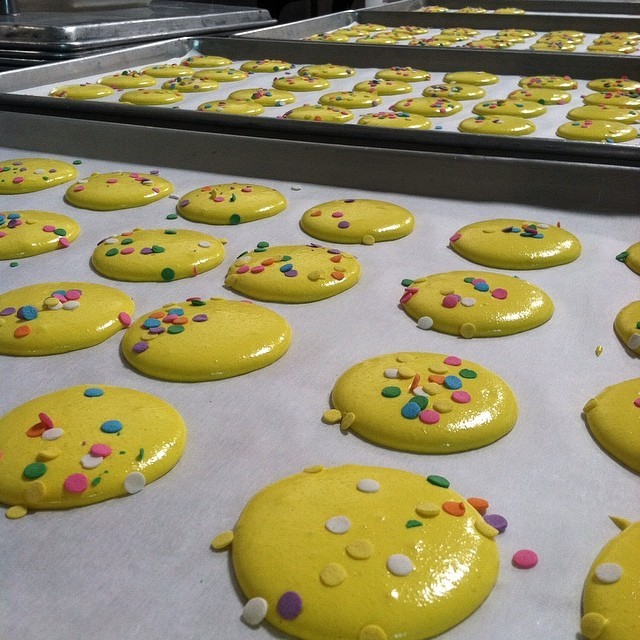 Welcome to the Mid-Week Menu, our roundup of East Bay food news.
1) The proprietor of
CupKates
, the popular mobile cupcakery — and one of the OGs of the Bay Area's recent food truck renaissance — has opened her first brick-and-mortar bakery in Berkeley.
Stateside Bakery
(3001 Telegraph Ave., Ste. E)
softly opens today
, November 5, at 11 a.m. We've reached out to owner Kate McEachern for additional details, but it sounds like the focus will be on wholesome, updated versions of the snack cakes and other classic American desserts made by companies like Hostess and Little Debbie.
[jump] As McEachern explained in a recent
Facebook post
, "We started to wonder how much we could improve upon a Twinkie by using Madagascar vanilla beans and fresh Clover Farms dairy; or an Oreo made with the finest French Valrhona chocolate. (A lot, as it turns out.)"
2) In other bakery news, we finally learned the fate of the former Slow space at 1966 University Avenue in Berkeley:
Berkeleyside Nosh
reports that Chris Blue (the proprietor of Chocolatier Blue next door, and one of Slow's investors) and his wife Jess Steeve have reopened the restaurant as
A Dora Pie
, a pie shop. A Dora Pie also serves Flying Goat coffee, and savory lunch- and dinner-time pies will be added to the menu to go along with the eventual wine and beer offerings.
3)
Tablehopper
has the scoop on a new restaurant that Doug Washington (the proprietor of Oakland's Grand Fare and several San Francisco restaurants, including Town Hall) is opening at 1542 Broadway in Downtown Oakland. The restaurant will be called OK Falls, after the area in British Columbia where Washington's relatives live. Chef Rebecca Boice — formerly of
Toast Kitchen + Bar
— will put together a menu of California-inflected Italian-American dishes. And Tablehopper notes that there will be an actual wood-shingled cabin in the middle of the dining room, set aside for private parties and special events.
It would appear that the unspoken casualty of the new project is Oakland-based urban farmer Abeni Massey's hyperlocal farm-to-table restaurant, Township, which had originally been planned for that downtown location — and, as recently as this past March, was
reported
to be opening within a matter of weeks. It's unclear at this time whether Township, the beneficiary of a $20,000
Kickstarter campaign
, will put down roots at a new location.
4) Haggis and spotted dick connoisseurs, take note:
The Growlers' Arms
, the upscale British-style gastropub that took over the former Marzano spot in Oakland's Glenview neighborhood, is open,
Inside Scoop
reports. You can check out a sample menu
here
.
5) For those on the hunt for lunch deals,
Build Pizzeria Roma
(2286 Shattuck Ave.), Berkeley's
build-your-own-pizza spot
, has launched a new lunch special: a personal pizza with unlimited toppings for $7.95.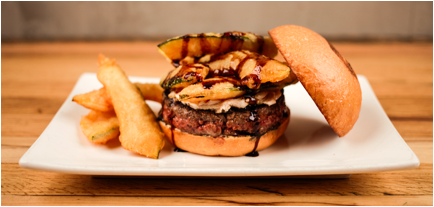 6) The Bay Area's
Umami Burger
locations have succumbed to America's unquenchable, "basic" thirst for pumpkin spice lattes: The Oakland branch (2100 Franklin St., Ste. 2190) will be among those serving the newly launched Pumpkin Spice Latte burger: a beef patty topped with kabocha squash tempura, garlic aioli, spiced mascarpone, and a coffee glaze. Try it today for $4; after that, the price jumps up to $12.
7) Oakland's
Anasa Yoga
(4232 MacArthur Blvd.) is wrapping up this year's
Fusion of Food and Yoga series
with an event on Saturday, November 8, from 2-5 p.m., that will feature food and conversation with Jocelyn Jackson of the Oakland-based catering company
Grace Hearth
. Tickets are $40.
8) Attention all environmentally-conscious artists:
Gather
 (2200 Oxford St.) is commissioning "a very Berkeley piece of artwork," as
Inside Scoop
puts it: Artists are asked to submit proposals for a piece of art that will be made using all of the wine corks that the restaurant has been saving for the past five years. The winner gets a $500 budget and a $250 gift certificate to the restaurant. Submit sketches and narratives to
[email protected]
9) Finally, ICYMI, Old Oakland is getting a
new "geek" cafe
that will serve coffee late at night, and I offered my picks for
great dim sum
in Oakland and beyond.
Got tips or suggestions? Email me at Luke (dot) Tsai (at) EastBayExpress (dot) com. Otherwise, keep in touch by following me on Twitter @theluketsai, or simply by posting a comment. I'll read 'em all.