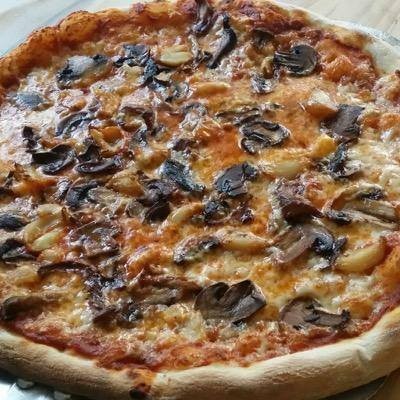 Welcome to the Mid-Week Menu, our roundup of East Bay food news.
1) Buma's (325 19th St.) — the
New York-style pizzeria
that chef Jon Kosorek has planned for the same tiny Uptown Oakland spot that housed his previous restaurant, Marrow — is now open for business,
Inside Scoop
reports. On the menu: slices, whole pies, a couple of salads, and — just in time for the Super Bowl — chicken wings (available in plain, hot, or "curry teriyaki").
[jump] 2) As we
first reported
last year, the idea behind downtown Oakland's Analog (412 14th St.) was to create a restaurant and bar that celebrated old-school technologies: VHS cassette tapes, record players, cathode-ray-tube television sets, and so forth. After some delays, the place is finally open.
Inside Scoop
offers a first look at the sandwich-heavy, highly vegan-friendly menu, which features plenty of seitan but also versions of a Reuben and a BBQ pulled pork sandwich to satisfy the meat eaters. A vegan Sunday brunch is also in the works.
3) Also open in Oakland:
Old Brooklyn Bagels'
new cafe and bakery located at 2228 Broadway in the prominent Uptown Oakland corner spot formerly occupied by Bakesale Betty. Similar to the shop's
Rockridge location
, the focus is on bagels, bagel accoutrements, and an assortment of hot and cold sandwiches. The Uptown cafe also serves burgers and a full breakfast menu.
4) A new Cali-Indo-Asian restaurant called
Tigerlily
(1513 Shattuck Ave.) in Berkeley's Gourmet Ghetto opened "ninja-like," with no prior announcement, early in the New Year, according to
Inside Scoop
and
Berkeleyside Nosh
. Located in the former Mint Leaf space in the Epicurious Garden, the restaurant serves Indian and Asian fusion dishes with an emphasis on seasonal California ingredients — tandoori squid on squid-ink
naan
,
tikka masala
-inspired fried chicken, Meyer lemon congee, and so forth. There are also
cocktails and punch bowls
.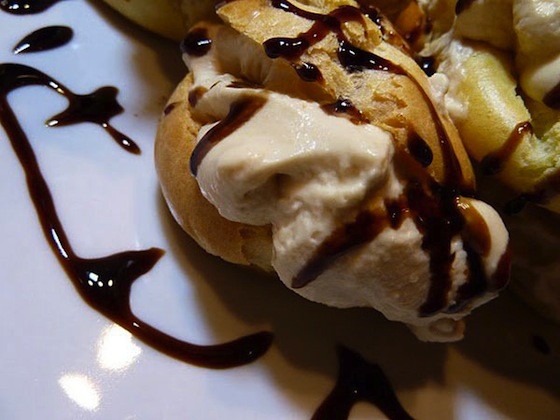 5) If you're a foie gras lover (or hater), you've probably heard by now about the
end of California's ban
on the uber-rich duck liver product. While some Bay Area chefs are slowly adding foie back to their menus, the S+S Gastro Grub's pop-up dinner club will go all-out this Saturday, January 31. For $90 (plus a separate cash gratuity), you can feast on a five-course
foie-focused dinner
: foie soup dumplings, foie meatballs, and even foie ice cream. The event is 21+ and BYOB, with a secret location in Oakland that won't be released until after you purchase your
ticket
.
6) For those looking for a communal space to watch the Super Bowl, consider the Oakland beer hall
Hog's Apothecary
(375 40th St.), which will be serve a variety of chicken wings, pulled pork sandwiches, assorted dips, and, of course, plenty of West Coast craft beer starting from around 2:30 p.m. through the end of the game. Everything will be sold a la carte.
7)
Sobremesa
, the Barcelona-style pop-up series that we wrote about
last fall
, is hosting its latest
seasonal pop-up dinner
at Far Leaves Tea (2626 San Pablo Ave., Berkeley) at 7 p.m. on Thursday, February 12. This time the focus will be on Turkish-inspired
mezes
. You can reserve your
$60, wine-inclusive ticket here
.
8) Now that Oakland Restaurant Week is over and done with, prix-fixe fanatics can look to Berkeley, which is hold its own
restaurant week
from now through Sunday. Check out the
list of participating restaurants
offering $15/$20 lunch specials and/or $20/$30 dinner specials.
9)
Berkeleyside Nosh
reports that Berkeley's recently enacted soda tax has had at least one immediate, concrete impact: No longer able to turn a profit selling bottles of soda for $1, the city's Dollar Tree stores have pulled all sodas off their shelves.
10) Finally, ICYMI, I wrote about the Jack London district's new
country music destination
, compiled a
wish list
for foods I'd like to see more of in the East Bay, and filed
mini-reviews
of three under-the-radar Oakland restaurants.
Got tips or suggestions? Email me at Luke (dot) Tsai (at) EastBayExpress (dot) com. Otherwise, keep in touch by following me on Twitter @theluketsai, or simply by posting a comment. I'll read 'em all.