Better late than never: Welcome to this end-of-the-week edition of the Mid-Week Menu, our roundup of East Bay food news.

1) After a successful Kickstarter campaign that raised over $11,000, the collective-owned Alchemy Cafe opened last week in its new South Berkeley location at 1741 Alcatraz Avenue. As previously reported, the new space is a big upgrade from Alchemy's original cafe, which was only about a quarter the size and had neither running water nor a customer bathroom. Chris Myers, one of the worker-owners, told What the Fork that, in order to staff their growing operation, the collective has added three new members on a trial basis, bringing the total to eight. Meanwhile, the cafe's expanded food offerings might include breakfast tacos, poached eggs, steel cut oats, and cinnamon toast for breakfast, and seasonal soup and a salami sandwich for lunch.

[jump]
E'Ville Eye
reports that
Cafe Aquarius
(1298 65th St., Emeryville), a longtime neighborhood favorite, has been forced to close due to the landlord's decision not to renew a "good faith" lease. Supporters of the restaurant aren't happy; they've launched a
Change.org petition
(with 126 signatures and counting) demanding that the property owners reconsider their decision (h/t
Tablehopper
).
3) According to
Berkeleyside Nosh
, the vegan fast-food restaurant
Nature's Express
(1823 Solano Ave., Berkeley) has also closed.
4) Elsewhere in Berkeley, the proprietors of a new Elmwood restaurant specializing in California cuisine at 2635 Ashby Ave. have been given the go-ahead to move forward with their project,
Berkeleyside Nosh
reports. These are the same folks who own
Comal
, which should bode well for this being another attractive, smartly designed restaurant.
5) If you hold an opinion about Daniel Patterson and his restaurants (Plum and Haven here in the East Bay), positive or negative, or if you've perhaps wondered about the unusually high chef turnover rate at Plum, this
San Francisco Magazine profile
is a must-read: "Can a brilliant, driven iconoclast who describes himself as a 'totally OCD control freak' really learn to let go?"
6) Here's a quick (and by no means exhaustive) list of East Bay restaurants that are doing special meals on or around Christmas Eve: In keeping with Italian tradition,
Lungomare
is hosting a Feast of the Seven Fishes ($55 a person), as are
Bocanova
($68) and
A16 Rockridge
($75) — all on December 24. Meanwhile, for a New Orleans-style Creole Christmas, Pican is holding
Le Réveillon de Noel
dinners nightly through December 23 ($65). Finally,
Plum
is serving a $65 "Charles Dickens Feast" (with figgy pudding!) the whole week of Christmas (except for December 22-25, when the restaurant will be closed). Snag your tickets/reservations while they're still available!
7) And here are a few fun, food-centric options for New Year's Eve:
Comal
is throwing a dance party with
antojitos
($40 a ticket).
Ramen Shop
is celebrating New Year's
and
with a five-course set menu ($75). Plum will serve a decadent
Gatsby-themed New Year's Eve dinner
($90-$95); next door,
Plum Bar
is getting in on the action, too, with a selection of pre-Prohibition cocktail specials.
Miss Ollie's
will be doing it up with dinner, dancing, and adult beverages ($100).
Tribune Tavern
will also have dinner and dancing ($65), with music courtesy of DJ Romanowski.
Camino
is doing a five-course "Choucroute Royale" for $85. Finally,
A16 Rockridge
is doing a six-course NYE prix-fixe for $85.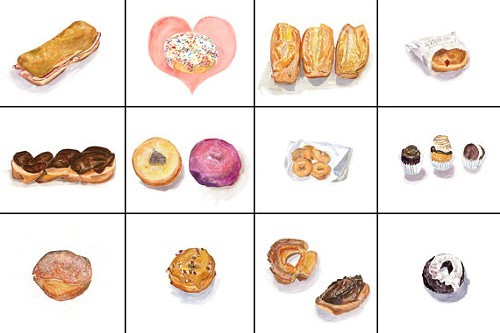 April V. Walters
"Donuts of the Bay Area"
8) A couple of festive tidbits by way of
Eater
: This
calendar
, featuring illustrations of popular Bay Area donuts, would make a nice (probably belated, at this point) holiday gift. And take a break from last-minute online shopping to check out this
Uniqlo campaign
, which stars none other than Plum chef Kim Alter.
9) ICYMI,
Marrow needs investors
to fund its move to a larger space, and the East Bay is getting a new
vegan/gluten-free "fine dining" restaurant
.
Got tips or suggestions? Email me at Luke (dot) Tsai (at) EastBayExpress (dot) com. Otherwise, keep in touch by following me on Twitter @theluketsai, or simply by posting a comment. I'll read 'em all.