Pencil in that staycation you've dreamed of — the nation's largest medical cannabis dispensary, Harborside Health Center of Oakland, and a fast-growing pot delivery tech startup, GreenRush, announced today a new partnership to serve East Bay patients.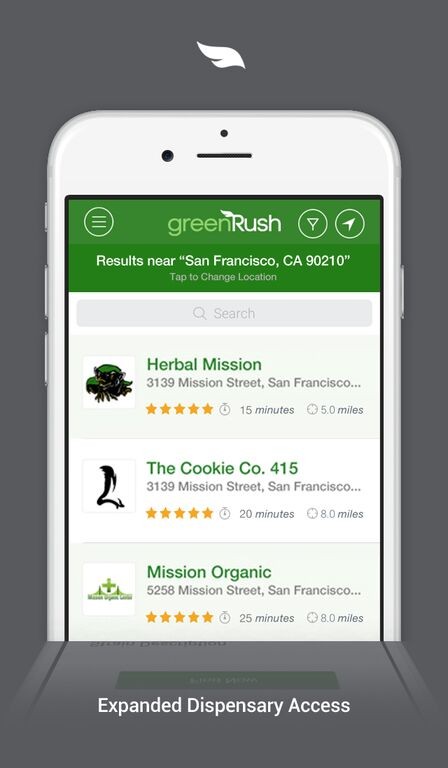 Qualified medical cannabis patients can now log onto
GreenRush.com
using the web browser on their mobile phone, and order direct from Harborside's vast
menu
of flowers, edibles, and extracts. A Harborside driver will bring the flowers to your door in as little as an hour.
[jump]
For Harborside utilizing GreenRush is part of a nascent
battle royale
among cannabis delivery app companies that include Eaze, Meadow, Marvina, Flow Kana, NestDrop, and others who are taking in tens of millions of dollars in venture capital to rapidly scale their services.
The prize: Eventually becoming the Uber of national cannabis delivery, with a valuation in tens or hundreds of billions of dollars.
That prospect unnerves plenty of dispensary operators, who've risked prison to pioneer legal cannabis distribution, only to watch venture capital inflate fresh competition.
Like ride-share services, pot delivery app companies say they're not breaking any laws because they don't actually buy or sell the botanical, they just use computers to match patients and providers.
Many leading dispensaries already field a delivery fleet. GreenRush layers atop that infrastructure in a non-exploitative way — sending new patients and orders to their dispensary partners, for a fee. The most similar model for food is GrubHub.
Steve DeAngelo, executive director of Harborside Health Center stated in an email: "Many companies are competing for a share of the cannabis delivery market. So far, we feel most comfortable with the GreenRush business model. It allows dispensaries to retain full control over the fulfillment process and maintain the quality of the medicine, and is more reasonably priced than other competitors."
GreenRush's value to patients is it's much more slick and easy to use than most dispensary ordering software. GreenRush founder Paul Warshaw — a New York transplant with a digital media and events marketing background — has immaculately ported the frictionless experience of a mainstream site like GrubHub into the controversial, new industry.
It takes less than two minutes to create and account and upload a picture of your ID and recommendation, and GreenRush verifies you just as fast. Last night, we picked out some of Wiz Khalifa's Khalifa Kush from The Cookie Co 415, and it was at our door with complementary pre-roll and bedtime chocolate in 30 minutes. These delivery services are perfect for the severely ill, the disabled, or merely the overworked. No more two-hour, round-trip door-to-door odysseys to meet your "guy."
In a little over two months, GreenRush has amassed more than fifty Bay Area brick-and-mortar dispensary, delivery, and private collective partners, and expects to hit one hundred in the next two months. The company has set its sights on San Diego and Sacramento next. Bigger markets such as Los Angeles and San Jose are more treacherous. Local ordinances there ban many types of delivery. LA startup NestDrop received threats from the LA City Attorney's Office.
"The GreenRush team is excited about our new partnership with Harborside," Warshaw stated in an email. "Partnering with the largest dispensary in the industry will allow our platform to provide the best experience to patients and serves as recognition of our vision and business model."