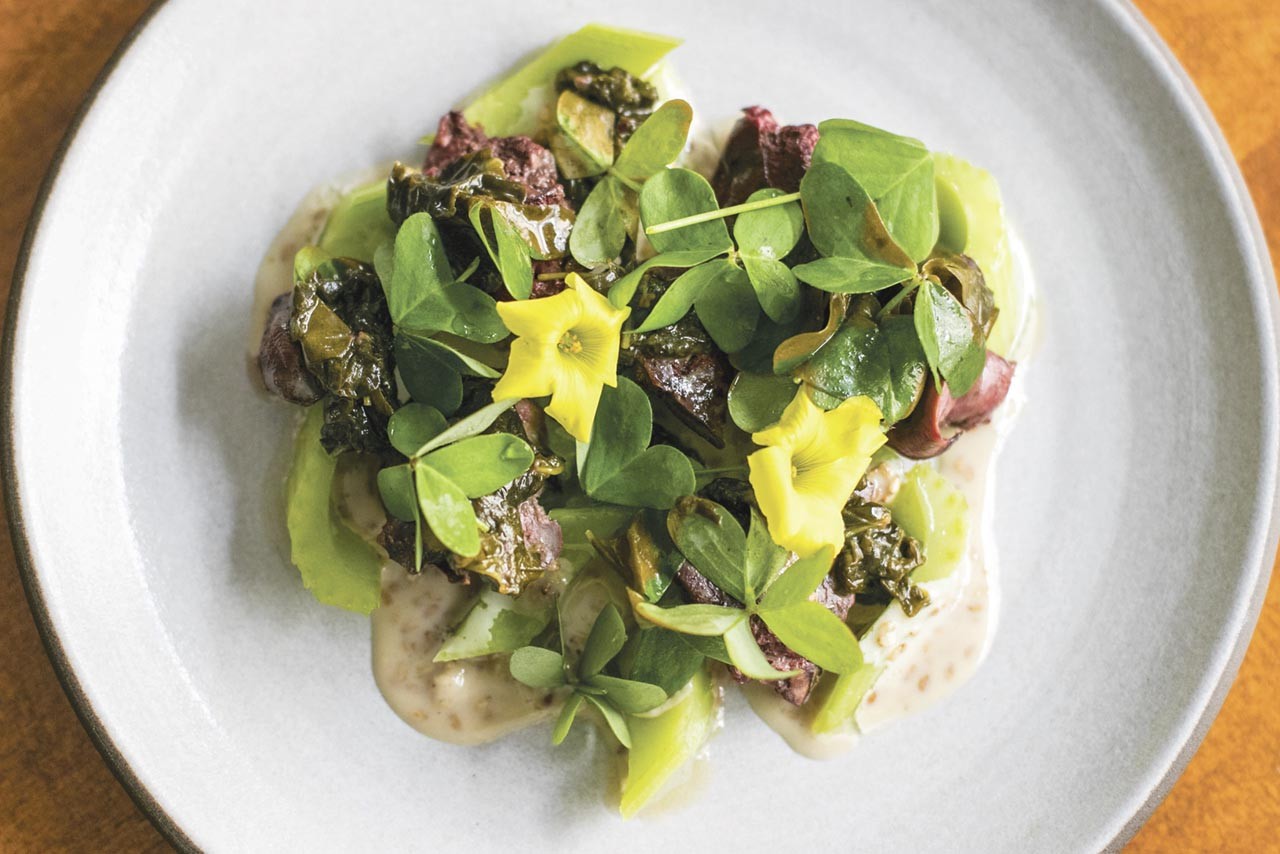 Mark Liberman, owner of Piedmont Avenue's upcoming restaurant Mago, cut his teeth in the fine dining world. After graduating from the Culinary Institute of America in Hyde Park, New York, Liberman moved to Paris, where he staged at a Michelin two-star restaurant, then returned stateside, where he opened San Francisco restaurants AQ and Fenix.
Now, with Mago, he's hoping to cut the pretenses of fine dining and throw a good dinner party.
Like a dinner party, the person who's cooking your food will likely also be the person serving your food. And like a dinner party, guests gather where all the action takes place — the kitchen.
"When I go to dinner parties … they kind of gravitate toward the kitchen," Liberman said. "So the kitchen's very open …. I want the cooks and the chefs to be able to talk to the guests, tell them what they're doing."
At the 45-seat restaurant, guests will be seated at a counter around the hearth, where live-fire cooking will take place. Using primarily local ingredients — many of which Liberman grows, forages, and ferments himself — the restaurant draws inspiration from Liberman's French and Italian training, as well as his Colombian and Jewish/Polish roots. The menu is also seasonally inspired, drawing from Northern California's 52 micro-seasons. That means the menu will essentially change every week, though some favorites may stay on the menu longer.
In a departure from his fine-dining résumé, Liberman is taking a more straightforward approach at Mago. "I really wanted to make food that was really craveable — food that I want to go eat on my day off," Liberman said. "I'm really focusing on simple food that's done in an innovative way and interesting way." Most plates will feature no more than three or four ingredients.
Liberman says affordability is a big component of Mago's mission, but he won't cut costs when it comes to quality. "We're still using sustainable farms and using really good fish, but instead of using the prime cuts of all those animals, we'll probably use other cuts." All plates, except for the family-style plates, which feed two to four people, will ring in at under $24.
The menu will be divided into three categories: snacks, plates, and family-style entrées. On the opening menu, snacks include strawberry aguachile with fresh cream, focaccia with seaweed, and yakitori with sorrel. Plates will include beet salad with pine nut labneh, spring garlic soup with new potatoes, and cacio e pepe with Meyer lemon and pink peppercorn. On the family-style menu is a lamb shoulder, which is cooked in its own fat and then cooked over the coals to order. There'll also be a menu of seasonal cocktails from bar director Adam Chapman, a menu of wines from all over the world from wine consultant Allegra Angelo, desserts from consulting pastry chef Robert Hac, and even a program of fresh juices.
As an Oakland resident, Liberman also wants Mago to be a neighborhood-friendly bistro. While the restaurant will accept reservations on Resy, a number of seats will be reserved for walk-ins — something that Liberman feels is essential to a neighborhood restaurant. There'll also be a patio where guests can relax and enjoy cocktails and a menu of smaller bites. Plans are in the works to offer lunch — possibly a fast-casual concept — and maybe breakfast, too. Liberman also has a young daughter, so Mago is kid-conscious. Children's books, a patio play area, and a kids' menu will all be available, as well as a changing table in the bathroom. Liberman also plans to offer cooking classes for all skill levels, and his wife, Theresa, will offer cheese classes for kids and adults.
Mago is at 3762 Piedmont Ave. Once open, hours will be Monday through Saturday, 5-10 p.m.