A good year, but not a great year." That's the word from the screening rooms on 2015. Every motion picture release schedule has its hits and flops, its moments of enchantment and wastes of time, but 2015 has been a fairly perplexing year at the movies. There was a bounty of solid, worthwhile films but relatively few — about a dozen, in fact — that made us immediately jump up and say, "Wow!" Might as well throw a year's worth of titles in a hopper and pick them out at random, with the first ten getting the trophies, luck of the draw.
Then again, it all depends on your point of view. No roster of films that contains Love & Mercy and The Assassin can be that bad. We can't resist believing it's still possible to find nirvana in a dark room full of strangers, with or without popcorn. Before we go any further, here are the Ten Best Movies of 2015, in alphabetical order:
1. The Assassin
2. Brooklyn
3. The Diary of a Teenage Girl
4. Don't Think I've Forgotten: Cambodia's Lost Rock and Roll
5. Love & Mercy
6. Mad Max: Fury Road
7. Room
8. Spotlight
9. Straight Outta Compton
10. 99 Homes
[image-10]
A Reviewer's Journal, in ten chapters: The Assassin came and went in late October, like an autumn wind off a holy Chinese mountain. The nineteenth feature by Taiwan-based film master Hou Hsiao-Hsien (A Time to Live, A Time to Die; The Puppetmaster; Flowers of Shanghai) was probably never destined to become an art-house hit in the United States — its Tang Dynasty history is a bit of a chore for American audiences to untangle. But the story of Nie Yinniang (played by movie idol Shu Qi), a general's daughter trained to be a silent assassin of corrupt officials, is something anyone can understand. She has to choose between duty and love. Hou's adventure is unlike any martial arts epic that ever was: elliptical, hushed, apprehensive, with graphic violence exploding out of silence, then subsiding back into an eerie stillness. Forget the dynastic legacy and let the rhythm sweep you up into the eaves of the castle, where the assassin crouches, waiting to drop. The superb cinematography of Mark Lee Ping Bin and production design by Huang Wen-Ying enhance the director's subtle mood of imminent fate.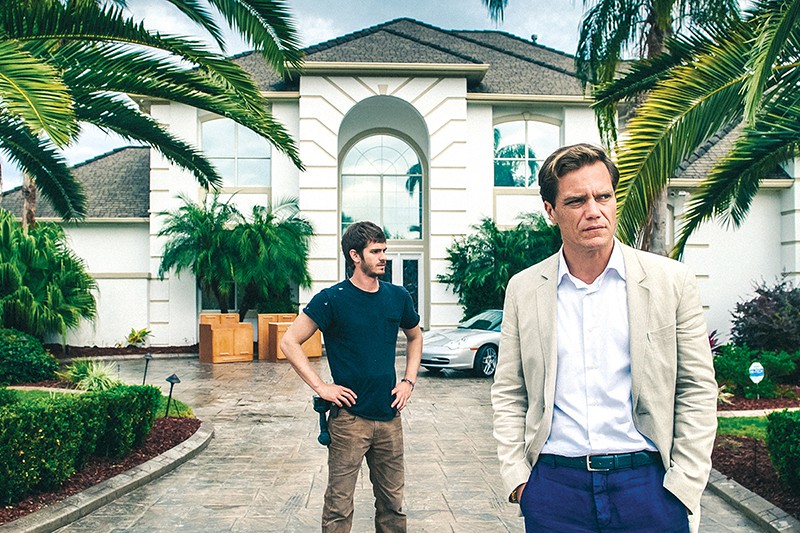 Moviegoers who have followed Saoirse Ronan's career from Atonement through The Lovely Bones, The Way Back, How I Live Now, and the violent female-empowerment yarn Hanna, could easily imagine the young Irish actress scaling the heights and one day taking her place at the top of the movie pyramid, playing the parts Cate Blanchett does now. With Brooklyn, that day has arrived. Ronan's performance as immigrant Eilis Lacey, newcomer to the title New York City borough in the early 1950s — adapted by Nick Hornby from Colm Tóibín's novel, and directed in something like a state of grace by John Crowley — takes a far different tack than the slapstick Hollywood Irish malarkey of past years. Eilis' dilemma is a turbulent one. A world of emotion plays across her face. And when the simple, oft-told tale is finished, we might feel something like pride that the "calm, civilized, and charming" Eilis has become one of us.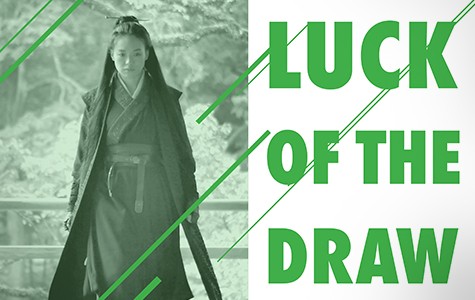 Coming-of-age flicks are thick on the ground, even ones about insecure "ugly duckling" females who freely experiment with sex. But Marielle Heller's The Diary of a Teenage Girl is the most exotic bird in the jungle, the energetic, ironic, humorous, touching, frank, playful, salty-sweet, all-embracing saga of a liberated 1970s San Francisco teenager named Minnie Goetze (played by English actress Bel Powley) and her tussles with life and love. Writer-director Heller, who once upon a time portrayed Minnie on stage, adapts Phoebe Gloeckner's graphic novel as if her life depended on it, with bravura playacting by Powley, Kristen Wiig, and Alexander Skarsgård. San Francisco plays itself, winningly. We reviewed it last summer, but the frank sex scenes — very rare in the juvie showbiz arena — and the nifty jukebox of period rock tunes by Television, Nico, Heart, T. Rex, Iggy and the Stooges, and Mott the Hoople are still reverberating. So are the family dynamics of Minnie's picturesquely dysfunctional relatives. Powley's perf is one the year's best surprises.
[image-11]
Don't Think I've Forgotten: Cambodia's Lost Rock and Roll should, by all rights, be one of the most depressing films of the year. Instead, director-producer-cinematographer John Pirozzi's documentary is one of 2015's most bracing entertainments — the story of how rock music flourished in Phnom Penh, Cambodia in the 1960s and '70s, and how despite the Khmer Rouge's horrendous reign of terror, that spirit still lives on. Cameraman-turned-filmmaker Pirozzi (he made the music doc Sleepwalking Through the Mekong with the band Dengue Fever) unearths a treasure trove of period footage. Dapper guys in skinny suits and sexy, bouffant-haired girl singers perform for sophisticated Phnom Penh nightclub crowds. The country seems prosperous and happy. And then they disappear into the killing fields. The look on the faces of the few survivors, interviewed in today's Cambodia, is something you'll not soon forget. But these days the voices of such singers as Ros Serey Sothea, Huoy Meas, Pen Ran, and Sinn Sisamouth are available in Cambodian markets, as if the Khmer Rouge had never existed. Best of all, the music sounds as cool today as ever.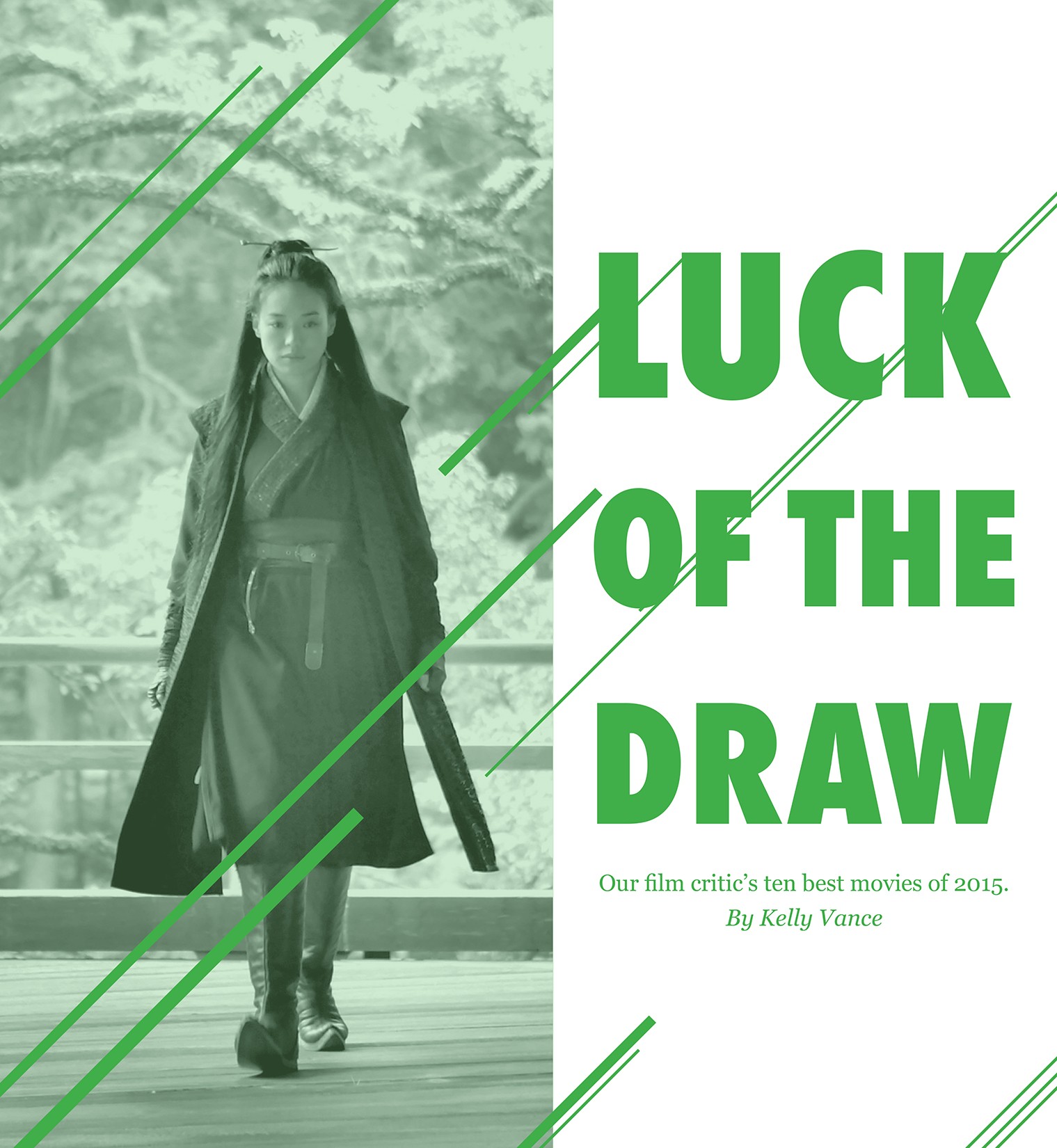 If this Ten Best list seems slightly skewed toward pop music, that's because nothing, not even film, tells a story like a song. Proof of that hypothesis: Love & Mercy. If we were to strip away director Bill Pohlad's extravagant visuals, the mini-stream-of-consciousness imagery built into the chronicle of the Beach Boys' Brian Wilson, we could listen to the soundtrack and almost get the same effect. The tunes keep on coming as Wilson — played by Paul Dano and John Cusack at different stages of his life — creates, comes unglued, suffers, and then is re-glued by girlfriend Melinda Ledbetter (Elizabeth Banks, in one of the year's warmest acting turns).
Both Dano and Cusack tap directly into the tormented-genius vibe. The sound mixing, sound editing, and film editing are of masterpiece quality, rich and multilayered. Love & Mercy was released in June and has been the year's most rewarding film ever since. Special kudos to Paul Giamatti for his role as monster-in-chief Dr. Eugene Landy, yet another example of the actor's range. A triumph for everyone involved, especially producer-turned-director Pohlad and the ace screenwriting team of Oren Moverman and Michael Alan Lerner, adapting Brian Wilson's true life story. Wouldn't it be nice if every movie this year were this full of unbridled emotion? Nominated as this movie's companion on a twin bill: Denny Tedesco's session-players-heaven doc, The Wrecking Crew, in which Wilson gets prominent mention.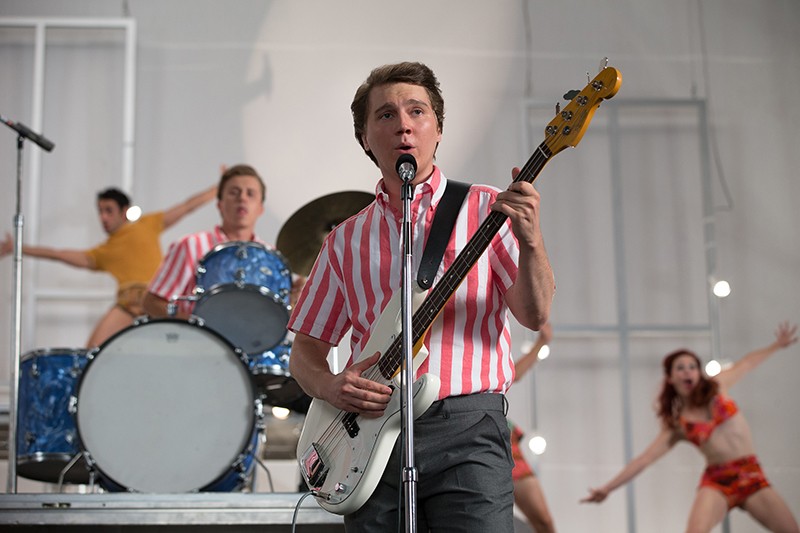 Cut with utmost precision, packed with striking physiognomies, and dedicated to the proposition that all fleeing creatures, male and female, are created equal, George Miller's Mad Max: Fury Road is the year's most provocative actioner by far, a rip-roaring environmentalist opera on wheels. A few literal-minded critics have scoffed that Miller's return to his dystopian outback fantasy franchise, after a thirty-year hiatus, is "nothing more than a chase movie." One might as well disparage The Searchers for dwelling on cowboys and Indians. Somewhere on the road to Gas Town, the kinetic thrust of the Mad Max saga snaps into place as if it had only been paused for a moment or two, and we're off. A revolt in the harem, rolling molotovs, blue night-time mud flats, a skooch of Burning Man (ahem), the holy bag of seeds, Furiosa's fury, feminocracy versus patriarchy, and film editing that would have impressed Russ Meyer — no other film spectacle this year comes close to Max's apocalyptic doorbell buzzer, one more reason to study Australian filmmaking. The most convincing of Tom Hardy's three starring roles in 2015 (alongside Legend and The Revenant) and complete vindication for Charlize Theron. Victory! Water! Equal rights! A splendid blur, wondrous to gaze upon.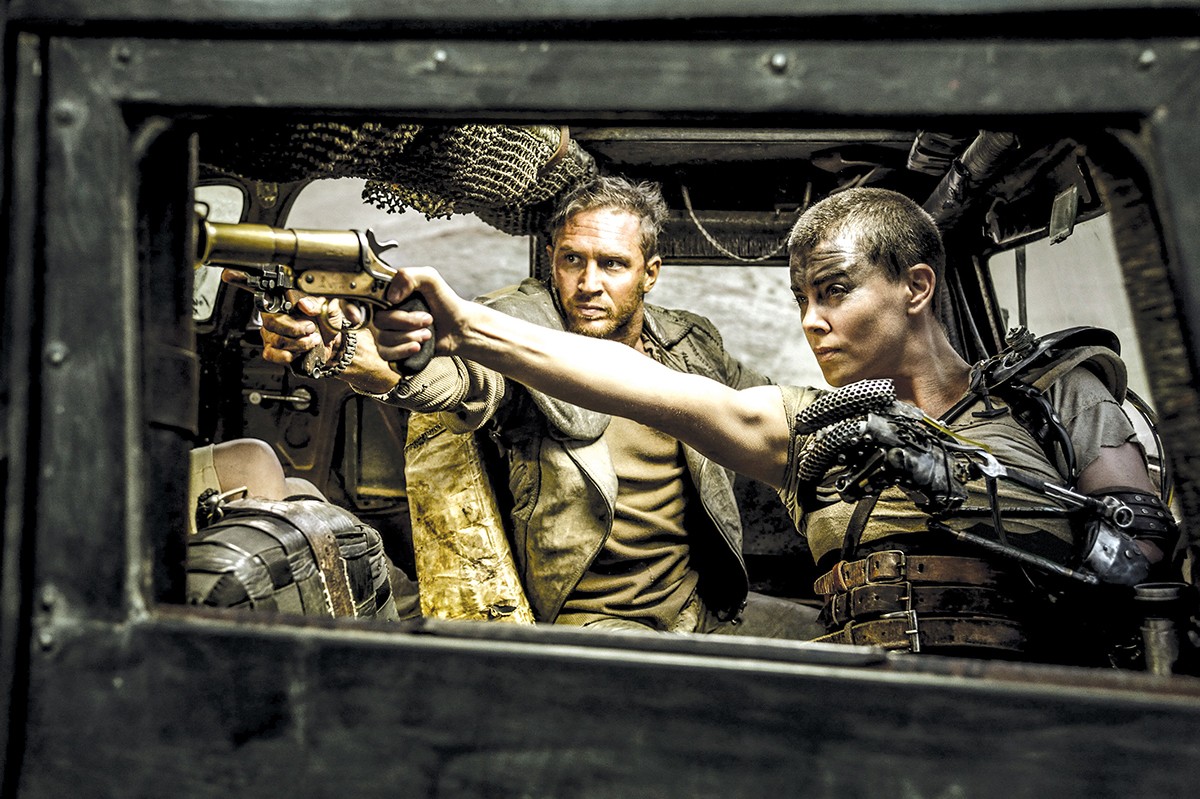 Room is one of those films that slipped past unobtrusively in the hurly-burly of the autumn rush, only to reveal itself later as something wise and compassionate. What might have been a lurid crime thriller instead magicks itself into a guardedly hopeful family drama with redemption on its mind, powered by Brie Larson and professional child actor Jacob Tremblay's perfs as an unlucky-lucky mother and her star-crossed son, who gets his chance to explore the world's most basic wonders long past his rightful infancy. Director Lenny Abrahamson, screenwriter-novelist Emma Donoghue, lead combo Larson and Tremblay, supporting actress Joan Allen, and Stephen Rennicks, composer of the film's original score, all deserve praise. Whatever mood you're in when you start watching Room, you'll be in a different state when the final credits roll.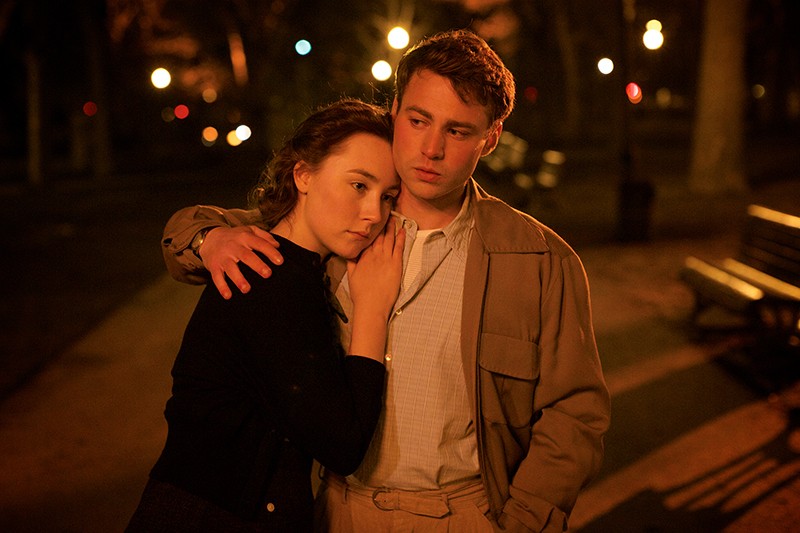 Spotlight belongs to the "bad old days" school of storytelling. As in Black Mass and Truth, we're reminded that sometime in the past, things were not quite so safe and secure for certain overlooked groups of people. In the case involving predatory Roman Catholic priests in Boston exposed by crusading newspaper reporters, the overlooked people were mostly little kids, the sexual-assault victims of men who went unpunished for years. The inherent pathos of that vector of criminality is what sets Spotlight apart — that, and the comradely workings of the Boston Globe's team of investigative news hounds, winningly played by Michel Keaton, Mark Ruffalo, Liev Schreiber, Rachel McAdams, John Slattery, and Brian d'Arcy James, with the added strength of Stanley Tucci and Billy Crudup. With such a platoon of scene-stealing character actors, we might be tempted to say that Spotlight doesn't need any help from writers Tom McCarthy (who also directed) and Josh Singer. But we'd be wrong. This is one "ripped from the headlines" social commentary that ultimately rewards us for our feelings of revulsion.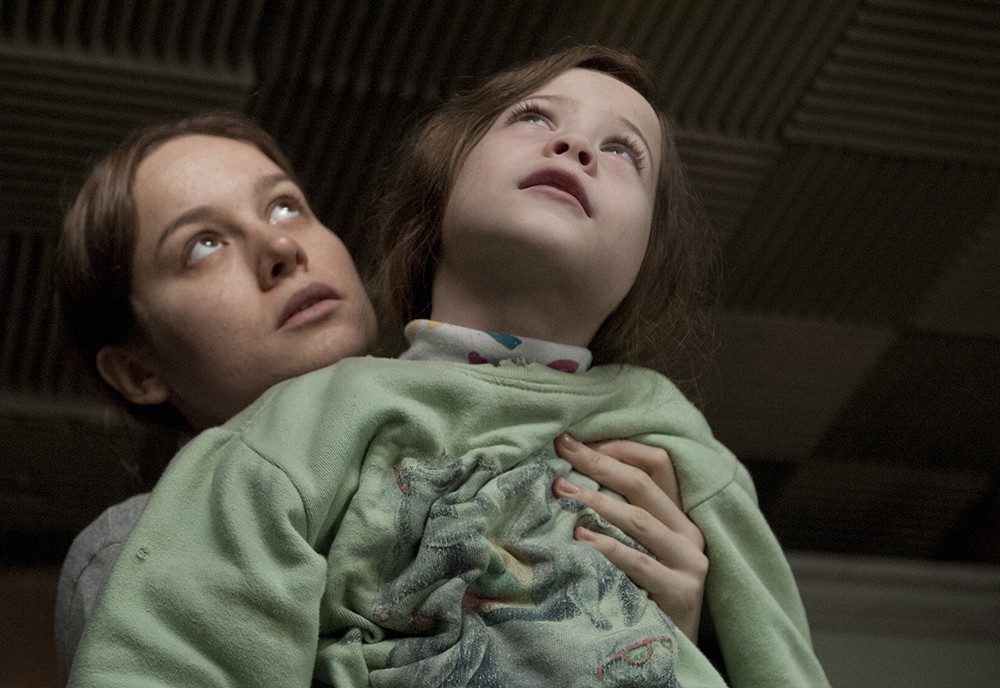 One aspect of rap music that doesn't get discussed enough is the sheer spectacle of it. Straight Outta Compton delivers that. Plus, the expected sex and violence. And of course, social commentary. Gotta have that. In common with the Beach Boys and the Wrecking Crew, the founders of N.W.A. spent a lot of time in recording studios, only instead of walking right in and getting to work, all too often they got braced and slapped around by the LAPD on the sidewalk in front, presumably because they looked too "ghetto," like they didn't belong there. That's only one of the big takeaways of F. Gary Gray's blistering behind-the-scenes peek at the life and times of Ice Cube (O'Shea Jackson Jr.), Dr. Dre (Corey Hawkins), Eazy-E (Jason Mitchell), DJ Yella (Neil Brown Jr.), MC Ren (Aldis Hodge), Suge Knight (R. Marcos Taylor), and the rest of the heavily mythologized practitioners of this country's best-selling indigenous music. Matthew Libatique's camera work is sensational. So is the anger. And yes, that's Paul Giamatti again, as another slippery facilitator, manager Jerry Heller. No other film on our list explains more about life in modern urban America than Straight Outta Compton.
More "bad old days," the Florida foreclosure debacle during the Great Recession, a time we might prefer to forget, except that it has meaning — 99 Homes takes us there and shows us who did what, and to whom, and why. Actors' actor Michael Shannon plays the chief baddie, a carrion-eating real estate mogul-in-training whose routine (for him) eviction of family man Andrew Garfield and his dependents (disastrous for them) sets in motion a story of near-biblical irony. Instead of murdering his tormentor in the street, newly homeless Dennis (Garfield) goes to work for sharpie Rick (Shannon), passing the misery on to a new succession of sub-prime-mortgage chumps. Think D.W. Griffith, from his Intolerance days. Or Kurosawa Kiyoshi's Tokyo Sonata. Or insert your favorite meltdown/gentrification/Golden Age horror story, where applicable. Filmmaker Rahmin Barani (At Any Price, Goodbye Solo) is trying to tell us something about ourselves. Some of us are listening. You should too.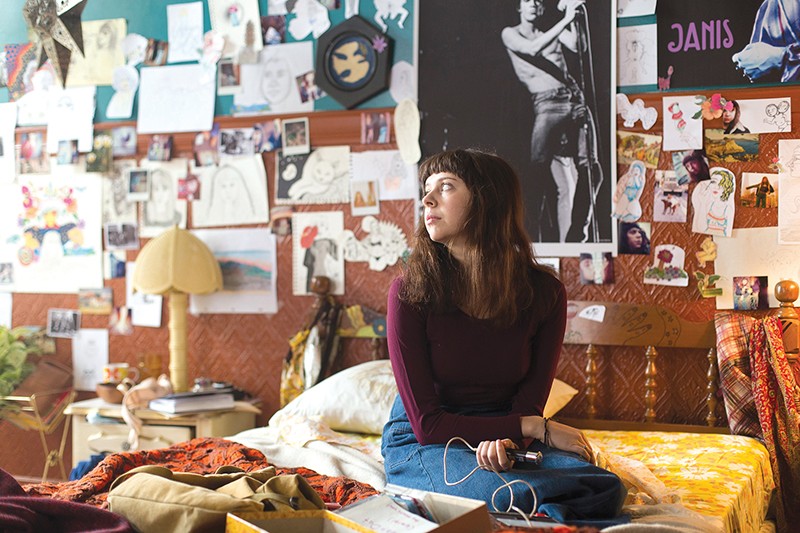 Some of the "merely good" movies that made it so difficult to choose the very best this year, in no particular order: The Revenant by Alejandro González Iñárritu; The Wonders by Alice Rohrwacher; Trumbo by Jay Roach; Bridge of Spies by Steven Spielberg; The Martian by Ridley Scott; Carol by Todd Haynes; The Danish Girl by Tom Hooper; Dope by Rick Famuyiwa; Sicario by Denis Villeneuve; The End of the Tour by James Ponsoldt; Truth by James Vanderbilt; Mistress America by Noah Baumbach; Infinitely Polar Bear by Maya Forbes; Testament of Youth by James Kent; The Clouds of Sils Maria by Olivier Assayas; Irrational Man by Woody Allen; Concussion by Peter Landesman; The Gift by Joel Edgerton; '71 by Yann Demange; Queen and Country by John Boorman; The Taking of Tiger Mountain by Tsui Hark; Black Souls by Francesco Munzi; Theeb by Naji Abu Nowar; Results by Andrew Bujalski; Jimmy's Hall by Ken Loach; and Far from the Madding Crowd by Thomas Vinterberg.
More decent movies that fell just a bit short: Beasts of No Nation by Cary Joji Fukunaga; Time Out of Mind by Oren Moverman; The Walk by Robert Zemeckis; Kumiko the Treasure Hunter by David Zellner; Experimenter by Michael Almereyda; Jafar Panahi's Taxi; Mr. Holmes by Bill Condon; Tangerine by Sean Baker; The Big Short by Adam McKay; Legend by Brian Helgeland; Still Alice by Richard Glatzer and Wash Westmoreland; Timbuktu by Abderrahmane Sissako; Good Kill by Andrew Niccol; Breathe by Mélanie Laurent; The Stanford Prison Experiment by Kyle Patrick Alvarez; Beloved Sisters by Dominik Graf; Hard to Be a God by Aleksey German; Marshland by Alberto Rodríguez; Gett: The Trial of Viviane Amsalem by Ronit Elkabetz and Shlomi Elkabetz; and Cash Only by Malik Bader. Plus, these designated 2015 releases that are receiving play dates in 2016 and are still to be reviewed: The Lady in the Van by Nicholas Hytner; Aferim! by Radu Jude; Son of Saul by László Nemes; 45 Years by Andrew Haigh; and Mustang by Deniz Gamze Ergüven.
Underwhelming as 2015 was for narrative features, it was a banner year for documentaries, especially musical profiles. In that category, Janis: Little Girl Blue; The Wrecking Crew; Cobain: Montage of Heck; Amy; A Poem Is a Naked Person; Lambert & Stamp; Song of Lahore; and What Happened, Miss Simone? stand out. Notable docs on the world of film include: Hitchcock/Truffaut; Neorealsim: We Weren't Just Bicycle Thieves; Listen to Me Marlon; and Tab Hunter Confidential. On general subjects: Meru; The Black Panthers: Vanguard of the Revolution; The Royal Road; A German Youth; Deep Web; Cartel Land; Steve Jobs: The Man in the Machine; 3 ½ Minutes, 10 Bullets; In Jackson Heights; The Creeping Garden; Peggy Guggenheim: Art Addict; Best of Enemies; Where to Invade Next; Steak (R)evolution; Dark Star: H.R. Geiger's World; Drunk Stoned Brilliant Dead; Deli Man; The Look of Silence; Something Better to Come; Live from New York!; Merchants of Doubt; Red Army; She's Beautiful When She's Angry; We Come as Friends; and a marvelous one-off at the San Francisco International Film Festival, Beyond Zero: 1914-1918, a live, onstage collaboration of filmmaker Bill Morrison, composer Aleksandra Vrebalov, and the Kronos Quartet, on the subject of World War I.
One showbiz documentary deserves particular mention: Andrew Leavold's The Search for Weng Weng, a light-hearted documentary profile of Weng Weng, aka Ernesto de la Cruz (1957–1992), the diminutive Filipino star of such spy and detective spoofs as For Y'ur Height Only and The Impossible Kid of Kung Fu — in which we learn that he was more than just a figure of fun, especially to his colleagues.
Re-release of the year: Satyajit Ray's Apu Trilogy — Pather Panchali (1955), Aparajito (1956), and Apur Sansar (aka The World of Apu, 1959) — is rightfully ranked as one of world cinema's finest achievements. Janus Films' summertime theatrical re-release, screened locally at Landmark movie houses, offered movie lovers a chance to see Ray's timeless coming-of-age tale in all its large-screen glory, complete with Subrata Mitra's entrancing images and a beautiful musical score by Ravi Shankar.
And now we come to the "Thematic Material and Some Disturbing Images" file, or as we call it, the Storm Cellar. Writer-director David Robert Mitchell's It Follows is the horror film of the year, with Ana Lily Amirpour's Farsi-language, California-made vampire pic A Girl Walks Home Alone at Night as runner-up. Guy Maddin's the Forbidden Room secures the sustained oddness award. The junkies-on-holiday double feature of the year is Ben and Joshua Safdie's Heaven Knows What, plus Collin Schiffli's Animals. Rounding out the Storm Cellar playlist are: Scott Cooper's Black Mass; Gaspar Noé's Love; Severin Fiala and Veronika Franz's Goodnight Mommy; Sebastian Schipper's Victoria; Céline Sciamma's Girlhood; Mia Hansen-Løve's Eden; Anne Fletcher's trashy romp Hot Pursuit; and the most indescribable film of the year, Roy Andersson's A Pigeon Sat on a Branch Reflecting on Existence.
Most feature films are about winners. After all, those are the people the majority of movie fans buy tickets to see. It requires a certain amount of courage to depict the other side, where the bulk of the world's population resides. Here's a provisional lineup for the 2015 Have-Nots Film Festival: 99 Homes, The Lady in the Van, Beasts of No Nation, Time Out of Mind, We Come as Friends, Something Better to Come.
It takes real effort to produce entertainments as off-putting as the items that dwell on Rotten Row. As a combination of dubious subject matter and impenetrable treatment, Danny Boyle's Steve Jobs is hard to top. But for high-profile tedium as well as shameless mercantilism, Brad Bird's two-hour-plus Disney infomercial Tomorrowland takes the cake as the worst movie of the year. It faced determined competition, however. For your consideration: Pierre Morel's The Gunman; Andrew Mogel and Jarrad Paul's The D Train; Noah Baumbach's While We're Young; Susanne Bier's Serena; David Cronenberg's Maps to the Stars; Richard LaGravenese's The Last Five Years; Michael Mann's Blackhat; and, vying with The Hunger Games movies for the title of All-Time Ill-Founded Series, Fifty Shades of Grey — the first stop on what promises to be a trail of fake orgasms.