If you were to compile a list of restaurant genres that the East Bay has a dire shortage of, Italian-inspired wood-oven pizza wouldn't crack the top ten. We do, after all, have plenty of that.
Still, you have to admire the owners of Lucia's, a new Neapolitan-style pizzeria in downtown Berkeley, for having the courage of their convictions to go all-in. Among other bona fides, the restaurant boasts a bajillion-dollar Stefano Ferrera brick oven, and a consulting pizzaiolo from Italy, who trained the two co-owners and has stayed on, at least temporarily, to make sure the pizza stays up to snuff.
The restaurant is the brainchild of Steve Dumain, an ex-Brooklynite who worked in the fashion industry until he moved to the Bay Area specifically to open a pizzeria, and Alessandro Uccelli, a real-life Italian from Venice — an engineer who has been living in the East Bay for the last ten years. It's a family business: Uccelli's wife, Elisabetta Volpe, curates the restaurant's wine offerings, and Dumain's husband, George Maracineanu, collaborates with Volpe on the desserts and is the restaurant's designated food photographer.
They named the restaurant after their mutual friend, Lucia, an art curator whom Dumain described as having "very peculiar food tastes" — a penchant for odd ingredient combinations, but also for food that's very traditional.
That's the same balance that Lucia's aims to strike, Dumain explained. He said the inspiration for the restaurant wasn't purely Italian, but that they instead modeled it after the particular kind of Neapolitan pizzeria that's popular in Brooklyn — places like Roberta's and Paulie Gee's, which, in Dumain's view, have a younger and more playful energy, and are willing to put their own spin on traditional recipes.
"The American restaurant-goer likes something that has the
idea
of tradition, but is also surprising them at the same time," he said.
The typical term for the approach is "neo-Neapolitan." At his own fledgling pizzeria, Dumain cited as an example the "Lips of Fire," a pizza that pairs soppressata with fiery ghost pepper-infused maple syrup — a variation on a widely acclaimed pie at Paulie Gee's that's drizzled with spicy honey. Another pizza comes topped with brussels sprouts and smoked mozzarella. Yet another features a squash purée. Vegetarian options are abundant, and, in part because Dumain himself recently became gluten-intolerant, there's also a gluten-free dough made with flour milled from deglutenized wheat. Vegans can sub in a cashew-based vegan mozzarella.
Chalk it up to bad luck or a momentary lapse in ordering savvy, then, that the pizzas I wound up trying hewed more closely to tradition. The Margherita — that standard litmus test for any pizzeria claiming Neapolitan roots — was an excellent, straight-ahead version, apart from the use of fresh cow's milk mozzarella (buffalo mozzarella, the traditional Margherita cheese, is available for a $4 surcharge). And the Napoletana featured a classic combination of anchovies, olives, and capers. You should know better than to order a pizza topped with such a briny triumvirate unless you enjoy salty food. But in this case the salt-bomb effect was exacerbated by the absence of any kind of cheese to act as a mild counterpoint. (Here, too, the mozzarella
di bufalo
was available as an add-on, but both the menu and server could have made it clearer that, unlike with the Margherita, the default option was no cheese whatsoever.)
One way Lucia's sets itself apart from the crowded field of East Bay pizzerias is that an entire half of the pizza menu is dedicated to non-tomato-sauce-based "white" pizzas — a breakdown Dumain said is more typical at Neapolitan-style restaurants on the East Coast. The best, and most interesting, pizza I ate was the "Lucia's Secret," which was topped with the rather unorthodox combination of mortadella, pistachios, and
stracciatella
(i.e., the creamy, stringy center of a ball of burrata). The latter two aren't added until after the pizza comes out of the oven, so what you wind up with is a confluence of pleasing contrasts: hot and cool, crunchy and creamy, subtle and luxuriously rich.
So far we've talked mostly about toppings, but any hardcore pizza enthusiast will tell you that toppings are arguably the least important part of a pizza. For Dumain and Uccelli, the most important part — and the part they stake the restaurant's reputation on — is the dough, whose particulars are a closely guarded secret. One of the keys, Dumain explained, is that they use flour that comes from a small mill [exact identity redacted] in Italy's Salerno region — a mix of "00" (i.e., the traditional, super-finely-milled kind of flour) and "0" (which is slightly less fine). Another, of course, is that monster of an Italian pizza oven, which hits temperatures as high as 950 degrees — a full 150 degrees higher than a lot of the wood-burning ovens you'll find around the East Bay. Dumain, Uccelli, and their Italian consultant (whose identity they're also keeping under wraps for now) are the only three people at the restaurant who know the recipe and who ever touch the dough.
Anyway, the results speak for themselves. The crust might be the most gorgeous Neapolitan-style crust in town — well-blistered, with the telltale "leopard spots" that are prized by connoisseurs. The pizza puffs up around the edges so that there are big air pockets when you bite in, helping to create a texture that is both chewy and light. Note well: This isn't your prototypical droopy, soupy-centered Neapolitan pizza that you have to eat with a knife and fork (though that style is available by request). By default, the pizza comes out substantial enough, and crisp-bottomed enough, that you can pick it up and eat it with your hands. It's a crust that, all on its own, makes Lucia's a welcome addition to downtown Berkeley.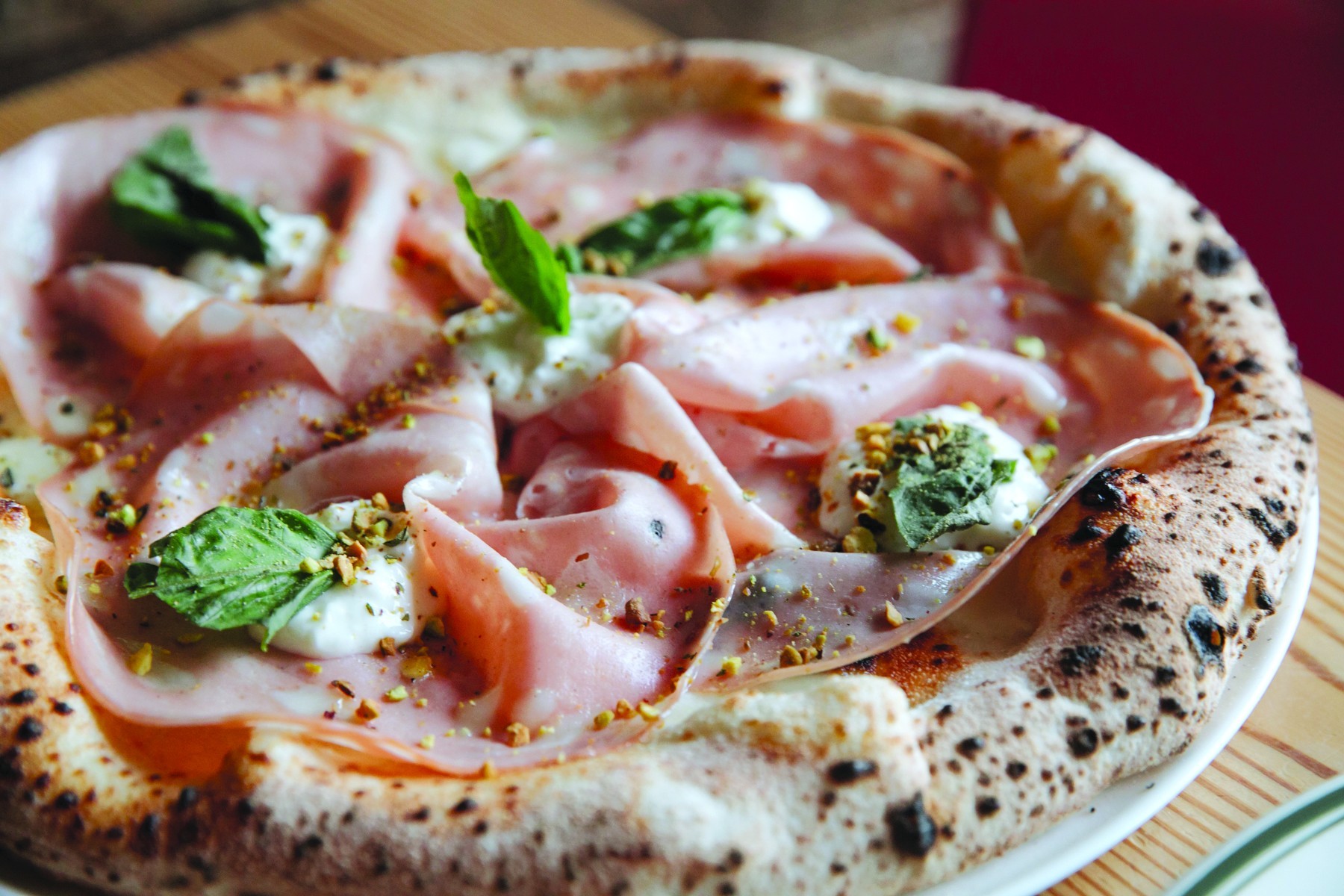 It's tempting to compare Lucia's to the kind of Cal-Italian pizza restaurant that looms large in the East Bay restaurant scene — the Pizzaiolos and Olivetos of the world. Of course, those restaurants serve pies with less of a direct connection to the Neapolitan style, and if anything Lucia's is much more focused on pizza. (For now, there aren't any other entrée options, though Dumain says
porchetta
, slow-roasted overnight using the oven's residual heat, is in the works.) The rest of the menu consists of a small selection of appetizers and salads, each of which had just enough of a playful twist to make it memorable. Roasted brussels sprouts and cauliflower were garnished with tart, deep-fried lemon rings. Bits of chopped anchovy added extra punch to sautéed mushrooms and broccoli rabe. The zippy, lemony dressing for the kale salad was spiked with Sriracha, of all things. And a plate of savory doughnuts had been infused with the flavors of
cacio e pepe
, the classic cheese-and-pepper pasta dish — though these were better on paper than they were in execution, and probably too heavy a dish to really work in the context of a pizza-centric meal.
Lucia's also has a more casual vibe than most of the Bay Area's wood-fire pizza spots. Even though it's a full-service, sit-down restaurant, it has some of the feel of an East Coast slice shop, albeit one that doesn't actually sell pizza by the slice. Service was spotty in a way that's typical of a new restaurant ironing out its kinks — ice-cold red wine from the tap and a long, unexplained delay before dessert (sorbet from nearby Almare Gelato) arrived.
Still, I like the spirit of the place. Dumain and Uccelli have brightened it up considerably from its Bella Osteria days, when it always felt a little bit cramped and unwelcoming. It's the kind of place that'll play Jurassic Five on the speakers and boasts mismatched chairs that look like they've been swiped from the local elementary school. An old-fashioned, neon-pink "Lucia's" sign in the window beckons pizza-craving passersby. Who knew? Maybe downtown Berkeley needed another pizzeria after all.