Four months after the East Bay police sex crimes scandal made international headlines, authorities are beginning to hold cops accountable. In a scene certain to play out several times over in the coming weeks, Oakland officer Brian Bunton was arraigned this afternoon in Alameda County Superior Court for allegedly trading information about police sting operations for sex with the victim, who goes by Celeste Guap. Bunton was first identified by the
Express
in June.
Wearing a light-blue suit and visibly nervous before a phalanx of cameras and more than a dozen reporters in a Hayward courtroom, Bunton's bail was set by Judge Armando Cuellar at $12,500.
Bunton's attorney, Dirk Manoukian, described the officer as a forty-year-old "family man" who was remorseful — yet his client pleaded not guilty to all charges.
Bunton is one of seven cops facing criminal charges. The cities of Oakland and Richmond have also imposed administrative discipline on 21 current and former officers for misconduct.
But according to court records, city documents, and Guap's attorney, Pamela Price, all the officers disciplined are low-level cops. No commanders have been punished or charged.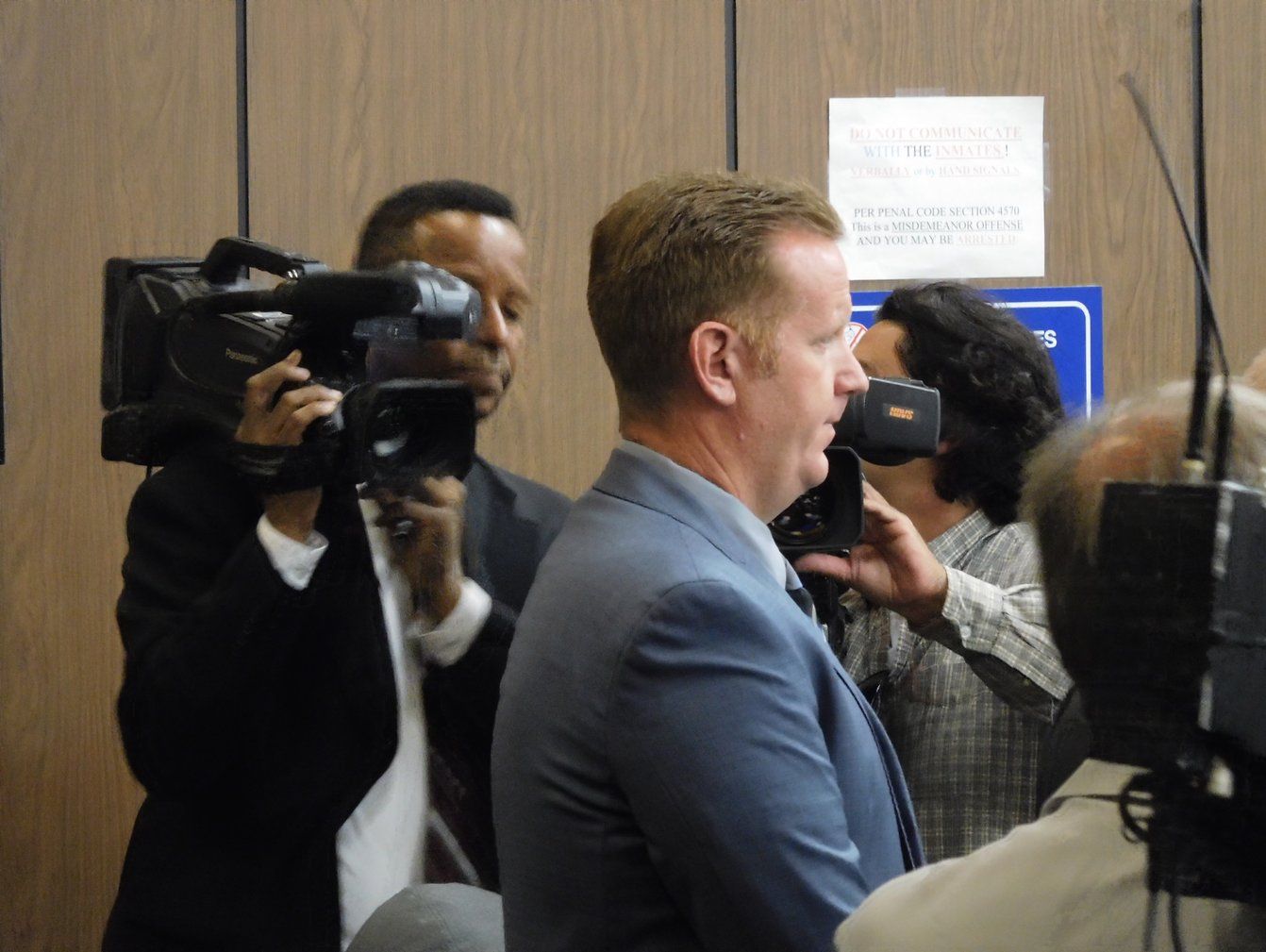 Price said she is concerned that the criminal and administrative investigations stopped short of looking at supervisors. "We're not just asking that low-level staff be the ones who are held accountable," she said outside the Hayward Hall of Justice. "The climate of each department is set by the leadership."
Price previously called on Attorney General Kamala Harris to take over investigations in Alameda and Contra Costa counties, because of concerns that law enforcement isn't holding their own accountable.
Price also said she suspects Guap is not the only individual exploited by police in the Bay Area, and she hinted at a larger conspiracy to suppress information. However, Price has yet to provide more detailed information regarding other possible victims.
In addition to Bunton, Alameda County District Attorney Nancy O'Malley has filed charges against Livermore officer Daniel Black, former Oakland Sgt. Leroy Johnson, Oakland officer Giovanni LoVerde, and former Contra Costa County Sheriff's Deputy Ricardo Perez.
O'Malley said she also plans to charge Oakland officers Terryl Smith and Warit Uttapa. Smith quit the department in May, while Uttapa was recently transferred to the theft section of the criminal-investigation division. None of the cops charged by O'Malley rank above sergeant.
Yet there remain questions about former Oakland Chief Sean Whent's role in the OPD scandal. Did he stall or prevent criminal and internal-affairs investigations into police misconduct? And what did he know, and when, about the abuse of Guap?
Whent was allowed to leave the department without discipline in June.
Oakland Mayor Libby Schaaf continues to insist that Whent voluntarily resigned, and that his departure was unrelated to the sex crimes. In press conferences earlier this month, both Schaaf and O'Malley said Whent was not a subject of either the city's administrative probe or the DA's criminal investigation.
Whent recently applied for the job of police chief in the City of Salinas, but wasn't hired. Sources close to OPD say he is being considered for a job at the Alameda County Sheriff's Office.
O'Malley's decision to charge former Oakland Sgt. Leroy Johnson with a misdemeanor for failing to report Guap's underage relationship with Officer Brendan O'Brien has rankled many current and former OPD, who spoke to the Express on the condition of anonymity for fear of retaliation.
Commanders who may have had similar knowledge but did not report it do not appear to be subject to any open investigations.
If Oakland commanders were to be investigated for violating department policies, one area authorities might look into would be the thirteen-year-old Negotiated Settlement Agreement. This requires that potential officer criminal conduct be reported to the district attorney.
Earlier this month, the Express reported that Alameda County prosecutors learned of Guap's exploitation from the media, not from OPD.
But Task 28 of the Negotiated Settlement Agreement and OPD General Order M-04.1 both require Oakland commanders to notify the Alameda County DA via email whenever there is reasonable suspicion that an officer may have committed a felony or serious misdemeanor.
This requirement is so specific that OPD is even instructed to use a specific subject line for these emails — "criminal misconduct allegation."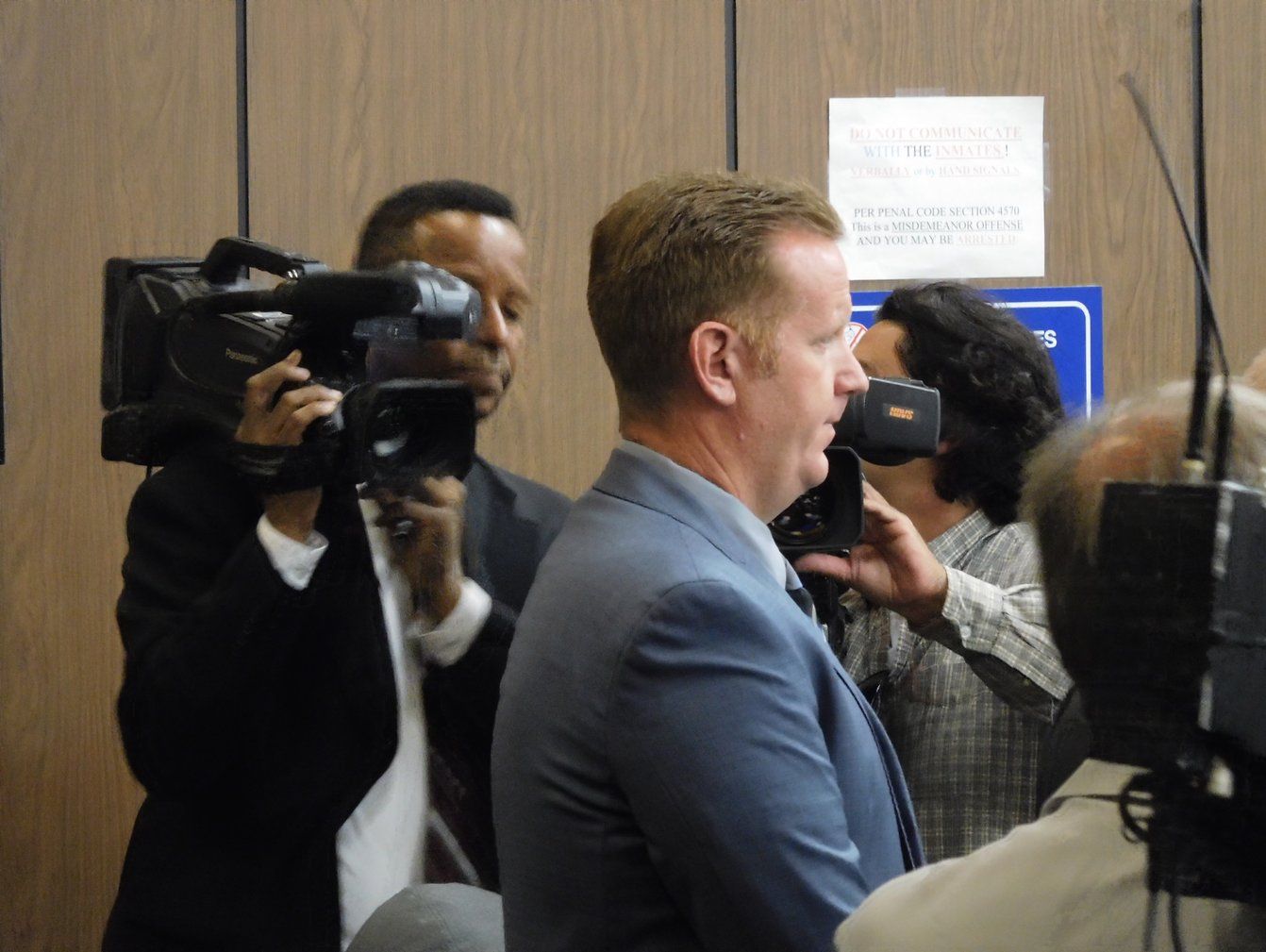 The
Express
filed a California Public Records Act request for all emails with this subject line between September 1, 2015, through this year. The Alameda County DA's office released only one email, from OPD Captain Kirk Coleman, dated August 24, 2016.
Coleman's email was sent eleven months after a suicide note left by O'Brien, which made OPD commanders aware of the possibility of misconduct involving Guap and several officers. It also came three months after Schaaf claimed to have personally notified O'Malley about the alleged sexual misconduct.
John Burris, one of the plaintiffs attorneys in the Riders case that underpins Oakland's settlement agreement, said OPD's apparent failure to abide, and their own general orders, is a matter of concern.
"It appears there are a number of times this notification should have been made in the last year, and weren't," he said.
Independent court monitor Robert Warshaw, however, hasn't addressed this matter. His latest report to the court, released on September 12, included no comments on whether there was a failure to report suspected criminal misconduct.
Warshaw did not respond to the Express' requests to discuss this issue.
Burris acknowledged those concerns, noting that he and co-counsel Jim Chanin have long been disturbed by the downward direction of discipline within OPD over the years.
"We've been concerned about this since the Riders — what about the actions of the supervisors, of the command staff?" Burris asked.