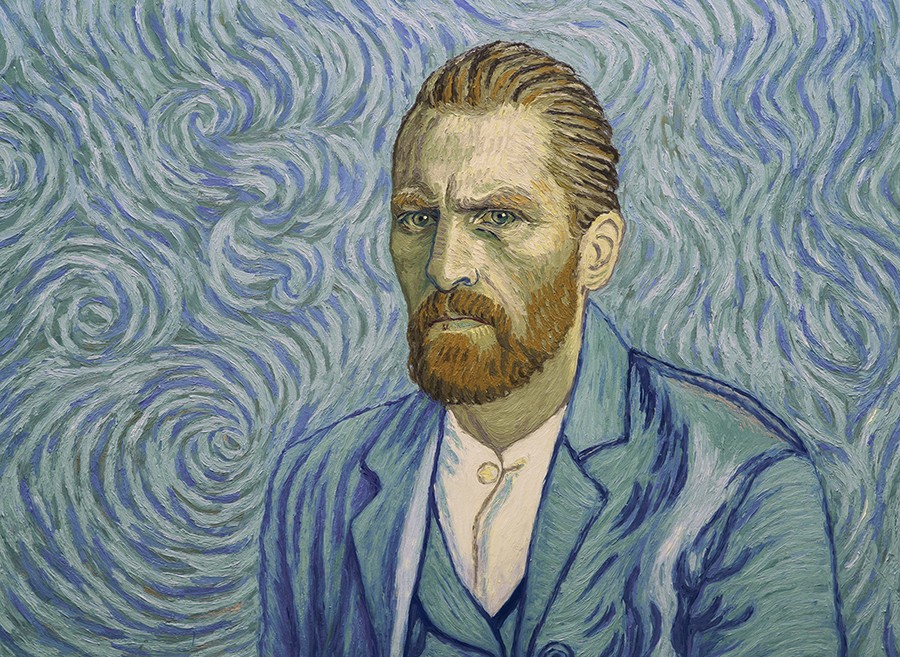 The standard line used in defense of kiddy-show fantasy spectacles or bloated big-budget sci-fi flicks is that, yes, the movie may be pretty dumb, but it has outstanding visuals. Now along comes a high-flown grownup movie about a true cultural icon, with visuals so superlative they threaten to overshadow any discussion of the film's other facets. Dorota Kobiela and Hugh Welchman's Loving Vincent, an animated drama centered on the last days of artist Vincent Van Gogh, is so beautiful that we almost distrust it.
From its very first shot, Loving Vincent is the most gorgeous movie of the year. Animated from a series of oil paintings in Van Gogh's trademark style, executed by some 125 artists over a production period of more than six years, the drama depicts an investigation into the Dutch painter's death, built around the delivery of a letter carried by one Armand Roulin (voice of Douglas Booth). The unpredictable Vincent sparked conflict wherever he went, as recalled by characters played by the voices of Chris O'Dowd, Helen McCrory, Saoirse Ronan, Jerome Flynn, and other actors for the English-language version. Did he actually shoot himself in the chest, or did one of his acquaintances take the suicide out of his hands?
The animation process achieves a look similar to rotoscoping but with an oil-color richness that deserves to be seen on the big screen to be appreciated. It's exactly if we had interpolated the characters into Van Gogh's most recognized settings in his own style. The "Starry Night" sequence alone is a breathtaking piece of movement and color.
The detective-story schema of Kobiela and Welchman's screenplay (co-written with Jacek Dehnel) may seem a little far-fetched, but really, is it any sillier than Kirk Douglas and Anthony Quinn sitting around in an Arles cafe insulting customers in Lust for Life or Martin Scorsese in an orange wig frightening crows in Akira Kurosawa's Dreams? Surely by now the Van Gogh mythology has entered the public domain. He's anybody's image of the misunderstood genius at this point, and Loving Vincent is a blazingly convulsive portrait of the artist, whether it's factual or not. See it and be exhilarated.
Loving Vincent
Directed by Dorota Kobiela and Hugh Welchman. Opens Friday.