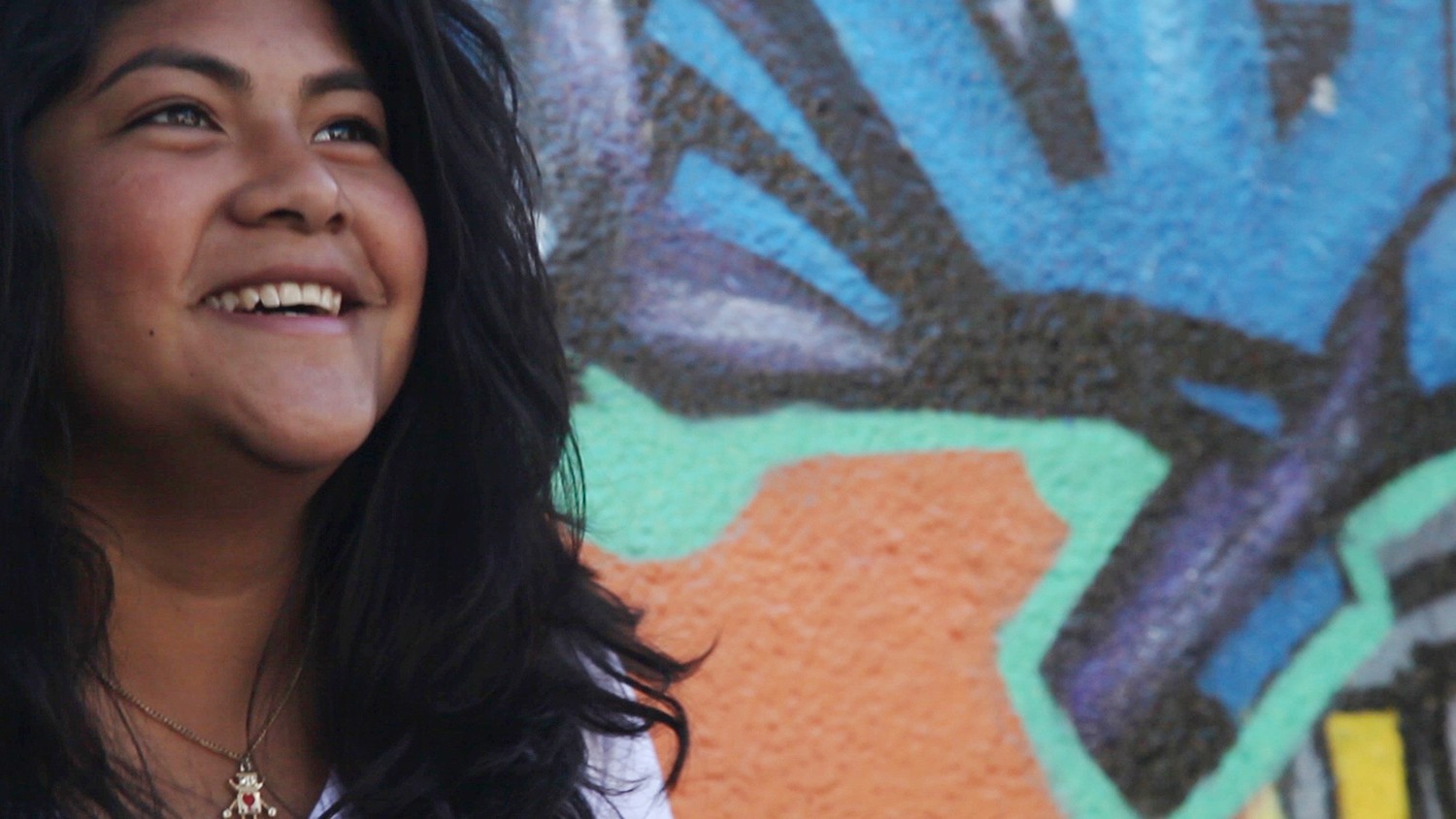 Three filmmakers, three short films, three genres: fiction, visual poem, documentary. But Hector Ortiz's ANNOUNCEMENT, Javier Lopez Quintana's The Perfect Immigrant, and Jun Stinson's Futbolistas 4 Life are linked by their focus on young people in the immigrant community — a topic that could not be more timely.
Twenty-eight-year-old Hector Ortiz graduated from the Contra Costa Community College digital film program in 2014. In 2017, he received a $7,000 neighborhood mini-grant from the Richmond Arts and Culture Commission to make his 15-minute short, which he describes as fiction inspired by truth. As a DACA recipient, he was so disturbed by the news about the program in 2017 that he changed his proposal at the last minute. The film he made, ANNOUNCEMENT, now follows a young man, loosely based on Ortiz himself, dealing with the possible end of DACA, and family issues that arise as he makes decisions that cause conflict with his traditional parents. "A lot of it is in Spanish," said Ortiz, "because I wanted it to be as authentic as possible."
The RAAC grant allowed him to film for five weekends, buying equipment and subsidizing his 15 cast members, whom he found by putting up flyers and requests in online media. "They come from Richmond, San Pablo, Hercules — the guy who plays the father drove all the way from Newark to be in the film," Ortiz said.
ANNOUNCEMENT will be paired with The Perfect Immigrant at a screening Friday, Nov. 16 at Bridge Storage & Art Space in Richmond. "To some degree, my film is saying visually what Javier's says audibly," Ortiz noted. "No one is the perfect immigrant. Whether you support immigration rights or if you are against, it's definitely not going to be what you expect."


[embed-1]
The screening will be the first official showing of Ortiz's film, which he hopes will be the kick-off to a series of feature-length projects about undocumented immigrants, "In the Shadows."
"It will begin the way this one ends," he said. "Each idea is different in tone and genre, but they are all related."
Quintana's short film (running time 3 minutes, 22 seconds) is a visual representation of a poem he wrote for a class at UC Berkeley, where he is a political science major. A transfer from East Los Angeles College, he is also a DACA recipient, and was responding to being treated as though he was the "perfect immigrant." Images in the film show the faces of multiple young immigrants, as the lines from the poem are spoken. "I am a refugee coming to America in streams of blood," one line comments. In another, Quintana writes, "Mis sueños cannot be contained on a piece of paper."
Quintana briefly worked alongside his mother in a factory, where, he said, he saw her being mistreated and forced to work faster than she was capable of on peril of being fired. Her bosses could do this, he said, because they knew she was undocumented. "What [people like my mother] do allows us to what we do," he said.
Shot over a period of only two days, The Perfect Immigrant was originally screened in 2017 as part of UC Berkeley's Campus MovieFest, the world's largest student film festival. It has now been submitted to the Sundance Project 1234 program.
The screening event at Bridge, titled "The Upstanding Immigrant," will also include a panel discussion led by Ortiz, featuring RACC commissioners Tony Tamayo and Silvia Ledezma as well as special guest Contra Costa County Supervisor John Gioia. It is part of the region-wide "United Against Hate" week.
Jun Stinson's Futbolistas 4 Life follows the intricate story of students at Oakland's Life Academy and their soccer coach over a five-year period. Though only 39 minutes long, the documentary is filled with intimate, powerful moments. It focuses on April, who was born in the U.S. and is a citizen, but whose parents are undocumented, and Ben, who came to the California at age 6 from Mexico. Interwoven with their lives is soccer coach Dania Cabello, whose family fled Chile in 1976 during the military coup.
While still a graduate student in UC Berkeley's journalism department, Stinson met Cabello when the former pro soccer player was part of a panel. "I was impressed with the remarkable work she was doing, and she invited me to visit the school," said Stinson. During the visit, she learned that three students from the 250-student school had recently been shot and killed. "As an Oakland native, this hit home for me," she said. Cabello and her "futbolistas," the soccer team she had created, were rallying the school by raising funds to build their own soccer field.
"I decided to tell the story of the importance of this field, about the resiliency of Oakland youth amid all the issues they are facing," Stinson said. "And I wanted to tell the story through the lens of the students."
She chose Ben because he was applying for the DACA program, and because he was willing to share his story on-camera. April, she said, "was a charismatic leader with a passion for soccer." Stimson did not realize at first that April was also dealing with extreme anxiety and panic attacks, and the way she and her family positively coped with this became part of her story.
Stinson salutes the students and Cabello for continuing to participate in the project as what had been slated as a one-school-year interval turned into five years. "They were wonderful and supportive, and as a filmmaker, it's remarkable to have them trust you that much," she said.
Cabello, with help from her students, applied for and was awarded a $100,000 grant from the U.S. Soccer Federation to build their dream field, only to have to fight for matching funds and to keep the grant for its original purpose. In Futbolistas, Cabello notes that it would provide recreation access to more than 1,000 kids in the Fruitvale area. She describes their project as an act of "joyful resistance."
Futbolistas 4 Life screens with two other shorts on Wednesday, Nov. 14 at the Roxie Theatre in San Francisco as part of "Sports in the City — For Economy or Community?" during the SF Urban Film Fest.
"My hope is that it humanizes the experience of youth in Oakland and across the country who are being impacted by federal immigration policies, gentrification, and city planning decisions — what happens when they don't have a safe place to play or to go afterschool," said Stinson.
"The Upstanding Immigrant": Nov. 16, 8 p.m., free, 23 Maine St., Richmond, Bit.ly/Upstanding-Immigrant.
Futbolistas 4 Life: Nov. 14, 6:30 p.m., $10, 3117 16th St., San Francisco, SFUrbanFilmFest.com.
[embed-2]