A Tool concert is a lot like Ridley Scott's recent film
Prometheus
, and if you like one, you'll probably like the other. Both are lavish works of big-budget, high-concept art that are either profoundly thoughtful musings on existence or a lazy con playing to the lowest common denominator, depending on whom you ask. That both the band and the movie are wildly successful and the result of some objectively refined, diligent craft by various artists and engineers only turns the screws for detractors — it's fair, there's a lot of expensive bullshit out there.
Let's just say it'd be awfully depressing if something as moving and cinematic as a Tool concert were just a big joke. And just as
Prometheus
wasn't as impressive unless you saw it in IMAX, Tool's albums also only scratch the surface of the breadth of meaning provided by the band's live production. A hundred dollars for a ticket sure does sting the recession-addled pocketbook, but goodness if the show wasn't a lavish display of sound, video, and laser light.
Failure opened well before the listed 8 p.m. start time. It's a shame that a whole generation has missed out on its heavy art rock. Its guitars crunched with only the faintest tinge of aggression, its vocals soared without any strain, and its drummer was a many-limbed beast. Hilariously/sadly, one Tool fan in the audience kept flipping them the bird after every song, awarding them a thumbs up only when they announced their last song.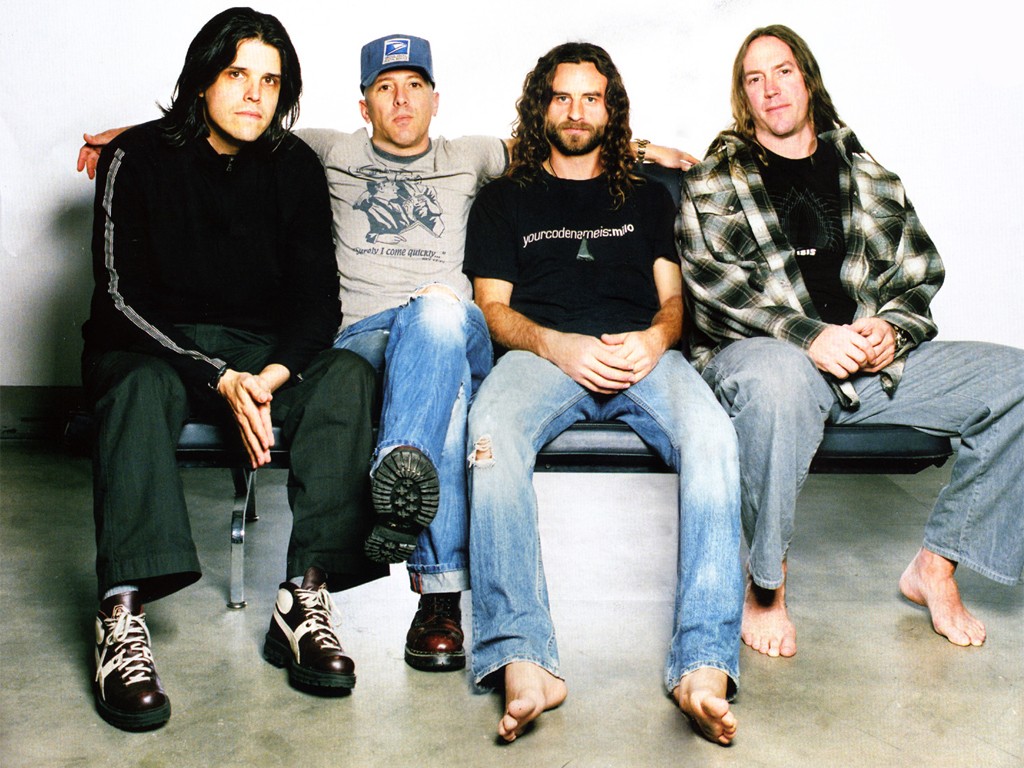 [jump]
Tool had little to prove to tonight's audience but went for it anyway. Opening with "Hooker with a Penis," a deep cut from its breakout 1996 album
Ænima
, the band sounded tighter than it has in years, with a transcendent rhythmic rapport created by drummer Danny Carey, bassist Justin Chancellor, and guitarist Adam Jones. Singer Maynard James Keenan was quiet — he was low in the mix for much of the night and sadly didn't have a word of his signature black humor for the audience. However, he was selectively animated, most notably on the climax of "Hooker":
All you read/And see and hear on/TV is a product/Begging for your/Fat-ass dirty dollar/Shut up and buy!
That eighteen-year-old refrain is an oddly prescient take on the ad-supported content world we now occupy on our phones.
As always, Tool's performance was taken to the next level by the visual art of Jones, displayed on a spiral configuration of screens behind the band, and abetted by a kinetic lighting system. Jones is sort of a pocket H.R. Giger — his bleak character concoctions are not nearly as baroque but have a kind of punk directness, illustrating the themes from Tool's lyrics. Highlights of audio/visual synchronicity included "Ænema," "Forty-Six & Two," and "Lateralus," which climaxed with the imagery of a daisy chain of naked animatronic men with their heads up each other's asses — really. On "Stinkfist" and classic single "Sober," the band teased us with the only thing resembling new material, revising its more open-ended midsections to hint at new pathways to come.
Throughout the night, Tool's longstanding themes of human evolution, spiritual transcendence, unity, and interdependent complicity were both plainly and loudly displayed, though these ideas were not spoon-fed to the audience. And despite the volume and preponderance of heavy riffing, the band's songs smoldered, meandering around lyrical meditations rather than hammering a single point. Take "Vicarious," the 2006 single off
10,000 Days
. The band wrestled with its theme — the human need to comfortably consume other people's tragedies — with ardor over the song's ten-minute runtime. As in an internal argument, wherein different perspectives are built up, torn down, and finally synthesized, Tool went through a half-dozen semi-crescendos, portending an ultimate one that modulated the original thesis.
This musical dialectic phenomenon often seems at odds with the surfeit of mooks in the band's audience. But, like
Prometheus
, Tool's presentation can also be enjoyed for its sheer entertainment. The show ended with a decidedly un-profound burst of confetti, and the crowd, brains and brawn alike, left Bill Graham Civic Auditorium spent and happy into the warm night. For a band whose members are known for creating everything themselves, the show was an over-the-top spectacle that aimed to please, and succeeded handily.