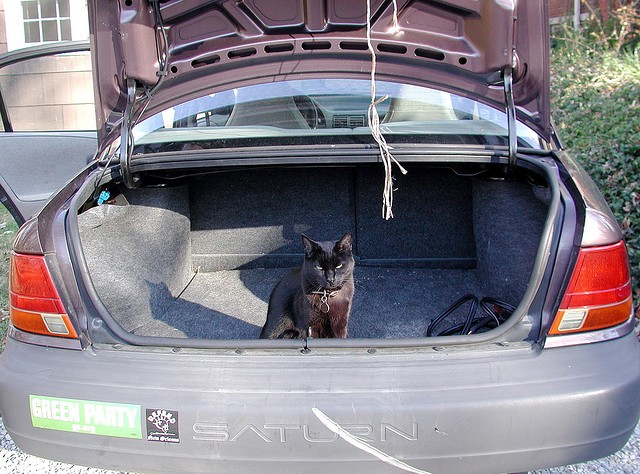 In response to the alarming and ever-increasing rental rates in the Bay Area, one Berkeley resident has come up with an ingenious solution — live in the trunk of a car! The dubious Craigslist
ad
 is sadly not
that
far out of left-field (we've seen ads offering living spaces in vans, tents, and back yards), and is aimed at tech sector types "Yahooians and Twitterites." What would living in a car trunk for $2,000 get you? Such great amenities as few monthly utilities, a sweet location in the Berkeley Hills (take your date to The Cheese Board in minutes!), and possibly one or two Wi-Fi bars on a good night. You're already paying to live in a coat closet, the ad implies, so why not save a couple hundred dollars each month?
Here's the full ad:
[jump]
Hey Yahooians and Twitterites — you've always dreamed of living in SF, but hell – no one can afford a broom closet for $3,500 a month. But the East Bay is still rockin' and I've got the perfect place for you: the trunk of my car! It's spacious, carpeted, with lots of windows and great light. Monthly utilities are minimal: you're responsible for half the monthly wifi cost (it's a bit of a stretch from the house, but you can usually get at least a bar or two) and any parking tickets that accrue — that's all! Sure, you may be thinking that $2000 is a lot for a car trunk, but, hey, this is the most desirable part of Berkeley. It's quiet, safe (mostly) and you'll be just a few minutes away from the gourmet ghetto! Plus the rent is comparable to most of the other tiny closets in the area going for $2250, so you're saving $250 — it's a steal! This is likely to get snapped up quickly, so Act Now!
Act now, before this prime location at "greedy and crazytown" gets snatched up.
H/T to Erin Sherbert at
SF Weekly
.