[embed-1]
Eight years after Mayor Trish Herrera Spencer voted against allowing same-sex curriculum in Alameda schools, members of the LGBTQ community showed up at City Council on Tuesday to reject her proclamation of Pride Month — and to demand an apology.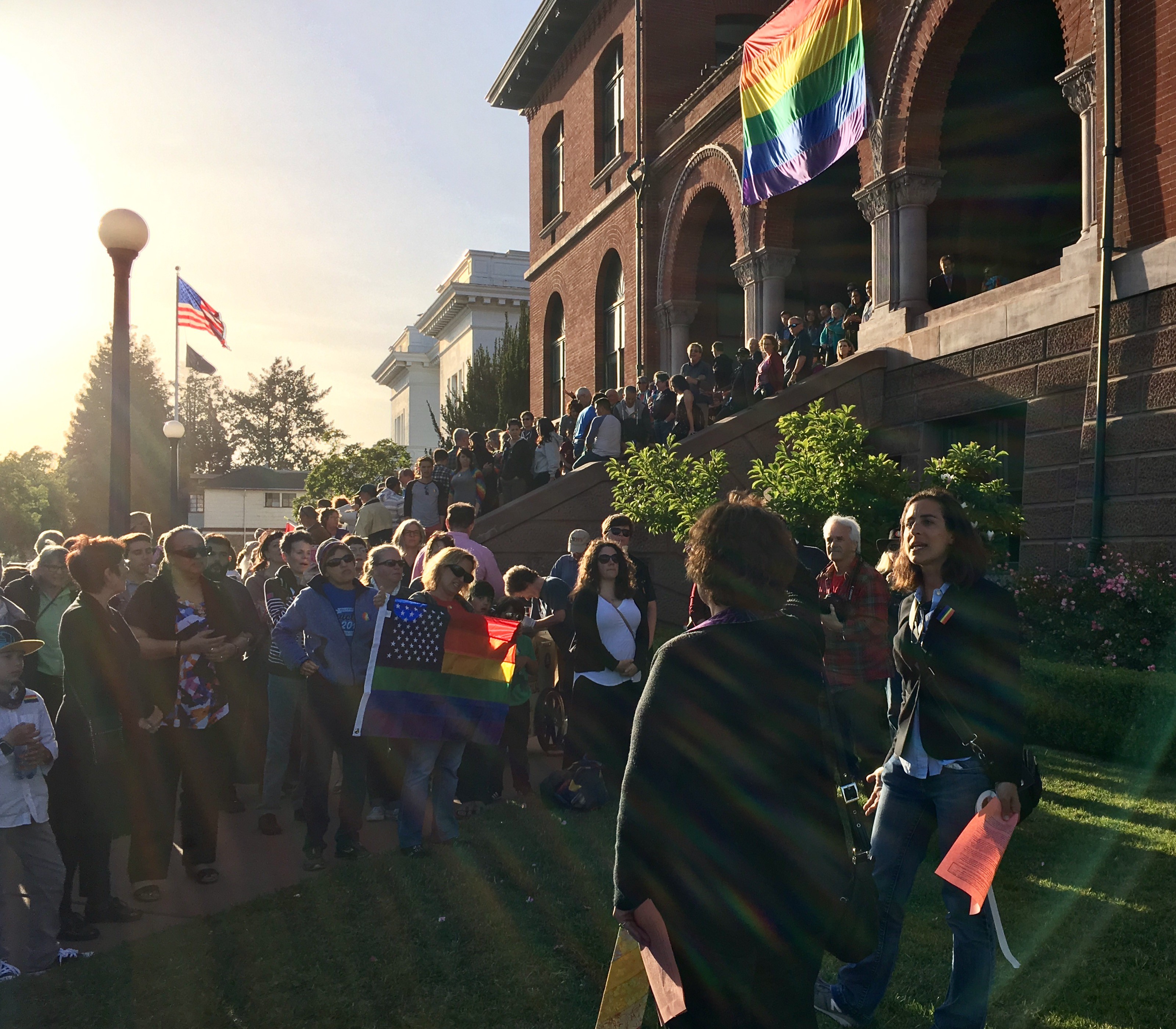 On Tuesday night, prior to the council meeting, the city held a well-attended celebration in front of City Hall in honor of Pride. But some members of the Alameda LGBTQ community declined to pose for a group photo with the mayor (right). Instead, they formed an equally large alternative photo opportunity next to the city-sanctioned one.
The city's four councilmembers also joined the protest photo-op, in solidarity with the community's stance against the mayor's past positions on LGBTQ issues (see below). Councilmember Frank Matarrese said he intended to take part in both photo-ops, however.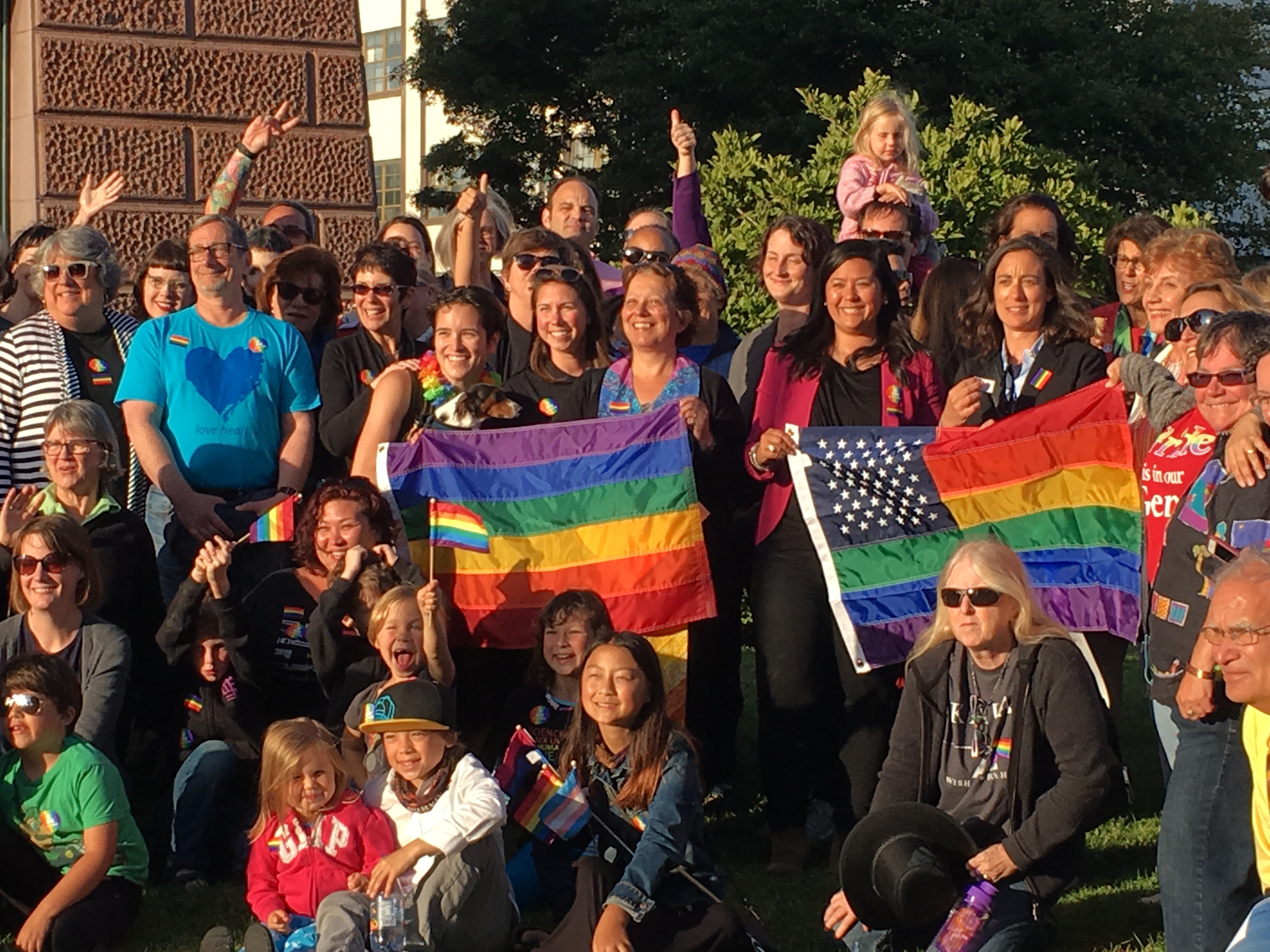 Olivia Higgins, a member of the Alameda Unified School District's LGBTQ round table, said at the event that her group wants "direct acknowledgement of the hurt and the pain [Spencer's vote] put on our community so many years ago."
She was referring 2009, when then-school board member Spencer voted against allowing references to gays and lesbians in Alameda elementary-school curriculum. The mayor's vote came in the shadow of the Proposition 8 campaign against marriage equality in California, and, according to news reports at the time, Spencer said supporting the same-sex curriculum would promote bullying against those who oppose it for religious reasons.
Spencer's school-board vote was not much of an issue during her unexpected 2014 mayoral victory over the incumbent Marie Gilmore.
But on Tuesday, the LGBTQ group's protest continued after the photo-op and during the council meeting, when members declined to accept a formal city proclamation declaring June "Pride Month" in Alameda. (See the video at the top of the story.)
Rev. Dr. Laura Rose, senior minister at First Congregational Church of Alameda, United Church of Christ, said the city's invitation to participate in the group photo with Spencer "re-opened a very deep wound." She told council that her group "would like to return the proclamation, respectfully, to Mayor Spencer, and would like to ask for a public apology for the pain that was caused during that time."
"We believe that will lend credibility and integrity to the signature at the bottom of the proclamation. We believe that Mayor Spencer wants to do the right thing," Rose said.
Spencer responded by stating that the proclamation was not intended for a particular group, then asked if any other LGBTQ community members would accept the proclamation and pose for a photo. Three members of the public stood and joined the mayor.
After the meeting, Spencer told the
Express
that she did not know a separate photo op was being organized. She also said protesters "were detracting from the powerful statement that our city is making."
"I wish the focus was on what our city did. I don't think it's appropriate for me to apologize for them detracting from what our city is doing," the mayor said. "I don't appreciate it.
She continued: "I will not apologize for wanting all children to be protected and feel safe. It's sad we are where we are," then added that she fully supports the LGBTQ community
Spencer also noted that some of the individuals who declined to accept Tuesday night's proclamation had no qualms accepting a different proclamation, last October, in celebration of LGBT history month.
"I don't know what happened from then to Tuesday night for them to have such a different response?" Spencer asked.