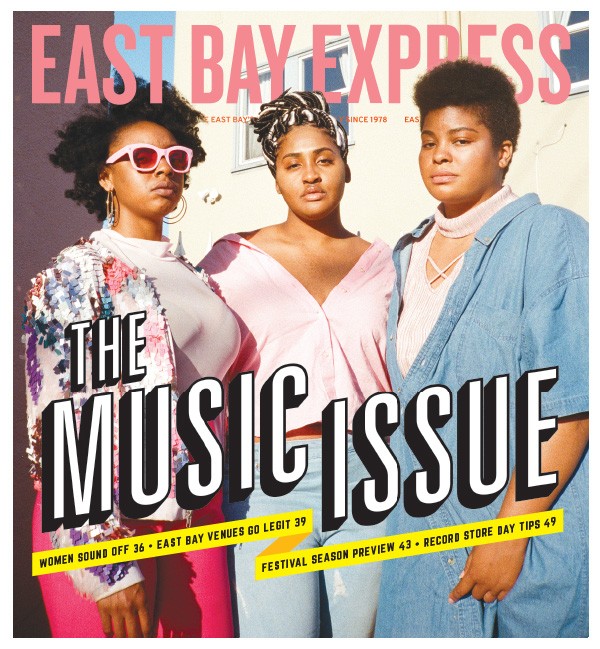 "It's Alive! It's Alive!: Our Film Critic Previews The 60th San Francisco International Film Festival" by Kelly Vance, Film Feature, April 3:


Don't Be 'Such A Dick'

Damn, I usually love your reviews rave or criticism. But you really went out of your way to talk shit on the San Francisco International Film Festival this year. Your "between the lines" contempt was not as hidden as you may have thought. It also wasn't cute or cheeky. It genuinely seemed like you were trying to convince people not to go.
Whatever you think about San Francisco in general, the film festival has always been a quality event fueled by enthusiastic volunteers, and showing quality local and international offerings. Don't be such a dick about it. You're supposed to support your local film festival!
Nick Parker
"The Beat Won't Go On: Chicago Landlord Evicts Coffee With A Beat, Longtime Adams Point Shops" by Brian Krans, News, March 30:

Bummed on the Beat

I am so bummed. I have fond memories of my first child playing on the piano, reading books, and grabbing a sandwich/cuppa joe at this shop. We really felt welcomed here. Happy to hear owner is retiring, though, hope he enjoys this time. Best of luck!
Katie Hart
Hurt, Angry, Sad

I used to have a weekly Spanish group at the café, and I remember how Justin would accommodate us. I saw myself in the staff of Coffee with a Beat. When we talk about trauma and loss, this truly is it. I am hurt, angry, sad. What struck me the most about the article is that the owner cannot pass this cafe-legacy down to his sons.
Karessa Larneice
"City Emails: Many Dublin Residents Think Undocumented Immigrants Are 'Felons' Who Will Turn Their Town Into a 'Cesspool'" by Darwin BondGraham, News, April 4:


Stop Being Stupid

It is not surprising in the current national climate that such ignorance and fear exists in Dublin. It exists in many other places, even in this liberal bastion of Northern California.
Look at the false narrative coming from the President. "We are going to get the really bad guys" and all of the drug problems are coming from those "other" people south of the border.
The reality is that they are destroying families by rounding up working, tax-paying dads, grandmothers, and single moms. Kids should not be traumatized fearing disappearance of a parent as a result of them running a stop sign on the way to work.
The fact is that the opioid crisis is driven by greedy "Big Pharma" and the health-care system, not immigrants or people from the hood. Those people south of the border are the ones who are the silent exploited engine that makes the economy work. The cost of fruits and vegetables on your table, the price you pay when you go out to dinner, the reason you get those $10 T-shirts at Wal-Mart — it is all because the system exploits immigrants for our benefit.
Now, we as a nation want to punish them, when many are just hard-working folks trying to have a better life for their kids.
There are 30,000 acres of flat undeveloped land adjacent to Dublin in north Livermore. The reason it is undeveloped is because of the same hate and fear described in this article. The people of Livermore believe that, if developed, much of it would be affordable housing and that would bring an influx of those scary and dangerous "others."
The people of Dublin should realize that being a sanctuary city makes your community safer not more dangerous. Stop being stupid.
Gary Patton
"Letters of the Week" April 5:


Choose The Silver or Black Pill?

What needs to be done about the Raiders is to design a "poison pill" of some sort that would never allow them to return.
David Bell
Correction

In last week's arts feature sidebar, "American Paradise Filmmakers Discuss Race, Class, And Their 'Black-Face, Bank-Robbery' Short Movie," we misspelled the name of producer Khaliah Neal.