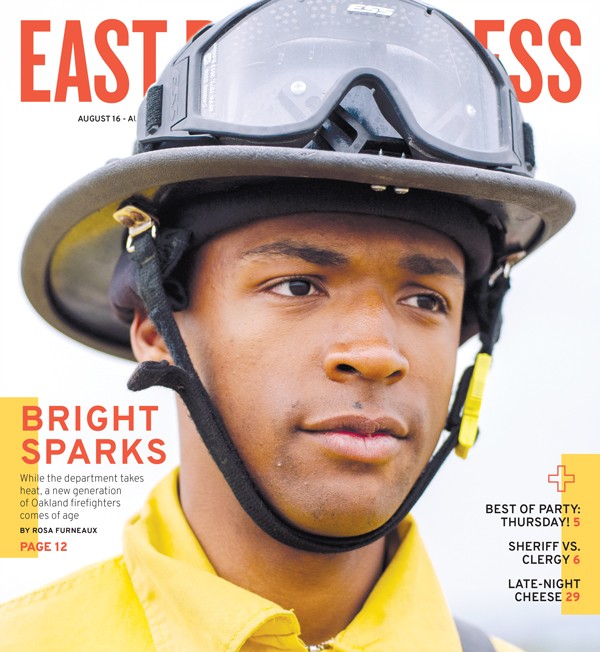 "Bright Sparks: While the Oakland Fire Department Takes Heat, a New Generation of Firefighters Comes of Age" by Rosa Furneaux, Feature, Aug. 16:
We Do It for the Love of the Job
Great story, but sadly, the real story is the men and women who have put in 25 years or more — the House of Pain is widespread. I put in 25 years at stations 15, 4, and 5. I had two clogged heart arteries. I've seen many of my co-workers die of cancer within seven years. The repercussions of this job are long-lasting. Yet, I would do it again because of my love for this job. House of Pain? Bring it. That's our job. That's why the city pays us. That's what we try to provide the citizens, and most importantly, we love our job.
Mark Reinthaler
"Wednesday's Briefing: Downtown Oakland Retailers Struggling; 83% of Bay Area Renters Plan to Leave" by Robert Gammon, News, Aug. 16:
High Rents Are Seriously Hurting Oakland
If the landlords would quit raising rents, people would have more money to go out and shop. Renters are the majority of residents in Oakland. If it was easier to park in Downtown Oakland and we had more viable stores, people would go down there. Half the time there's a demo, a riot, a rally, a marathon, an event in Downtown Oakland that make it even hard to use public transit, let alone drive and park there. When the walking malls of the '60s were built across this country, eventually many were deserted and people moved away from them for reasons, but making them walkable wasn't what brought these places failure, it was mostly the economy. High rents are seriously hurting Oakland. I can't even find what I really need in Downtown Oakland many times. We lost a few good big stores there that boutique stores just can't fill.
Kit Vaq via Facebook
"Alameda County Sheriff's Retweet of White Supremacist Press Conference Goes Viral" by Brian Krans, News, Augu 15:
Actions of Law Enforcement Speak Volumes
I would love to think that Alameda County law enforcement doesn't actively or tacitly support racist hate mongrels, but then I remember many of the actions of SFPF, the Alameda County Sheriff, BART police, and finally, the utterly corrupt OPD.
If these officials really want to remain idle and speculative while these violent hateful assholes mobilize in the Bay Area, then come down brutally on protests relating to police and city misconduct/people's rights. Doesn't that really answer everybody's question whose side they on at the end of the day?
Joseph E. Roseberry via Facebook
They Cannot Support White Supremacy
And why on earth is he embarrassed by stating the obvious? The sheriff's department cannot support white supremacy. Get a grip.
Sharon Procter via Facebook
"White Nationalists Plan Yet Another Brawl in Berkeley" by Darwin BondGraham, News, August 14:
Shun Them and Their Disgusting Beliefs
Everyone should totally ignore them, turn our backs, shun them and their disgusting beliefs. Do not give them what they want, publicity. Take lots of high-quality photos of their faces and out them to the world and their communities. The slime is coming out from under their rocks — expose them.
Janet Marie Drew via Facebook
Stand and Laugh
Everyone should just stand, laugh (so loud it drowns out their megaphone squawking), and point at them, nothing else. Or hold up mirrors in their direction in complete silence so they can see how ridiculous they look.
Rebecca Renfro via Facebook
Corrections
In last week's music feature, "Azúcar con Aché Say Adios," we misspelled the name of Azúcar con Aché's bandleader, Remy Rodriquez. Also, the band's farewell show at Freight & Salvage has been moved from Aug. 27 to Sept. 10.