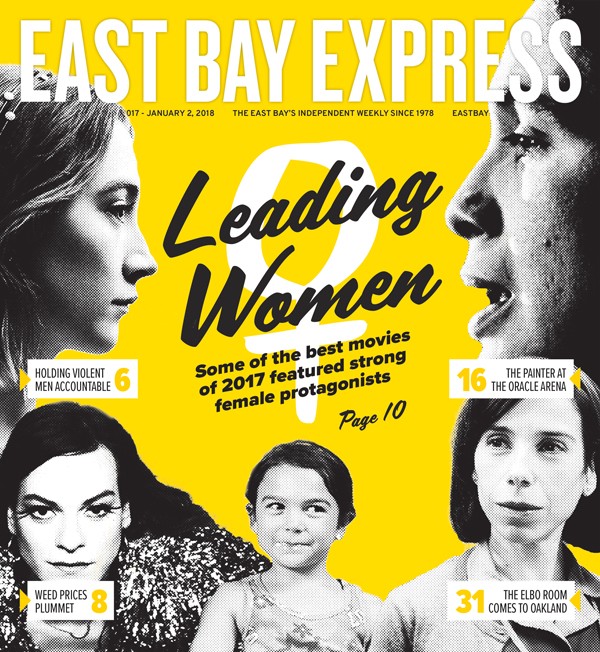 "Wholesale Pot Prices Plummet," Legalization Nation, 12/27
Black Market Will Thrive
What a travesty this all is. People who voted "yes" on this will soon be resorting to black market weed because of the insane amount of tax that will be attached to purchases. The black market will thrive, at least until the inevitable corporate pot monopoly leans on Emerald Triangle law enforcement to go after small growers, which they'll do without haste.
We just can't seem to do anything right in California, and those who voted "yes" for this couldn't see the writing on the wall under all that pot smoke haze.
Vincent Blafard
"California Cuisine with a Funky Edge," Restaurant Review, 12/26
Can't Wait to Try It
I can't wait to try Copper Spoon. The description of their dishes, the care they seem to take on their food prep described in the article, and their respect of Oakland's deep cultural roots make this one place I need to visit soon.
Christine Arnott via Facebook
Great Vibe
Ate at Copper Spoon on Friday and loved it! Food and drinks were wonderful, but the best part was the vibe.
Maggie Valentino via Facebook
"Thursday's Briefing: Charlie Hallowell Accused of Sex Harassment by 17 Women" Online News, 12/28
Abuse of Power
What a bummer. It sucks, too, now because people will boycott these restaurants, which ends up hurting the employees more. This kind of sexual misconduct and abuse of power ends up affecting so many people.
Audrey Kuhn via Facebook
"Berkeley's KPFA Radio Facing Ruin as New York Real Estate Corporation Considers Seizing Station's Assets to Settle Lawsuit," Online News, 12/28
Cover Up
The majority of the listeners only find out about this months after the lawsuit was lost — why? People donated in fund drives and had no idea this was going on. The mentality of ongoing covering up of finances and status of the stations is not only harmful but also not uncommon for KPFA it seems.
Victoria Ashley
Look at Viable Options
There are actually several options and being alarmist is not always the way to go. There's a loan that looks to be available that would pay off the judgment to Empire State right away, prevent any collection threat, and be interest-only for three years, allowing plenty of time to look at a signal swap or sale. Pacifica Foundation is far from actually being bankrupt. It owns $10 million in real estate in three different cities and has interests in broadcasting licenses worth $80 million to $100 million. The actual debts are in the $5 million to $6 million range, and only about $3.5 million of that is urgent or pressing.
Bankruptcy has problems. The legal fees are estimated to be close to $1 million. That's a lot of listener money down the drain. Yes, Pacifica can propose a plan, but so can the creditors committee (led by Empire State), and the judge can choose either, and when one delivers payments to creditors a lot faster and is much simpler, it has an advantage.
Pacifica has already received signal swap offers — five of them — in the last two months, for all frequencies except the one in Texas, ranging from $5 million to $15 million. The smallest and least destructive is actually for KPFA, and the biggest and most destructive is for WPFW in Washington, D.C. Any of them would clear the debts in total, but they need one to two years to get through the FCC.
The clearest path is through a loan and then a signal swap. It doesn't require bankruptcy, and there's a lot to be said for not getting into court with a capitalist billionaire with a pricey and vast legal team and hoping a federal judge will be nice to you.
Independence is pretty precious, besides being part of the term "independent media." Don't give it up easily.
Tracy Rosenberg