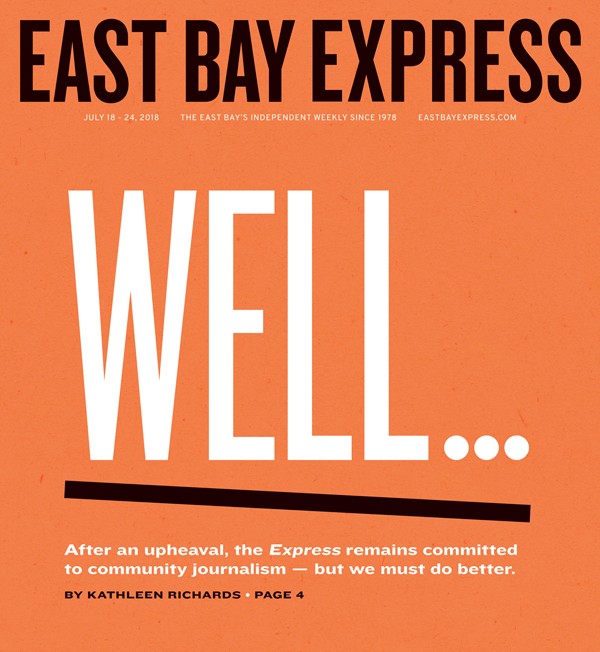 "A Path Forward," Editor's Note, 7/18
Thank You
Thank you for sharing the story about what's been going on behind the scenes, as it were, at the East Bay Express. 
I have always appreciated the Express' tackling of important issues in a timely manner, and Express articles have often been a launching point for interesting discussions I've had with many, many folks about difficult subjects, which often go unexamined until we see them in print, coalesced into a story with a beginning, a reliably accurate history, a middle, and a place where I see that I may effect change going forward, even if it's just by having an awareness that now informs my point of view or conversation about a topic — and there are so many areas where I do see the Express "hold the powerful accountable, spotlight injustices, advocate for transparency, and elevate voices of the marginalized and oppressed." 
So thank you for your journalistic integrity, and I applaud the Express' decision to create a paid internship for a student journalist of color — it helps to be a little higher on the Maslow's Hierarchy of Needs, i.e. having a regular income that allows one to breathe while conducting due diligence, if one is going to serve in the capacity of journalist. I do feel that journalists of color are fewer, often for economic and educational reasons, and due to a misallocation of resources and generational capital, and though I wish we were enlightened enough to be color-blind, we aren't there yet.
A dedicated reader, proud of my favorite paper,
Teresa Miller 
"Not a Win for Many Immigrant Families," News, 7/18
Doesn't Feel Like a Victory
Thanks for looking more deeply into the complexity of ICE issues. Most of us who don't have to deal with immigration detentions personally don't know enough specifics to grasp all the ramifications of wanting to get ICE out of our communities. I know I didn't have a clue until I saw Kara's story shared online earlier.  I've been troubled to see the local movement pay so little attention to the impact of canceling the West Contra Costa County Detention Facility's ICE contract — lots of celebration, not too many hard questions about what this means concretely in the lives of real people. This doesn't feel like much of a victory to me.
Brenda Carter
""Fifty Years of the Oakland A's," Arts Feature, 7/18
Could've Been Better
There could've been so much more to this exhibit, even in the smallish space. Don't get me wrong, I am pleased it is there, but I would've loved an exhibit that showcased all the great Oakland A's history.
Marlene Vogelsang via Facebook
"Alameda County Leads Region in Civil Rights Payouts," News, 7/11
Too Bad
The Alameda County Sheriff was just up for (re)election in June 2018. Too bad voters didn't have a comprehensive view of  the county's $15.5 million in civil rights settlements and judgments before the election. Such information could have had a positive impact on the election effort to reform the District Attorney's Office, too.
Clyde Jasper
"Cut Off?" Eco Watch, 7/11
Good for Everyone
Regarding plans for the Richmond-San Rafael bikeway, I strongly support the use of that lane for driveways during the "morning" commute crush, which often continues until noon. I am a longtime road and mountain biker and have commuted to work by bike off and on for years depending on the job and location. However, as a recent Marin-to-Richmond transplant, I have experienced firsthand the huge relief that east-bound third lane provides after a 12- to 13-hour work day—thank you! What was once an exhausting stressful slog home surrounded by angry, frustrated fellow commuters is now a breeze, and has given us more time for our families, exercise, and daily life activities. The commute west can be just as miserable, if not more so, than the east-bound one was, especially if you get to the bridge any later than 6 a.m.! Bikers will have plenty of time to ride the bridge after commute time. The relief provided by a third lane will reduce stress, anger, and aggression the road, and that's good for everyone!
Kay Feallock