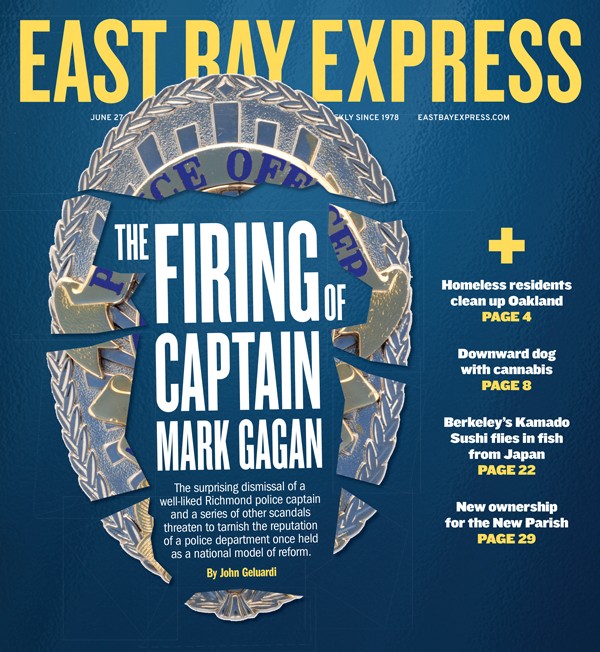 "The Firing of Captain Mark Gagan," Feature, 6/27
Time to Clean House
The City Council cannot allow Lisa Stephenson to become the interim, or acting, city manager. Forcing [Bill] Lindsay as a last act to terminate Allwyn Brown, Lisa Stephenson, Felix Tan, Bisa French, Ben Therriault, and the others involved would be an important step towards reconciliation of the troubled department. 
Former Chief Magnus has some responsibility here as well since it was clear Brown was his personal preference as his replacement. Between the corruption and ineptitude of Richmond Fire Chief Adrian Sheppard, his Oakland FD crew, and these crooks in the RPD, it is once again time to clean house.
This includes their enabler, Mayor Tom Butt, who needs to be removed this November.
Andrés Soto 
No Trust
The notorious Richmond Police Department!! Why has nobody made reference to the same RPD who did the Pedie investigation? This story comes as no surprise to the Perez family. We have stated all along that there is a cover-up done by many of the high-ranking names mentioned in this article. This article has similarities to the RPD investigation of the police killing of our son Pedie. RPD's choosing a deceitful way to terminate the employment of Wallace Jensen is more evidence of the department protecting its image rather than true justice and law enforcement.
# NO TRANSPARENCY #NO ACCOUNTABILITY # NO TRUST
Rick Perez
Free Ride
I am afraid Tom Butt got a free ride in this article. No criticism of him getting money for his election from the police officers' union. Mr. Butt as much stated when speaking publicly to the press in Point Richmond about the Guap debacle, 'What do you want us to do, take them out and shoot them?' (Meaning the police involved in the Guap affair)? Mr. Butt also jumped on the Alameda County DA for criticizing Richmond's PD for wanting to send Guap to Florida. Butt told the Alameda DA to get out of Richmond's business.
Jeannette Kortz
An Example
Mark Gagan knows this community loves him. The only go-to officer for me for many years. A real example of a peace officer. This story was excellent and filled in some blanks for me. I was a community advocate that worked with RPD and the Office of Neighborhood Safety as we worked together to reduce crime in our community at one time. It takes honest communication and relationships to fuel a department that can work in harmony with the community. Mark is the example of that. There is no place for corruption in Richmond. What have we allowed to happen?
Kathleen Sullivan
"Greening the City," News, 6/27
Great Idea
Fantastic idea, Mr. Parker, considering the parks don't get enough attention even from city workers. (I'm sure they're underfunded.) Since there doesn't seem to be any plans to build affordable housing, or housing for the homeless, we will see the tent cities grow in Oakland. I live near Snow Park; there's been tents there for years now.
Vincent Blafard 
"Top Oakland Schools Financial Officer Who Resigned During Budget Crisis Still Collecting Monthly $19,100 Paycheck," News Blog, 6/27
Upsetting
This is infuriating. My friend is an OUSD teacher and she and the rest of the teachers give 100 percent to kids who really need them.
Their pay is ridiculous for the hard work they do, and then there's this. Really upsetting.
Audrey Kuhn via Facebook
Correction
In our June 27 Feature, "The Firing of Captain Mark Gagan," we erroneously stated that Contra Costa County took over Richmond's government operations and hired Bill Lindsay as the new city manager. In fact, the city hired Phil Batchelor, the retired Contra Costa County Administrator, who brought in Lindsay as a candidate for city manager. The city council then hired Lindsay.