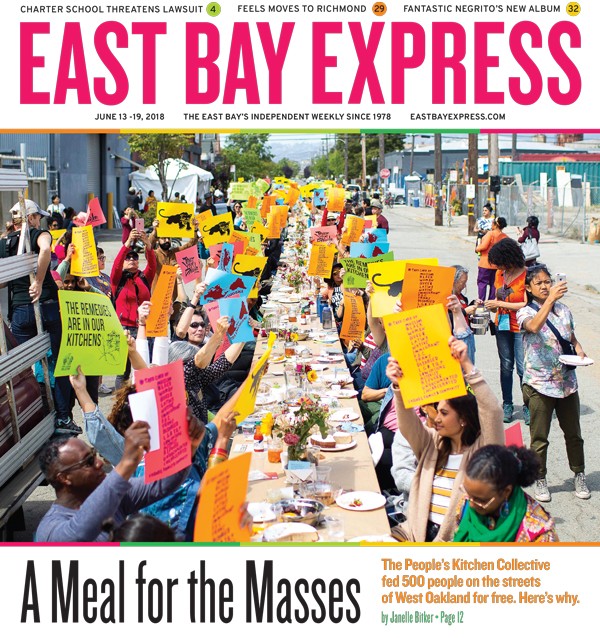 "A Meal for the Masses," Feature, 6/13
A Great Time
I was lucky enough to be invited by a friend and attend, it was so much fun, I had a great time and meet a lot of really nice people.
Andrew Wong
"A Taqueria Rises in Berkeley," Food Review, 6/13
There Are Better Options
Cancun, an organic Mexican restaurant in downtown Berkeley, has much better burritos and taquitos than Comal Next Door. Tacos Sinaloa is not downtown, it is over on Telegraph. I'm done with burritos so I enjoy Sinaloa's $2 taquitos: sublime. Comal's sit-down service restaurant is good. I enjoyed checking it out but it is too frou frou for me, especially with Cancun and Sinaloa nearby.
Tree Fitzpatrick
"Election Results in Alameda County District Attorney's Race Reveal a Stark Divide," News Blog, 6/7
Some Historical Context
The race and class divides in this DA's race also played out in the microcosm of the island Alameda. Price won most of the precincts on the West End and north side of the island, historically areas where Black and other people of color were segregated from the more white and affluent areas like the East End and Gold Coast. O'Malley only carried the West End precinct with the Bayport homes and Alameda Landing, million-dollar homes where she lives, as well as the formerly industrial areas on the northern waterfront that now sell for a seven-figures also.  To understand this election in historical context and the long-term impact of intergenerational wealth and policing inequality: Compare the 1935 "redlining" maps to election results by precinct.
Rasheed Shabazz
"Friday's Briefing: Jovanka Beckles Edges Out Dan Kalb in AD15; Diana Becton Wins Contra Costa DA Race," News Blog, 6/15
Congrats
Congratulations to Beckles. I hope the East Bay unites around this staunch community environmentalist leader. She will need defending against any dirty campaign tactics.
Valerie Eisman
Wonderful
It's wonderful to have an Assembly candidate who refuses corporate money. Especially when she'll be running against Wicks, who calls herself "progressive" but has received hundreds of thousands of dollars from corporate backers and right-wing millionaires!
Rebecca Auerbach
Interesting
Gonna be an interesting runoff. Weren't these basically the farthest ends of the spectrum among the candidates? (I guess minus the Republican.)
Zak Mandel-Romann via Facebook
"Oakland Unified Chided for 'Highly Unusual' and 'Suspicious' Fiscal Practices, News Blog, 6/14
OUSD Needs Better Auditors
One of the proposed OUSD HQ cuts is to eliminate an unfilled position budgeted at $40,000 per year for an internal auditor.
Ignoring the fact that a good self-directed internal auditor would cost close to $100,000 per year, a half-a-billion-dollars-a-year organization needs at least one if not two or three competent internal auditors to ferret out waste and misuse of funds. About a year ago a member of the OUSD audit committee asked the now former OUSD business manager why no internal auditor. Reply was that OUSD didn't have to waste money on an internal auditor when it paid an outside CPA firm to audit.  
That shows a profound ignorance of the function of internal auditors. If OUSD had had competent internal auditors who reported directly to the board and to the OUSD volunteer audit committee, we might have stopped former Supt. Wilson before he caused as much fiscal damage as he did. That does make the big assumption that the audit committee and the board would have taken action. 
It is disturbing that the "new" administration at OUSD HQ is making some of the same mistakes that the "old" administration did.
Len Raphael