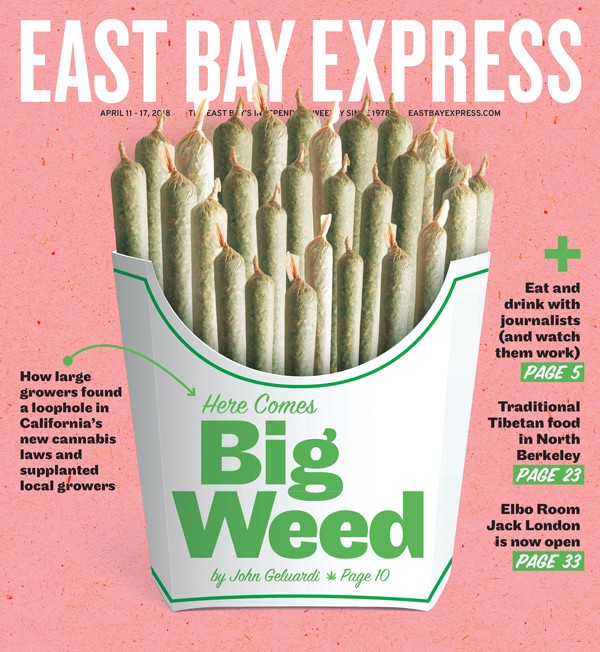 "Nipped in the Bud," Feature, 4/11
Buying Pot from Costco
I voted for legal recreational marijuana so Californians could have legal weed — not to perpetuate a few thousand small producers.
I hope for $20 one-ounce bags of 5 percent and 10 percent THC sativa and indica and packs of 20 pre-rolled joints for $30 at Safeway and Costco. Californians' choices must not be limited by government action to expensive, super strong weed with goofy names from small producers.
There is an important place in the California market for large growers who provide an inexpensive, tested, quality product. Californians can buy 4-liter jugs of wine that cost $10, and 2-pound cans of pre-ground coffee that sell for $5. We should be able to buy $20 ounces of reasonable marijuana. Pot connoisseurs can still pay $300 an ounce for the dope they prefer, just as people can buy $80 bottles of wine and $20-a-pound coffee beans. Let the people who voted for legal dope have the reasonably priced agricultural commodity they voted for.
Stephen Clayton
A Clusterfuck
When the government gets involved in anything, the Democrats and Republicans argue it into a clusterfuck so they and their rich buddies get to make all the profits and listen to only the bad advice of those getting rich off marijuana and not what the people want.
Robert Therrien
We Must Push Back
Growing your own is definitely a great idea, but not an option for many folks who are sick or lack basic resources (like $$$, land, knowledge, etc.) and that strategy will not alleviate the enormous loss of present and future ingenuity that we have come to depend on for quality/diversity of products. Therefore, IMO, we must also fight to push back against the industrialization of marijuana production and allowing all the work of longtime industry actors to be captured by a few capitalist firms.
Fred Krissman
"Oakland Should Sue the NFL and Mark Davis," The Oakland Zone, Online Only, 4/9
Right a Wrong
I encourage Griz Jones and his team's legal efforts to right a wrong that was done to Oakland taxpayers. I'd also encourage the city council and Mayor Libby Schaaf to send a signal to all billionaire sports owners and the rich boys' club they belong [to] by refusing to settle for anything less than partial public ownership of any current or future major sports teams seeking to call the city of Oakland home. Schaaf's administration should explore Tesla's offer to build a plant at the Oakland Coliseum, too.
Lenard Jones Jr.
"Campbell Washington Will Not Seek Reelection," News, Online Only, 4/12
Kudos to Campbell Washington
Annie Campbell Washington will not seek an almost certain re-election as councilmember for District 4 because she realizes that the work environment at the council is "toxic" and some members are not "honest and full of integrity." All I can say is "bully for her" and what took her so long to realize that Oakland City Hall is a rancid dump crawling with low function, avaricious clowns who have absolutely no standards of ethics, no talent, minimal intelligence, and generally behave in a reprehensible manner with no regard for civilized behavior? Council meetings are appalling fiascoes of dysfunctional people repeatedly displaying the least efficacious and most odious aspects of human behavior. This applies to the citizenry who predominate at City Hall and the councilmembers who ought to know better but clearly do not.
I commend the councilmember for her decision to preserve her integrity and sense of self. Her departure in conjunction with the continued presence on the city council of the odious and contemptible Desley Brooks confirms the suspicion and belief among educated citizens that our municipal government is hopelessly dysfunctional, corrupt, unreliable, and perpetually deficient.
Campbell Washington should be commended for her decision to preserve her sense of well-being and integrity.
Jonathan Breault
Corrections
Our April 11 food review, "The Wonders of Tibet," credited the wrong photographer. The photos are by Richard Lomibao.
Our April 11 music feature on Yaeji got wrong the name of her song "Raingurl."