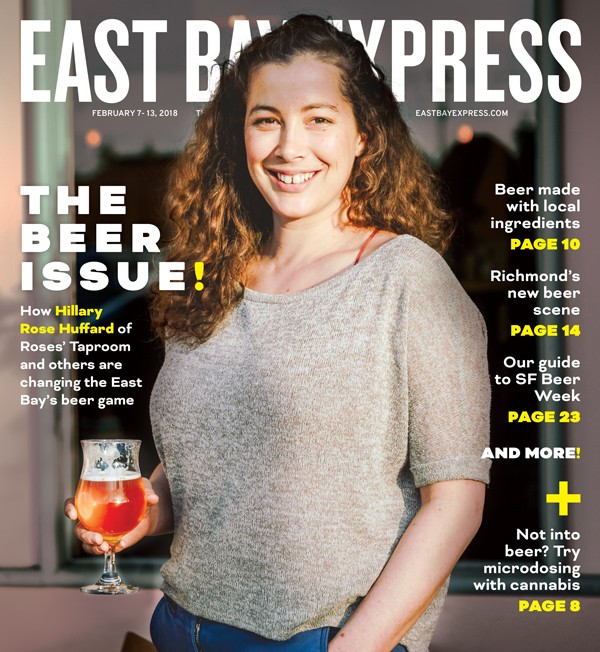 "Speakeasy's Savior," The Beer Issue, 2/7
Nice Story
I'm a big fan of Speakeasy — nice to see that a smart, savvy, wealthy brother is going to save the local establishment. This, in turn, will get the employees working again, and hopefully the brewery can collaborate with other brewers and create some solid beers. Nice story — especially fares well with it being February.
Jay Vee
"Richmond Is Thirsty," The Beer Issue, 2/7
Cheers!
Good luck to all my fellow beer producers in Richmond!
Ed Chainey
"Out of the Coal Cars, Into Their Lungs," News, 2/7
Affecting Kids
Thank you for this article. Our house is covered with coal dust. I hate to think what so much coal dust is doing to all the kids in our neighborhood!
Autumn Kruse
Let's Sue
Where do I sign up for the class-action lawsuit!?
Thom Tucker via Facebook
"Oakland Native Rahanna Bisseret Martinez Nearly Wins Top Chef Jr.," What The Fork-Online only, 2/9
Proud of You
I am so, so proud of you! You inspire me as a grandmother to make sure I teach my grandkids our family recipes. Keep up the good work, sweetheart!
Delane Sims
""The Revolving Door of Weed," News, 2/7
Vote Them Out
It's time to vote out all the Oakland councilmembers.
Peter Williams via Facebook
Award
Express Wins Award
The Express was selected to receive the 2017 Best News Media Reporting Award by the California Grand Jurors' Association.
"The award recognizes the East Bay Express' rigorous coverage of the Alameda County Civil Grand Jury (Alameda County Chapter) reports in 2016," the association wrote in an email. "The paper clearly analyzed Grand Jury reports and regularly informed the public of their relevance to governmental issues."
Actually, it's often been a cyclical relationship. Our reporting has touched off several grand jury investigations, and then we've reported on the investigation's findings, which often confirm our initial reports.
Here's an example: In 2015, Express staff writer Darwin BondGraham uncovered how Oakland Councilmember Lynette Gibson McElhaney used her office resources and staff to block a townhouse project next to her West Oakland home. The story, "Records Indicate that Gibson McElhaney Used Her Council Office for Personal Gain," resulted in an Alameda County Grand Jury investigation that confirmed what BondGraham had initially reported.
In another example, in 2015, BondGraham wrote about a proposed sale of city-owned land to construct a luxury apartment tower, which appeared to violate state and local laws. The grand jury then confirmed our reporting in its own findings.
The California Grand Jurors' Association is composed of current and former grand jurors from throughout the state and is "dedicated to promoting the understanding of the unique practices of grand juries in California and to educating the public and prospective grand jurors about the beneficial oversight function of this system."
Corrections
Our Feb. 7 Eco Watch, "Out of the Coal Cars, Into Their Lungs," understated the amount of coal and petcoke going through the Port of Richmond in 2013 and 2017 by a factor of one thousand.
Our Feb. 7 The Beer Issue 2018 "Local Beer, Local Ingredients," the photo at Admiral Maltings was taken by Sean Bradley.