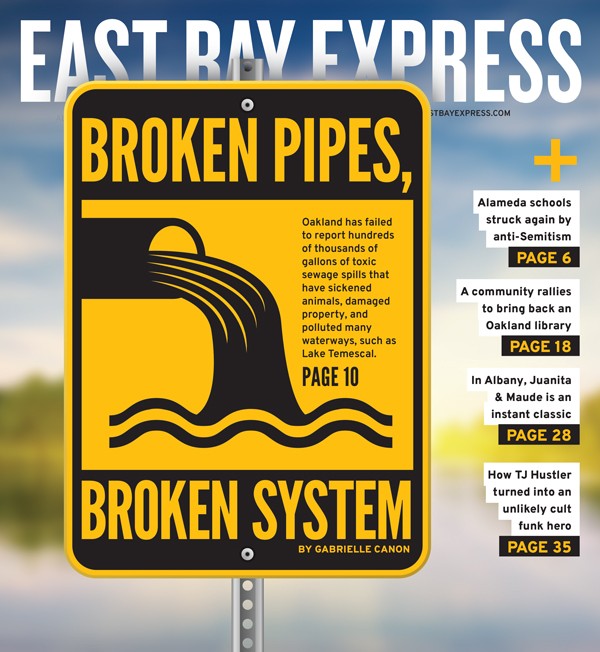 "Broken Pipes, Broken System," Feature, 1/10
Throw the Bums Out
It sounds to me as though the entire city government needs to be replaced by people who would do their jobs.
Sharon Procter via Facebook
Thank you, Express
Thank you, Gabrielle Canon, for this award-worthy Express report on Oakland's cover-up of its failing sewer system. I remember last winter, dogs were contracting lepto in unusual areas around the city. Sewer leaks could explain it.
Kat Ferreira via Twitter
Kudos
Amazing investigative work!
Kristina Molina

"TJ Hustler's Homemade Music Finally Finds an Audience," BackBeat, 1/10
Glorious Sample
Just ordered this album from Companion Records after reading Sam Lefebvre's excellent piece, and I'm listening to a glorious sample of it.
Johnny Ray Huston via Twitter
David Flint via Facebook
"Oakland Leaders Attribute Drop in Homicides and Shootings to Ceasefire Program," Online-News, 1/9
It Started with Measure Y
The city of Oakland's dual approach to violence reduction of funding community policing methods and social intervention program started not just with Ceasefire or Measure Z, but its predecessor, Measure Y, which passed in 2004. It's been more than a decade in the making.
There have been some missed opportunities along the way, but it is one of the more consistent programs that the city has undertaken. I hope the study mentioned in the article will prove out that a long consistent approach that is refined along the way can work. But I hope that study doesn't just start with Measure Z or Ceasefire; Oakland's grand experiment started much earlier.
Danny Wan, ex-Oakland City Council member
Invest in Education
Investing in education and other services will bring this number down — most crime can be prevented without relying on police and the criminal justice system.
Dashiel Johnson via Facebook
Still Problematic
Gentrification has a lot to do with the decrease and so does prayer. The memorial photo you used is of one my dearest loved ones.
The situation of violence, homicide, unsolved murders, human sex trafficking is still very problematic. Residents are afraid of their own neighborhoods, our underage daughters can't wait for the bus standing at the bus stop, our Black and Brown men are still underemployed and targets of police misconduct.
Ceasefire is good, but it needs to be more inclusive as far as including the longstanding smaller ministries and organizations who are trusted in their 'hoods by the people.
I'm a human services broker and grant writer who was also the Measure Y Crisis Response manager, so I have to follow the trends and case studies.
WillaDeana White-Perry
"The Village Is Helping Build a Self-Organized Homeless Camp in East Oakland," Online-News, 1/13
Don't Kick Them Out
This site has been designated a city-sanctioned site for a while. The Village came in to help organize the camp. I hope government officials don't kick them out like they did at another non-sanctioned site.
Cynthia Elliott via Facebook
Correction
Our Jan. 10 What the Fork column on Oakland Restaurant Week got wrong the number of dishes included in Dragon Gate Bar and Grille's $50 prix-fixe menu. The menu includes five dishes, not three: celery dumpling soup, chicken katsu, and ocean salad, plus choice of entrées: basil clam or oyster tofu and beef/lamb stew over rice or sha-cha lamb fried noodle or rice. Two complimentary cocktails are included.