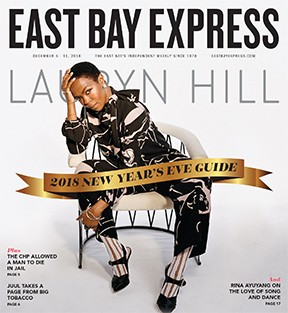 "Analysis: Progressives Fail in Richmond," News, 12/5
A Conservative?
Only in the Bay Area would Nat Bates be labeled a "conservative" — although I suppose if you are comparing him to anyone in the RPA [Richmond Progressive Alliance], he's Barry Goldwater.
Catherine Montalbo
Spot On
Bravo, wild applause for John Geluardi and the Express! This is the kind of incisive factual analysis communities, especially East Bay communities that have become news deserts, desperately need.
I've lived in Richmond for 18 years and am active in my community. Jubilant at the progressives' victory in the 2016 election, we watched in dismay as they succumbed to inaction, accomplished little, and failed to respond to key developments like the ones Geluardi describes.
Janis Mara
Appalled at the RPA
As a longtime supporter of the RPA, I have been appalled by its failure to take any action to reign in Richmond's rogue police department, especially after the unjustified firing of Capt. Mark Gagan. As Geluardi points out, RPA councilmembers seemed largely indifferent to police malfeasance and abuses occurring on their watch. It's ironic, considering that the RPA owes its genesis at least in part to community outrage over racist policing back in the day.
Tragically, its unwillingness (or inability) to respond to real-world social wrongs in Richmond is making the present-day RPA feel increasingly irrelevant. As more seasoned members abandon Richmond to pursue statewide aspirations, the young and inexperienced folks left holding the bag cling obsessively to a handful of pet issues such as rent control, refusing to shift gears to address urgent problems happening right under their noses.
Following the heady progressive victories over corporate control of Richmond by Chevron, it's disappointing to see how readily a corporate minion can jump into this void, re-seizing a vanquished council seat by a mere nine votes.
Karen Franklin
"Taking a Page from Big Tobacco," News, 12/5
Unfair Reporting
I am afraid the journalist [who wrote report] has selectively drawn from my quotes provided in an email to her in order to convey a certain angle in this article. As I explained in my quote, the research that I and my colleagues have undertaken is not designed to seek favor or criticism from any sector — we simply mount the surveys and report the results.
If the accusation is that my research is always favorable to the tobacco industry, then those making that comment know more about the industry response to my findings than I do.
Further, the accusation that our research is not hypothesis driven is simply wrong. As I pointed out to the journalist, all of our research is designed to test hypotheses on the various impact of e-cigarettes on public health.
It is regrettable that the journalist has sought to criticize JUUL for doing what in her words big tobacco has previously done with regard to funding research. In fact, JUUL, as with all other e-cigarette companies, has been required to initiate research on the impact of its products on its consumers. This regulatory science should not be undermined by rather disparaging accusations that in funding independent research centers to execute that research the various companies are behaving in some kind of disreputable way.
It is very easy for journalists to make accusations — much harder actually to initiate a detailed informed assessment of the research that is being carried out. The journalist succeeded in making her argument but failed to convey anything like the complexity inherent in understanding human behavior related to the use of electronic cigarettes.
Neil McKeganey, director of Centre for Substance Use Research
Corrections
Our Dec. 5 cover and New Year's Eve pick on the special performance of The Miseducation of Lauryn Hill should have noted that Hill prefers to be referred to now as Ms. Lauryn Hill.
The photograph accompanying our Dec. 5 New Year's Eve pick, "Motown Mondays NYE Party," included an erroneous photo credit. The photo is by Sarah Arnold Photography. In addition, the show's door charge is $5 — not free.
Also, the photo caption in our Dec. 5 music story, "Toward a More Equitable Music Industry," misstated Joshua Sifuentes' first name.