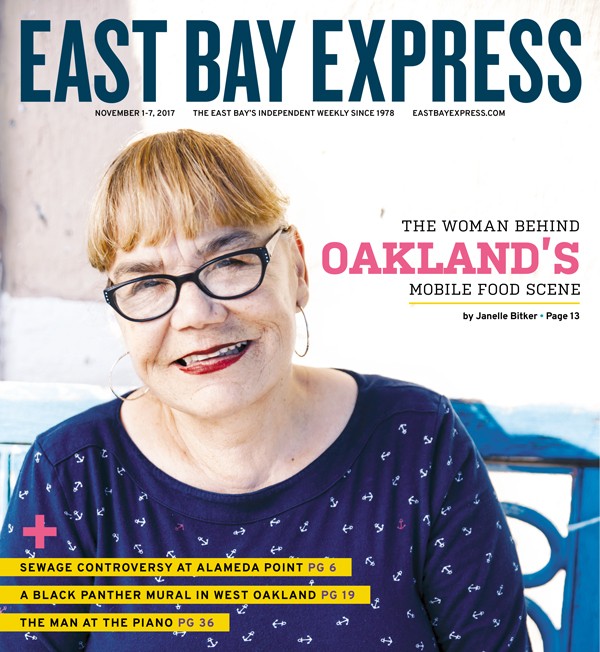 "Landlords Seek to Recapture City Hall," News, 10/31
Not Real Alamedans
This article kept mentioning "Alameda landlords," but I'd like to point out that the organization Alamedans In Charge is heavily non-Alamedan. Of the 18 donors listed on the group's most recent FPPC Form 460, there are only four individuals who reside in Alameda and who might possibly be Alameda landlords. There are two Alameda-based organizations that manage rental property.
The majority of the donors (numbering 12) are businesses or individuals that are not in Alameda. That money came from San Francisco, Hillsborough, Oro Valley, San Jose, Daly City, Union City, Los Gatos, and Palo Alto. Not my definition of "Alamedans."
Toni Grimm
Landlords Shutting Down Efforts
This is news — landlords trying to shut down rent control efforts by packing the city council and pouring massive amounts of money into a campaign to oust progressive leaders.
Carol Ann Parker via Facebook
"Entire Oakland City Council Declined to Cross Union Picket Line for Mayor Schaaf's State of the City Speech," Online-only News, 11/3
Councilmembers Hold the Power
So, council members who ultimately hold the power to meet the demands of the protesters didn't participate because they can't cross picket lines. All of that just to say "Oakland Council loves grandstanding."
Moy Aceves via Facebook
"Berkeley Police Reforms Delayed After Mayor Arreguin Weakens Plan to Curb Racial Profiling and Police Misconduct," Online-Only News, 11/1
Berkeley Isn't Liberal
Berkeley is becoming more racist by the day! And it is reflected in the policing practices. Stop trying to paint Berkeley as the bastion of liberalism! It isn't anymore!
Andrea D. Watson via Facebook
Shame on Them
Most thought the Berkeley Police Department would never have jumbo pepper spray to use on protesters, but now they do. Jesse Arreguin is a shameful disgrace. What he and Councilmember Sophie Hahn did, gutting the police reform measures, is regressive, not at all progressive, and disgraceful. Shame on them.
Arreguin seems to have gotten in bed with the police since getting elected, and his actions as mayor suggest his pride and public image matter more to him than the people he claimed he wanted to work for. He seems so eager to tap dance for the police union and the Berkeley city manager, a conservative who cannot be trusted. Shame on Arreguin, Hahn, the city manager, and, most of all, our new police chief.
Why on earth would Arreguin and Hahn gut fairly modest police oversight? Why do they try to gut efforts to address racial discrimination by BPD? What is wrong with them?
Tree Fitzpatrick
"Oakland Landlord Beefs with City, Calls for 'No More Homeless Camps,' with Halloween Decorations," Online-only News, 10/30
Socialism in Housing
How 'bout no more landlords? Nationalize (at the municipal level) all rental property. Though I have to say I like the landlords I've had (three different) in the past 16 years, I know that we need socialism in housing right away, and it could be made to happen right away. Move away from capitalism. It's killing the planet.
Frank Snapp
"The East Bay Still Has Some Very Visible Reminders of Our History of Racism," Feature, 9/20
Great Job!
To the Express journalist(s) who worked on the article: great job! It was a real eye-opener and probably the best article I ever read in the Express. With this kind and quality of reporting, I would become a regular reader again, if I were still living in the outrageously expensive and unaffordable East Bay/San Francisco Bay Area.
Roxana Hart