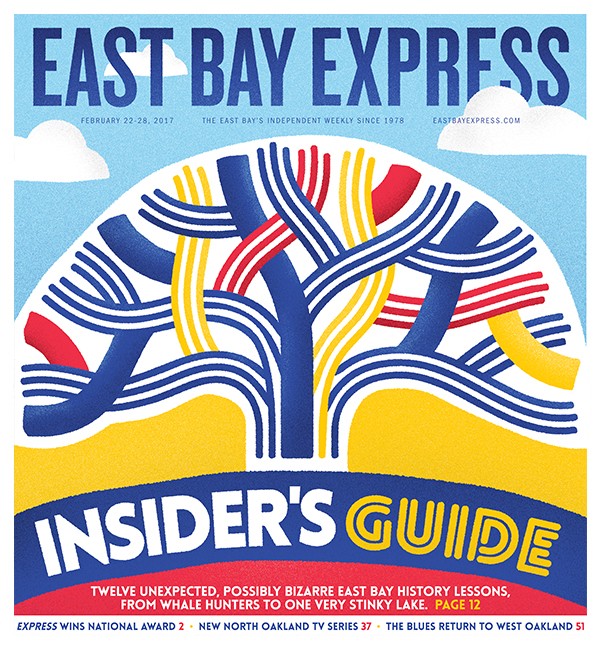 "Lake Merritt's Weird, Polluted — And Stinky — Legacy" by Darwin BondGraham, Insider's Guide, February 22, 2017:


Help The Lake


Thank you for writing about Lake Merritt's colorful and smelly history! Coincidentally, the Lake Merritt Institute published a short article in our February newsletter (The Tidings) summarizing the results of a city-commissioned study of water quality released last July. The study compared conditions before and after opening the 12th and Tenth streets constrictions of tidal flow in the channel.
Water quality has not changed significantly three-years out from the 12th Street opening. Lake Merritt continues to surprise and challenge. The closure of tide gates to incoming Bay water during storms, which prevents flooding, was shown to negatively impact dissolved oxygen in the lake (and that contributes to smell and failure to meet EPA standards). The city might ask the county to review and revise their protocols for tidegate closure, to minimize the impact on water quality in Lake Merritt. Without LMI's monitoring and bi-weekly citizen volunteers removing trash, LM would be a not be the jewel it is. Citizens can come out to help and "Love Your Lake" every Tuesday and Saturday morning at the Lake Merritt Boating Center LMI Office upstairs at 568 Bellevue. See LMI website for details: LakeMerrittInstitute.org.
Katie Noonan,
editor, The Tidings
"Biff's Coffee Shop In Oakland Was Googie Glory" by Luke Tsai, Insider's Guide, February 22, 2017:


Biff's Never Beautiful


Ever notice that you never see a beautiful picture of Biff's as it looked the last year it was open in any of these articles about how beautiful it was?
That's because they don't exist.
The only beautiful picture of it in circulation is an architects drawing that doesn't look anything like the actual building looked. It was only slightly more distinctive than a Pizza Hut, because it was basically just a round Pizza Hut.
Now, in it's place, there will be homes for hundreds of people. Given the recent restaurant boom, Oakland needs this much more than it needs a restored diner.
Max Ållstädt

Time To Rebuild


Let's face facts. I knew Biff's as a kid long, long ago. Even then, it was kind of seedy and run down. By the time it shut down in '96, it was more than tired.
Euphoric recall is wonderful, but it's also a fantasy … being driven by what I think of as carpet baggers. People who came here long after the glory days of the East Bay, ignoring the blight that it became, and to an extent still suffers from. Boarded building, out of control city administration, and rampant crime in the streets. I don't see anyone complaining about the loss of the Merritt Bakery. It was open 24-seven, had great inexpensive food — and tended to catch fire from time to time.
It's time to rebuild Oakland, not worship a long gone past.
Bruce Ferrell

Don't Let Town Lose Its Old Soul


We can continue to build nice, tall, generic buildings, if that's what people really want. But a restored Biff's would have been a hit with the new Millennials, as the architect in the story noted We've seen a resurgence in bowling at the Plank, and restored Kwik Way/Merritt, which someone will probably try to raze again soon. That leaves the classic Alley on Grand, which has become a hit with Millennials despite its run-down state. And that's exactly what people want: not another expensive skyscraper. Oakland has had a rebirth of modern, trendy restaurants, which is great. But lets not let the town lose its old soul. Thank god for the Paramount and Fox Theatre.
Burt Kaufman

"Comedic Web-Series The North Pole Takes on Gentrification in North Oakland" by Sam Lefebvre, Arts Feature, February 22, 2017:


Who's the Gentrifier?

Does the producer of this series not realize that he's part of very gentrification that he's lampooning? And that rather than shine a light on this issue, he's just contributing to it. Potentially profiting from it. Maybe his friend should have mentioned this to him, rather than stating that people from North Oakland are polar bears, and having him listen to a Mistah FAB song.

Sharif Cavil