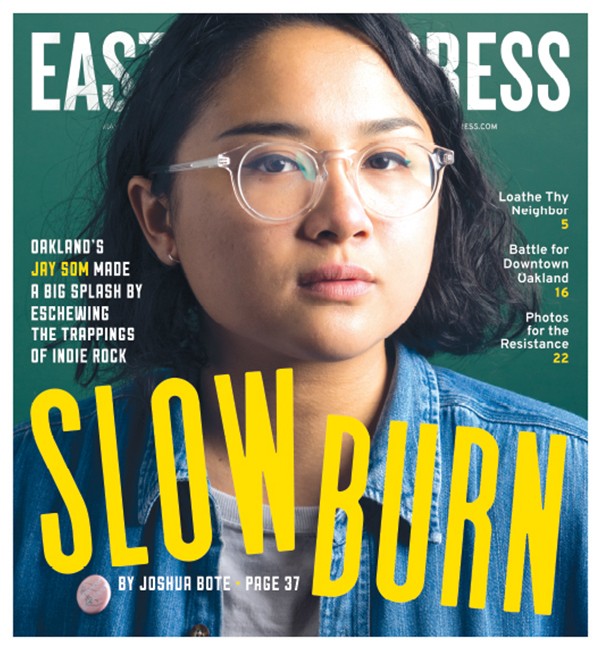 "Oakland Police Commanders Who Buried Sex-Crime Scandal Investigation Were Later Promoted" by Darwin BondGraham, News, June 21:
City Deserves Better
I want to see accountability and consequences from the mayor and the new police chief. Was Mayor Libby Schaaf just acting when she expressed anger at her officers' sexual misconduct and a determination to investigate and change the culture? Oakland deserves a government and a police force that has integrity and serves our community with respect.
Candy Wright
via Facebook
Less Hopeful Than Ever
Well, look on the bright side: Our new Department of Violence Prevention is going to hire a few new overpaid city employees, who will propose a variety of feel-good projects that will need still more funding. Then all of them will be ineffective against such a profoundly corrupt police and city leadership. Oh, did I say bright side? Oakland is less hopeful than ever.
"Oakland Metro Operahouse Claims Harassment by a Neighbor, Who Says the Music Venue is Breaking the Law" by Sam Lefebvre, News, June 21:
What a Shame
Shame on that punk-spy guy, as well, an absolute traitor and sell-out of the highest caliber. How can you be surprised that your scene friends have ostracized you when you've betrayed them in the most literal way possible? Shame that the charlatan neighbor and his money have corrupted another former member of Oakland's real creative community.
Learn to Co-Exist
Diversity means people with different points of view, backgrounds, lives, etc. Unfortunately, in Oakland it seems to mean be like me, act like me, do what I do — or shut heck up, hater.
Sucks so many people look at this situation as good versus evil instead of that everyone is living in the grey area and needs to work this out. I love the Metro, but they're in the wrong, too.
"City of Oakland Poised to Give Public Land to Nonprofit that Improperly Received $710,000 in County Funds" by Darwin BondGraham, News, June 21:
Selling Off Everything
When is Netflix going to do a series on Oakland city government? Punch-outs in a barbecue restaurant, getting banned from Luka's Taproom, selling off public land, helping create (and then destroy) homeless camps, making "secret sauce" in wood paneled backrooms — where's the popcorn? They probably sold that off, too.
Something's Up
Was Brooks operating in her professional capacity when she was alleged to have assaulted Brown? If not, then I don't see how Brown would have any claim against the city.
Whenever land is sold off at below-market rates, there is always something underhand in the works.
Why the Discount Sale?
I wonder why the city of Oakland would sell land at an enormous discount to Elaine Brown's organization. Could the reason be that Brown is currently suing the city for millions?
"Protests, Arrests After Berkeley Approves Contentious Urban Shield Program" by Ashley Wong, News, June 21:
Shame on you, Berkeley. You absolutely do not need an armored truck, and you don't need police officers who resort to violence. Berkeley police used to be people you could trust.
Sharon Procter
via Facebook
Counter Measure
Protesters seem to be showing up with more sticks and stones. Naturally, the police will show up with upgraded patrol cars and foreign tested crowd control devices. For each measure there is a counter measure.
James A. Hudkins
via Facebook
"Plans for a 'New' Oakland Are Taking Shape, but Existing Residents Are Demanding More Equitable Development" by Darwin BondGraham, News, June 21:
Return Wealth to Communities
As the City of Oakland and regional transportation stakeholders study the possibility of removing Interstate 980 and replacing it with a fully developed urban corridor, they should plan for urban-renewal reparations as a part of the project. Government actors will produce billions of dollars of capital from West Oakland land that was eminent domain purchased for a fraction of that amount, so they have a moral obligation to return some of this wealth to the communities that have been so badly damaged.
The restorative process starts with recognizing and apologizing for the tragic mistakes made by 20th century city planners. And if government agencies, private developers, contractors, and others will be richly rewarded for developing land that was taken from West Oakland families, reparations must be a part of this restoration.
It's well understood that government action was responsible for the decline and inevitable eminent domain taking of the homes in West Oakland's I-980 corridor. In the 1930s and Forties, the feds "redlined" West Oakland, prohibiting capital investment in the largely minority neighborhood. This race-based discrimination, combined with state-supported 'white flight', led to an inevitable decline in the quality of housing in the neighborhood. Next, in the Fifties and early Sixties, city planners used the resultant blight to justify a seventy-block 'urban renewal' project called Corridor-City Center. By the Seventies, much of West Oakland had been seized under eminent domain and demolished to make way for I-980 and other projects. Most of the bulldozed land was vacant until construction of the freeway was completed in 1985.
The good news is, this sad story doesn't have to end as such. Using modern "value capture" planning tactics, capital produced by future development can be used to repay families whose home equity was destroyed by redlining and urban renewal. Tax increment financing is one such tool that could be used. With TIF, a portion of taxes reaped from developed land over the I-980 freeway can be earmarked as reparations for families whose homes were taken for tens of thousands of dollars and will now be redeveloped for millions.
Oakland and the Bay Area talk a big "social justice" and "equity" game. Let's see planners and politicians put their money where their mouth is and start to make whole some of what their predecessors damaged. Value-captured dollars from I-980 redevelopment projects should be used for reparations payments in West Oakland.