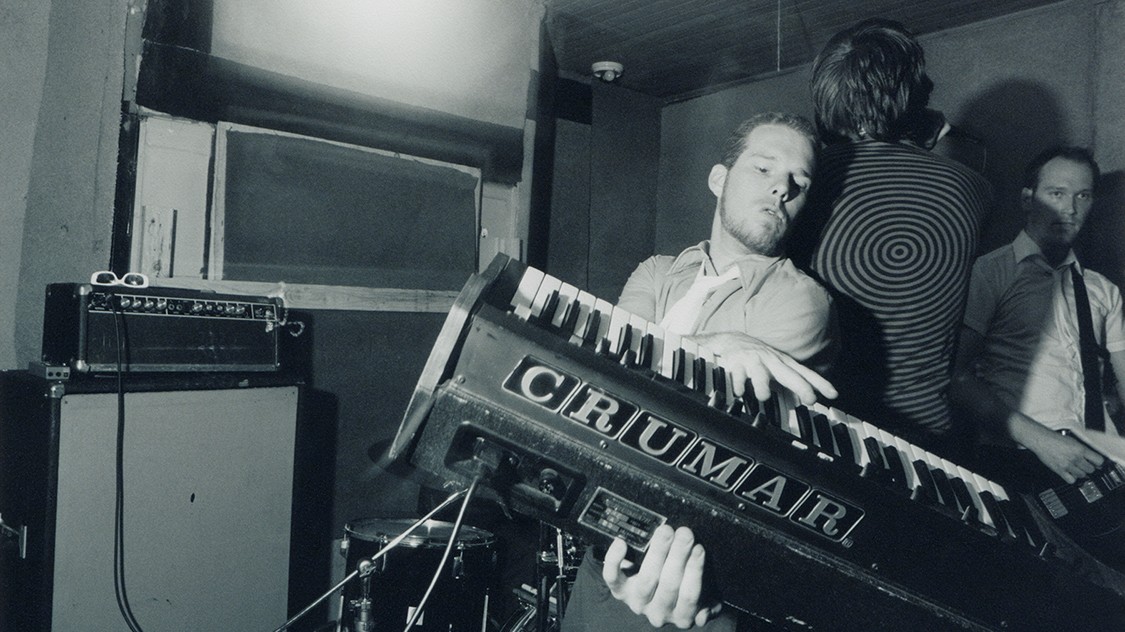 Since its first incarnation in 2009, Burger Boogaloo has managed to throw a few surprising names into the lineup. In 2014, that included former Ronettes singer Ronnie Spector and '70s power-pop legends Milk 'N' Cookies. And last year, there were rare appearances by Japanese noise punk trio Guitar Wolf and longstanding roots rock band NRBQ.
The 2018 installment of the Boogaloo — a festival celebrating punk, garage rock, and psychedelia organized by the folks behind indie label/records shop Burger Records — is no exception, with promised sets from a reunited Hunx and his Punx and the first-ever U.S. show from Japanese group Firestarter. But the name on the poster that has been leaving many a music fan speechless is that of Le Shok. The Long Beach-bred electropunk outfit is set to make its first appearance on stage in 15 years this weekend at Oakland's Mosswood Park.
If the name isn't striking a chord with you, don't let that throw you. Le Shok burned like a firework during their brief five years together, a colorful blast that faded quickly away. The band was something of a sensation in California in those wild, file-sharing days of the late '90s and early 2000s, known for their confrontational live shows and a vintage sound that emphasized slashing guitars and cheap keyboards. They also released a bunch of records along the way, short run seven-inches and a single LP, We Are Electrocution, that quickly went out of print. Le Shok picked up enough buzz at the time to justify a couple of tours across the U.S., but after numerous lineup changes and some internal tension, the group fizzled out in 2001.
As with a lot of cult bands, Le Shok has had plenty of folks championing them since then, including Sean Bohrman and Lee Rickard, the two friends who started Burger Records in 2007 and have just reissued Electrocution.
"I was talking with a friend who worked at Burger a couple of days a week," recalled Andrew Reizuch, guitarist and cofounder of Le Shok. "And he's, like, 'Man, they always talk about you guys and how you were one of their biggest influences on the label when they started out. I bet they'd love to put out Le Shok stuff.'"
What began as the former members of the band getting together to hammer out the details about the reissue — and make plans for the record release party and art show they held a couple of weeks ago in their hometown — turned into a reminder of how much they enjoyed one another's company. That turned into discussions about playing one more show both to celebrate the re-issue and put a positive finishing touch on Le Shok's history.
"I think it's just the right time with the band," Reizuch said. "We have the right energy right now, so we're, like, 'Fuck it. Let's do this.'"
That kind of attitude is what marked Le Shok's brief initial existence. Originally the byproduct of a gaggle of employees and hangers-on at the Long Beach shop Zed Records, the quintet was motivated by their attempts to offer up a kind of counterbalance to what they saw as the overly macho atmosphere that was permeating the punk scene at the time. So while they played fast-paced, hyperactive music that is easy to slam dance to, everything else about what the band did was a conscious effort to rub against that. They gave themselves a French-sounding name and purposefully used a lot of pink in the artwork for their records. And when singer Todd Jacobs (aka Hot Rod Todd) got up in people's faces during the band's shows, he'd often give them a smooch instead of a shove.
By anyone's account, Le Shok was nearing the cusp of a breakthrough when they split. Their album was getting played on John Peel's influential BBC radio show in the United Kingdom and there was talk of a European tour. But by that point, the band was cycling through members with Reizuch deciding he didn't want to even be a part of the last U.S. tour. Add in the group's tendency to drink heavily before and during their concerts, and the center could not hold.
"I think everybody just sort of wanted to do their own thing," Reizuch said. "And it was just time. You go hard for something and go all in for a while, and that can be an amazing thing, but it can be amazing to the point of breaking."
That's likely part of the reason why Reizuch is measured in his response when asked if Le Shok will play any more shows after their big reunion at Burger Boogaloo. It may have been nearly two decades ago when the band split up, but the muscle memory of that time together still feels fresh. The rehearsals have been positive and they've been enjoying working out all the little details about the reissue and accompanying art show. Going much deeper down that rabbit hole might be too much for them.
"A lot of people have been asking, 'Hey, are you guys going to tour Europe?'" Reizuch said, laughing. "I'm, like, 'If you can pay us to tour Europe, sure.' I don't think anything's gonna happen. I mean, it would have to be a lot of magic like what Sean and Burger Records did to get everything together at the right time. You can't really force that."
Le Shok plays Sunday, July 1, 6:15 p.m., general weekend pass $169, VIP weekend pass $269, Saturday ticket $125, Sunday ticket $99, 3612 Webster St., Oakland, BurgerBoogaloo.com