Tolstoy wrote in Anna Karenina that "all happy families are alike." But even the most tortured Russian novelist would agree that all happy hours are definitely not created equal. Here in the East Bay, we have happy hours with $1 oysters and $1 shots and happy hours during which a stack of crumpled singles will get you good and wasted on cold beer of middling quality. And we have the Piedmont Avenue salumi bar Adesso, which has a free, late-night happy hour spread of cured meats and other assorted apertivos that is unrivaled.
But if you're looking for a food-centric happy hour, La Marcha, a West Berkeley tapas bar that opened in late October, should be at or near the top of your list. Chef-owners Sergio Emilio Monleón and Emily Sarlatte actually host happy hours in both the afternoon (4–6 p.m.) and late evening (10 p.m.–midnight) every day except Monday, when the restaurant is closed.
Frugal diner, does a selection of $2 and $3 small plates, plus free food with every drink purchase, sound like something that would interest you? It doesn't hurt that several of the dishes — including the patatas bravas and the mushroom croquetas — are among the best versions I've had.
The name of the restaurant is a reference to "the march" — the late-night bar crawl that is a fixture of the eating and drinking culture in Spain, where, unlike in much of the United States, tapas bars don't tend to be high-end dining establishments. Instead, they're just as likely to be dive bars where a customer might get a little plate of Spanish tortilla or fried squid for free with the purchase of some (also inexpensive) beverage.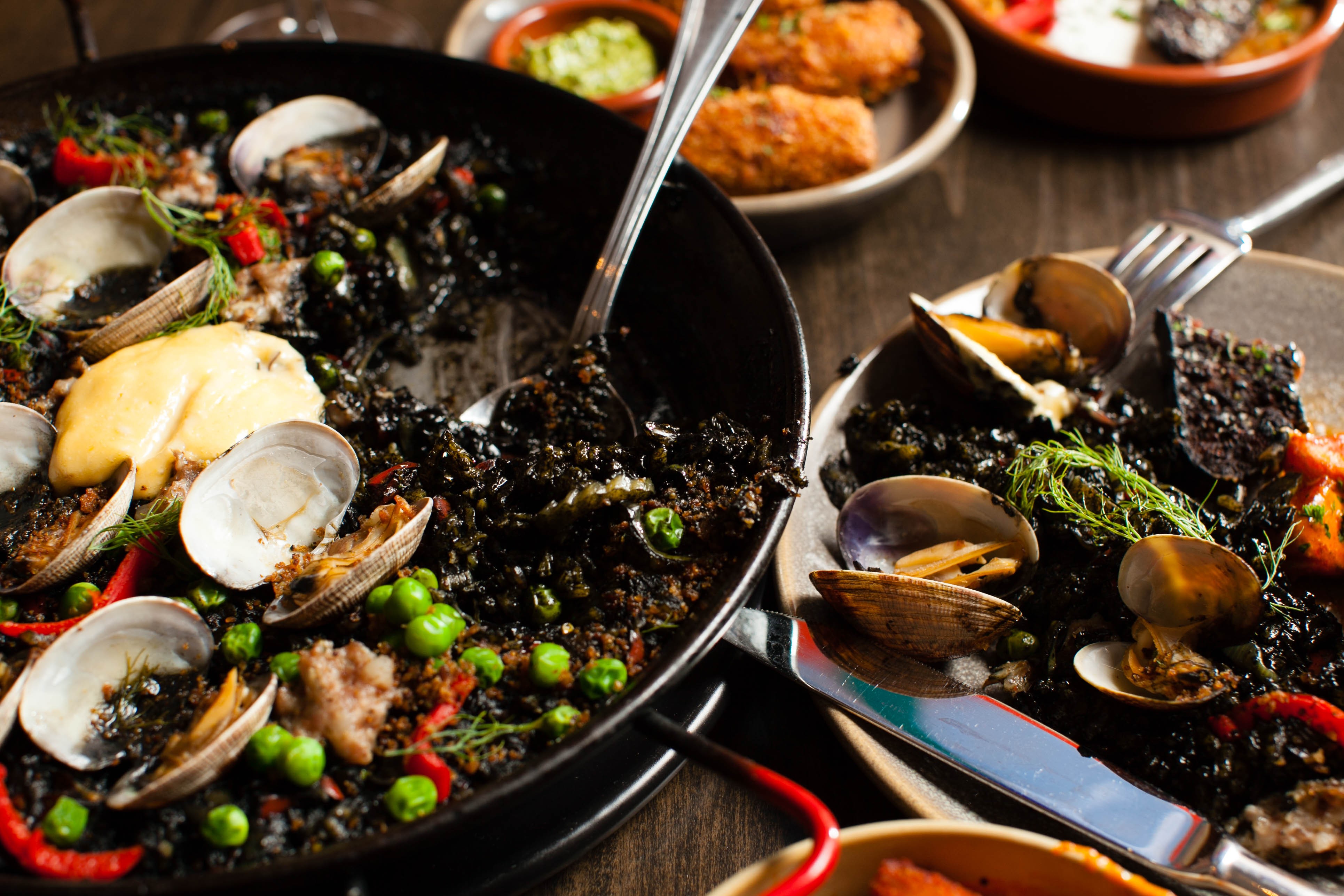 That was the experience Sarlatte and Monleón were hoping to bring to Berkeley. Both chefs said they spent their formative years, gustatorily speaking, in Madrid — Sarlatte as a college student studying abroad, and Monleón as the child of Valencia transplants who worked his first restaurant dishwasher and prep cook gigs in Madrid. For the past four years, the two have run a catering company and mobile paella vendor called Ñora. At La Marcha, their first restaurant, Monleón and Sarlatte rotate roles from week to week, one manning the stoves while the other oversees the front of the house. More than anything, they wanted the restaurant to feel like a place you might find in Spain — a sensibility that's reflected in everything from the imported blue accent tiles to the European soccer matches playing on the flatscreen TV behind the bar.
Of course, the food is the more important test, and in this regard, La Marcha mostly passed muster. Monleón and Sarlatte said they aren't traditionalists, which is to say they don't subscribe to the opinion held by so many Valencian grandmothers that paella should never stray from a single, centuries-old recipe. La Marcha's menu is sprinkled with modern touches and seasonally appropriate local ingredients, but the tapas aren't overly fussy. In that sense, La Marcha also stays true to the spirit of a real Spanish tapas bar.
There are twenty or so different small plates on the menu at any time. Many are versions of dishes you can find at nearly any Spanish restaurant but often with some flourish, big or small, to set them apart. Wedges of simple tortilla — thin layers of potato and onion bound together within the confines of a delicate egg omelet — were elegant in their essential Spanish-ness. Only the dash of za'atar in the accompanying aioli strayed from convention. Oven-baked albóndigas were as smooth and light as you'd want a pork meatball to be, though the use of wild boar meat wasn't traditional. They were served in a pool of tomato cream sauce that was so tasty, it felt ungenerous to be given just two thin batons of grilled bread to sop it all up.   
Meanwhile, I've always liked the idea of patatas bravas more than the dish itself, which too often winds up resembling glorified KFC potato wedges — sauce-drenched and overly starchy. But La Marcha's version was in a class of its own: stunningly crisp and light. The bravas were dusted with surprisingly fiery pimentón spice and slathered with a chili-infused "Ñora" aioli. I eat a lot of fried potatoes in my line of work. These were some of the best in recent memory.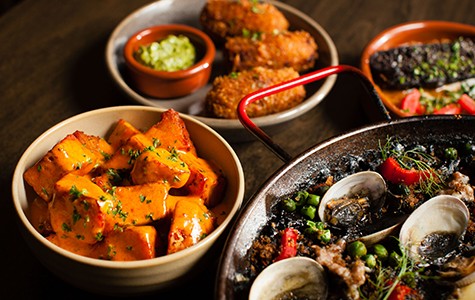 But not every tapa was a knockout. Pimentón-spiced almonds were unappealingly clammy. The calamares, or deep-fried squid, were oddly bland, thanks to the fact that the cumin salt listed in the menu description was undetectable. And while the crispy Brussels sprouts had been expertly fried, the use of two kinds of vinegar (balsamic and aged sherry) and grapes made the dish veer too far in the sweet direction.
Regardless, I can't stress strongly enough how good a deal the tapas are as long as you time your visit right, which is to say, during one of the happy hours, and grab a seat at the enormous, U-shaped bar counter that dominates the dining room. (That last part is pivotal: Only customers seated at the bar can order off the happy hour menu.) In keeping with the tradition of authentic tapas bars in Spain, happy hour customers get a free tapa — chosen from a streamlined list that, during my visit, included all the dishes mentioned above — with the purchase of every drink. Drinks are steeply discounted, too: $5, for instance, for a glass of house white or red wine, the latter of which turned out to be an easy-to-drink, thoroughly enjoyable tempranillo. What's more, everything on the happy hour tapas menu costs just $2 or $3. They're smaller portions — essentially, the tapas on the regular menu scaled down to an individual portion. Still, the upshot is that less than $20 will get you righteously stuffed.
And this isn't generic bar food either. For instance, during my happy hour visit, the freebie I opted for was the morcilla, a kind of Spanish blood sausage — salty and very soft, and similar in appearance to braised short rib. This was served over stewed lima beans, with pickled carrots and yogurt that added a bit of brightness — a little one-pot meal all on its own. Another of my favorite bites was the croquetas de champiñones, or mushroom croquettes. The happy hour version consisted of a single croqueta served, adorably, sticking out of a tiny espresso cup half-filled with a chimichurri-like mojo verde dipping sauce. The exterior of the croquette was shatteringly crisp; when bitten into, it oozed with a rich mixture of bechamel, sautéed mushrooms, and manchego cheese.
As enjoyable as it was to eat happy hour tapas at the bar, it's only fair to acknowledge that, for now, La Marcha offers a less consistently enjoyable experience for diners who treat the place as a sit-down restaurant. The dining room is tiny and loud and so dominated by the bar that the regular tables wind up feeling cramped. During my dinner, service was somewhat stilted, and we wound up getting charged inadvertently for an item we didn't order while another dish we did order never materialized.
Plus, the regular menu, while not terribly expensive on the spectrum of Spanish restaurants in the Bay Area, doesn't always offer the best value. The most egregious offense: a $12 glass of sangría that contained hardly any wine and instead consisted almost entirely of diced fruit. And I wouldn't have minded paying $32 for a big pan of squid-ink-blackened arroz negro — my favorite type of paella — if it had been as good as other versions I've had in the past. This came loaded with clams, sausage, peas, and piquillo peppers, but when eaten together, all of the murky, briny flavors just muddled together. The one luxurious touch — an uni aioli — was too subtle and served in too small a portion to stand out.
If you're in the mood for paella, go during the late-afternoon happy hour, when you can order off the whole menu. But for my money, the late-night happy hour offers the best experience of all. By a little after 10 p.m., the crowd had thinned, and regulars sidled up to the bar with a date or a paperback. Where else in Berkeley can you go this late at night, and get this good a meal for these kinds of prices?