Matt Horn's culinary moment has outlasted the buzz and media blitz that accompanied the opening of Horn Barbecue. Since October 2020, the chef and his West Oakland restaurant have been featured in every local news outlet, along with several national ones. His first cookbook, Horn Barbecue: Recipes and Techniques from a Master of the Art of BBQ, will be out this spring. And even though his second restaurant, Kowbird, just opened, Horn already has plans to open a taco truck and a burger joint. For far longer than the past two years, Horn has been hard at work converting this moment into an East Bay restaurant group that has staying power.
In a Horn Barbecue tweet from November 2021, the chef wrote, "This year hasn't been easy for anyone in the restaurant industry. Navigating the rise in food and product cost, labor shortages and challenges with staffing, restaurants have been forced to overcome so much adversity. We will continue to push forward." In a daunting time for restaurant owners and workers, Horn's ability to keep pushing forward stems from his inherent sense of optimism.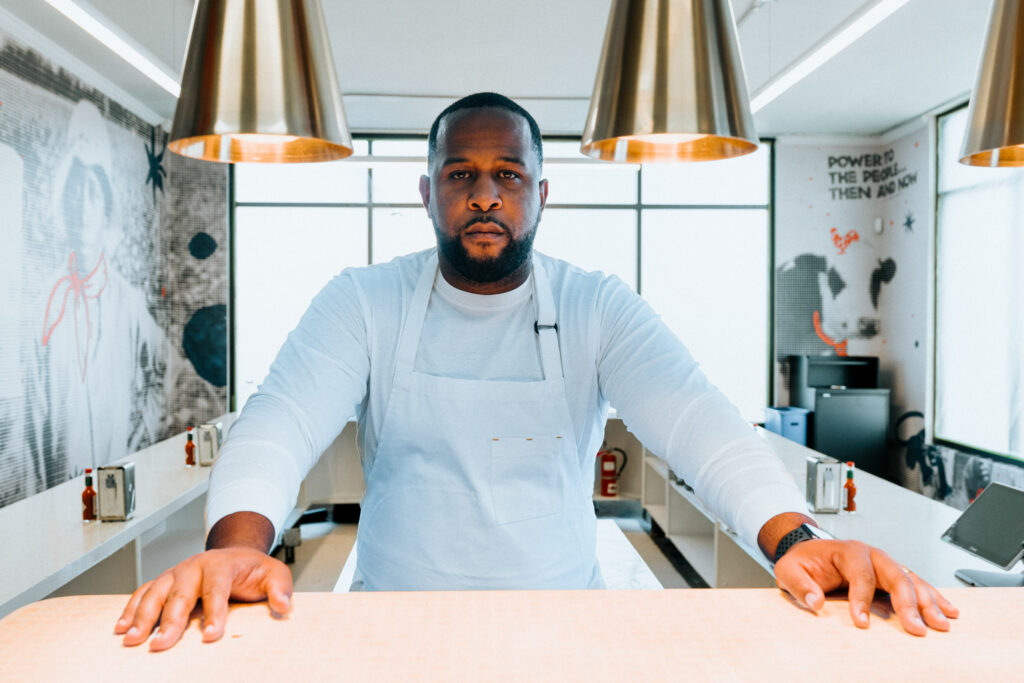 "I feel for those people who have invested their money and time, their life and their livelihood, and the sacrifices they made to open their restaurants and operate," Horn recently told me. "And for those who have faced the challenges of having to shut down." But he's excited about the work the Horn Hospitality Group is doing. "I can easily latch onto the negativity or latch onto the fact that we're still dealing with this pandemic and the ups and downs of the industry," he said. "There needs to be a silver lining in every situation, to remain positive. And that's what we try to do, day in and day out."
Kowbird is in the same neighborhood as Horn Barbecue, just a couple of blocks away. But Kowbird isn't a satellite of the original. Customers won't be able to dodge the famous lines there to pick up barbecue down the street. Instead, the Kowbird menu is all about fried-chicken sandwiches, which are Horn's homage to "Southern comfort food."
I stopped by Kowbird on a Saturday morning, as its own line was beginning to form. I ordered the original, or Southern Bird, with housemade pickles and a "bird sauce," and the Honey Bird, with pickled mustard seed and an aged honey-butter sauce. Each one is $15. While I might have detected some sweetness in the Honey Bird, if I'd closed my eyes I wouldn't have been able to say for sure which was which.
If I'd had the courage that morning to try it, the third sandwich, or "Nashville inspired" Hot Bird, with dried and fermented chilis, would have been a different story. The menu also includes side dishes like mac and cheese, fried cabbage and french fries. Desserts rotate in and out on a weekly basis. While I was there, I saw a case filled with bright-pink candied apples. On Sundays, Kowbird has also been featuring a catfish sandwich.
On the walls inside are vintage images of African Americans represented in such varied professions as a railway attendant, a rancher and a cowboy. By including this imagery, Horn says he wanted to pay tribute to Oakland's past. The imagery grounds the business and the building—which formerly housed the Pretty Lady diner—with a sense of its historical place in the neighborhood.
Horn Barbecue moved into the space where Chef Tanya Holland established her reputation with Brown Sugar Kitchen. But Horn says that his goal from the outset wasn't just to open a single barbecue restaurant; he wanted to start a hospitality group with several concepts. He isn't concerned about growing too big, too fast, though. "We're never in a position of opening and operating a concept just to do it—these ideas are strategically thought out," he said. HHG is keenly aware of the challenges the industry faces—such as staffing shortages—but Horn said, "We've embraced those challenges."
"We want to be the best at what we do, and focus on that," he said. "We just come in every day with a commitment to excellence."
Kowbird, open Wed to Sun, 11am to 3pm and 5–8pm; 1733 Peralta St., Oakland. [email protected] kowbird.com