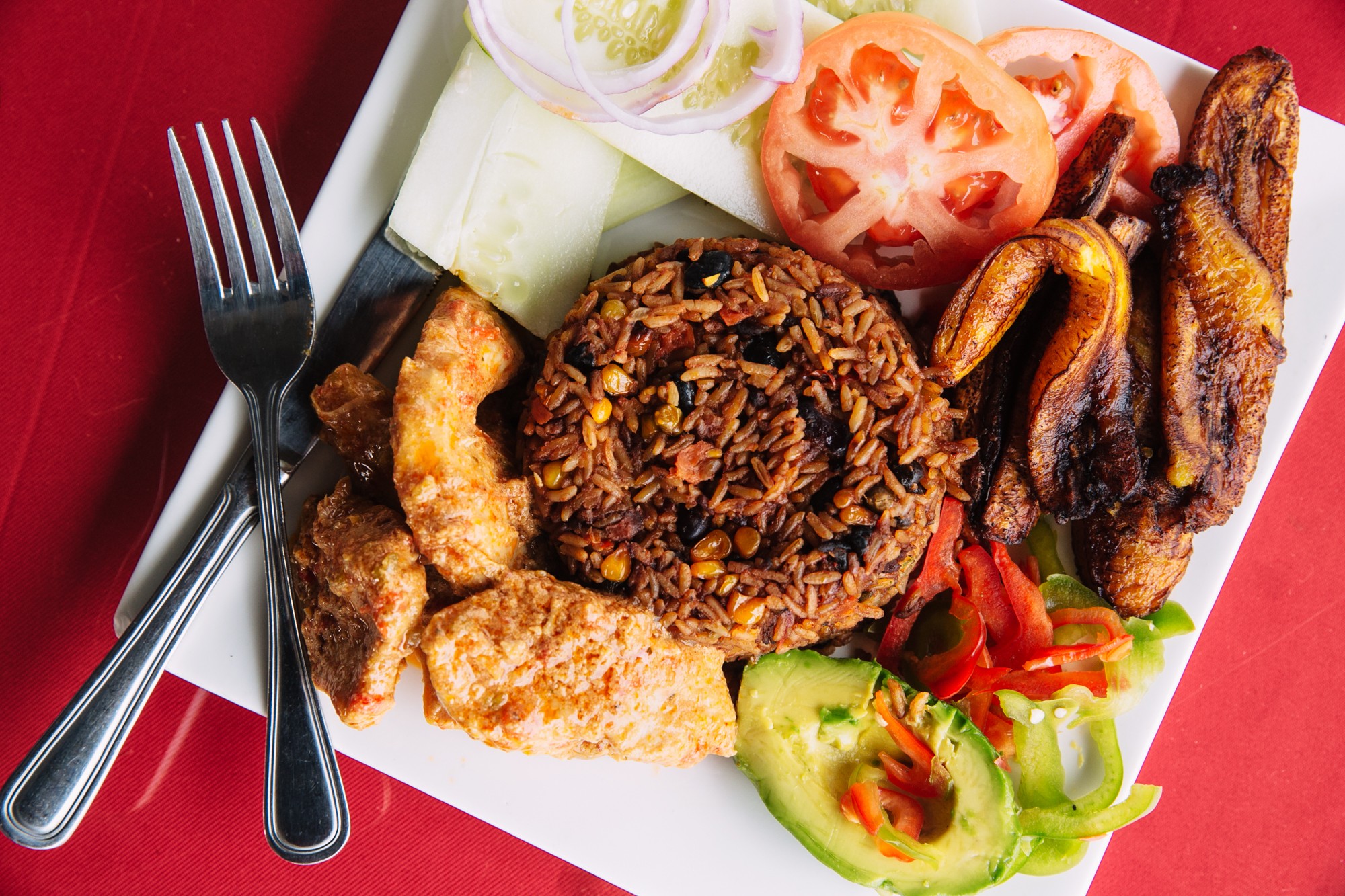 If it's your first time at Kendejah Restaurant, Dougie
Uso will probably explain the mural that dominates the room.
It depicts the first eight presidents of Liberia, all former slaves born in the United States. Their stately portraits suspend in front of the Liberian flag, which bears a striking similarity to our own red, white, and blue design.
That history means Liberia's cuisine is uniquely infused with American soul food traditions. A trip to Kendejah might involve jollof rice, the West African staple, or oxtail stew, reminiscent of what you'd see it at your favorite Southern restaurant.
In general, West African food is a rarity in the East Bay. Over the years, we've lost Taste of Africa, Soleil's African Cuisine, and very nearly Miliki, the Oakland Nigerian restaurant ultimately spared the fate of becoming a beer garden. That alone makes the five-month-old Kendejah, located in downtown San Leandro's Pelton Plaza, a must-visit for offering the only taste of Liberia in the Bay Area — and a damn delicious one.
On any given day, you'll have five or six entrees to choose from. Jollof rice, oxtail stew, and attieke (I'll explain later) are always available. Additional specials are attached to specific days. For example, if you're hankering for Liberia's version of fufu with peanut butter soup, you'll have to visit Kendejah on a Thursday or Saturday.
Many of the dishes feature beef, smoked turkey, and chicken, coated with a sauce of stewed vegetables. Spooned over rice, it's soul-warming, homey comfort food.
My favorite variation was one of the Liberian dishes inflected with the American South: fried okra. It's not deep-fried, but rather chopped fine and stewed until it's a totally unrecognizable mass of forest green cloaking mounds of tender meat. It was the smokiest, spiciest dish I tried, and my tablemates agreed it's the meal they'd all want to come and order every day — unfortunately for us, it's only available Thursdays.
A close second was the wholeheartedly Liberian palm butter stew, with meat that promptly fell apart when prodded with a spoon. I loved the creamy sauce, slightly nutty with notes of caramel. Bonus: a large crab leg. Kendejah doesn't have crackers, so you'll have to go at it with your hands.
The lighter palava sauce is also a winner, with a nice bite from its stewed jute leaves over the usual trinity of meats.
Palm butter and palava are both Tuesday-only menu items, which is why Uso says Tuesday is the best day of the week. Uso, by the way, is a thoroughly engaging host. He's the owner and, on my visits, the only server.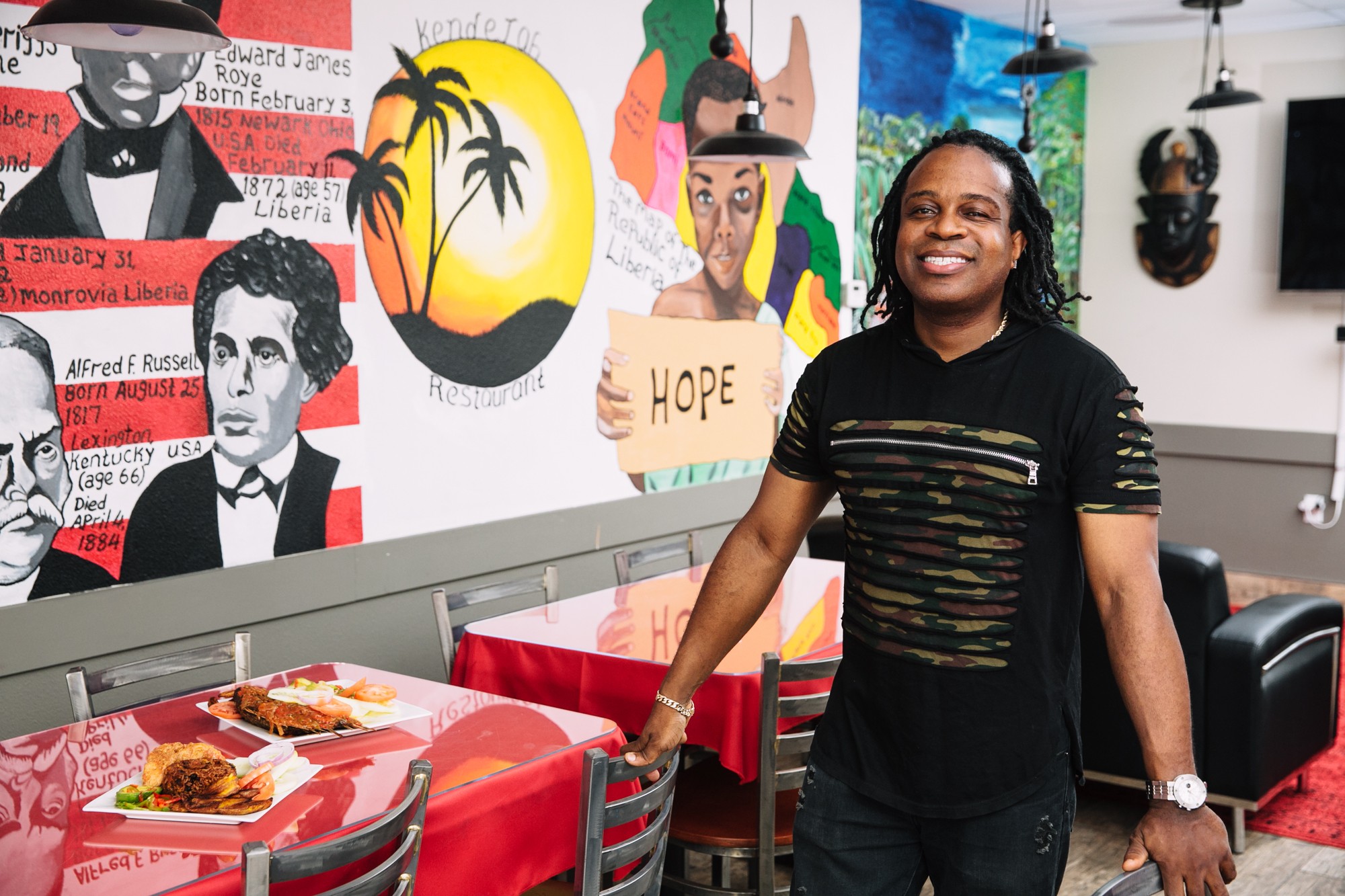 When I first stopped by, he was too busy to immediately seat us, but the place felt warm and inviting anyway. West African music videos blared on one television screen, National Geographic nature shows on the other. Uso, wearing a neon orange, leopard-print shirt, delivered jokes with plates and treated everyone like an old friend.
Opening Kendejah had been Uso's goal for a long time. It brought him to Holy Names University, where he earned his masters in business administration last year, and he already has expansion plans. He hopes to open another Kendejah in San Francisco within two years.
"It was all about the history for me," he explained. "I always wanted to have a place for us to be recognized."
Even if showcasing the food wasn't necessarily his top objective, Uso clearly loves it.
"I'm a little biased, but I think we have the best food of West Africa," he said on multiple occasions.
One time during the lunch rush, he motioned for everyone to stop talking and look in his direction, as if this was his dinner party and not a sit-down restaurant.
"Hey everyone, I just want ya'll to see this," he said, holding up an extravagant plate of a whole fried fish — a thing of beauty, a source of pride — before setting it down before a beaming diner.
That tilapia comes with the <i style="mso-bidi-font-style:
normal">attieke, which is fermented and grated cassava that winds up resembling couscous. Both arrived covered in a sweet pepper sauce, while raw tomato, cucumber, avocado, and caramelized plantains dotted the plate. All together, the dish felt a bit disjointed, though the fish's crispy skin and tender flesh were on point.
The jollof rice, also available daily, is a little more hearty than other versions you might have had at other West African restaurants. It's tomato-tinged, yes, but also comes studded with beans, corn, and other vegetables, along with chicken and those sweet plantains on the side. My chicken was dry and overcooked, but it was the only time I experienced such a fate at Kendejah.
My favorite of the daily offerings was the oxtail stew. While not quite fall-off-the-bone, the meat was tender and rich, bathed in a savory gravy that tasted great spooned over rice and beans.
While Kendejah's dishes are bold and vibrant, none of them pack much heat. If you like to sweat a little with your stews, ask Uso for a taste of the fiery hot pepper sauce made in house.
Given that Uso is often the only person on the floor, service can be a little slow. He'll bring out a pitcher of fruit-infused water when you sit down, but he probably won't refill it.
A quick, environmental note: Several of Kendejah's dishes are made with red palm oil. It's a traditional Liberian ingredient that lends an extra rich, luxurious texture to stews. Some of the palm oil-laden dishes — the okra, the palm butter, the palava — were personal favorites. At the same time, the palm oil industry has long been linked to deforestation and other environmental issues. So, if you don't want to consume it, just ask about the many palm oil-free options, like the oxtails.

Similarly, roughly half of Kendejah's menu can actually be made vegan — a pleasant surprise given how many dishes contain three kinds of meat. Again, ask Uso about your options.
While you're at it, ask Uso more about Liberia. In fact, ask Uso about anything, including himself.
I can tell you a little: Uso was born in Liberia and moved to the United States when he was 15, right before the first civil war broke out. Then there was the second civil war. And Ebola. Uso has never been back, which brings us back to the mural.
Next to the flag with the eight presidents, there's an image of a little boy. In the restaurant's earlier days, the boy was holding a gun — a child soldier, part of Uso's quest to tell the whole story of Liberia. After some feedback from diners, Uso scrapped the gun imagery in favor of something much simpler but still effective. A single word: "Hope."
Kendejah Restaurant
197 Pelton Center Way, San Leandro
510-756-6049
Hours: Tue.–Thu. 11:30 a.m.–11 p.m.; Fri.–Sat. 11:30 a.m.-midnight; Sun. 11:30 a.m.–10 p.m.
Cash, all major credit cards
Sample Menu
Palm butter served with rice … $15.99
Fried okra sauce served with rice … $15.99
Oxtails served with rice and beans … $15.99
Attieke and fish … $18.99