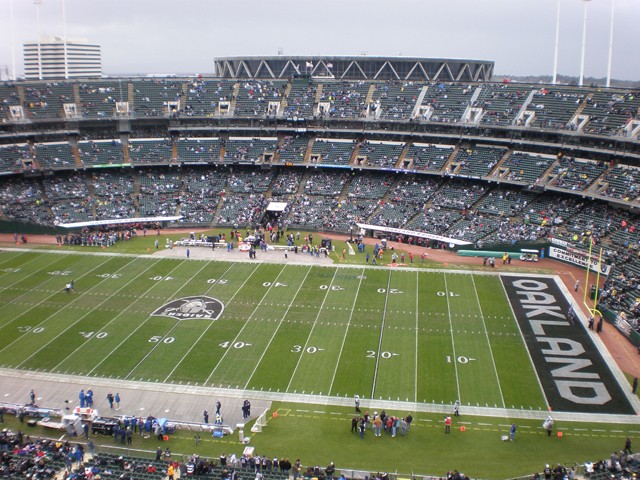 If you've ever
wanted to give your opinion about the fate of the Oakland-Alameda County Coliseum complex, this week is your chance. The Coliseum Joint Powers Authority (JPA) has scheduled a "retreat" from 9 a.m. to 1 p.m. on Thursday to discuss the property's future land uses. The half-day meeting in the Arena's AEG Conference Room will be open to members of the public, who are encouraged to attend and share their opinions, JPA officials say. The Coliseum complex contains Oracle Arena — the Golden State Warriors' home since 1971 — and the Oakland Coliseum, the stadium for the Athletics since 1968 and the Raiders since 1966 (not counting the Silver and Black's 1982-1994 stint in Los Angeles). In spite of that rich sports history, big changes loom for the East Oakland site. The Warriors plan to leave for San Francisco in 2019, and the Raiders intend to relocate to Las Vegas the year after. Meanwhile, the A's hope to build a new ballpark on Peralta Community College District land, near Laney College.
That leaves several options on the table for the Coliseum's future. Some JPA members favor trying to get an NFL expansion team at a new stadium, while others envision a sprawling tech campus. Some local officials dangled Coliseum land in a recent bid to lure Amazon's second headquarters to the Bay Area. Meanwhile, A's leaders propose a mixed-use complex that combines youth sports fields and commercial space. All of those ideas, and perhaps several others, will be discussed at the meeting. Will its rich sports-and-entertainment history continue at 66th Avenue and Hegenberger Road? Will East Oakland become Silicon Valley North? Or does "Coliseum 2.0" hold a completely different future we haven't yet imagined? The answers to those questions might be found Thursday morning. Stay tuned. …
File this one
under "Too Little, Too Late." The Warriors debuted their "The Town" jerseys at Oracle Arena on Saturday, more than 45 years after they started playing home games regularly in Oakland. (And seven years after Joe Lacob and Peter Guber bought the team.) In contrast, Warriors ownership has put Dubs players in vintage "The City" uniforms for years, even though the NBA franchise spent just nine seasons in San Francisco. The Warriors' recognition of Oakland is long overdue, and not just because East Bay fans supported the franchise when it was a national punchline for nearly 20 years. For decades, Oakland youth sports have provided the NBA some of its best players — such as Bill Russell, Paul Silas, Gary Payton, Jason Kidd, Antonio Davis, Damian Lillard, and many others. When it comes to Bay Area basketball, "The Town" remains the place for future NBA stars. That will never change — no matter where the Warriors call home or however feebly they try to mollify the Oakland fans they've jilted. …
The new uniforms
prompted sportswriters near and far to review when and why then-owner Franklin Mieuli renamed the franchise the "Golden State Warriors." The major reason for the awkward moniker stemmed from Mieuli's experiment with the Warriors splitting "home" games in both San Diego and Oakland during the 1971-72 season, after the owner bid farewell to San Francisco. Home games in both Northern and Southern California? All you can do is shrug and say, "Hey, it was the '70s." How else to explain such a terrible idea? Warriors home games in Oakland stuck, thankfully. Unfortunately, so did the "Golden State" part — which has always been a two-word insult to Oakland fans. That's OK. When the Warriors leave for San Francisco in 2019, some Oakland fans will have their own two-word reply ready for Lacob and Guber. …
The Raiders
may have salvaged their season Sunday with an ugly but much-needed 21-14 win over the Broncos. They earned the hard-fought victory after another week of locker room division. Last Wednesday, Khalil Mack and Bruce Irvin did not practice after the midweek firing of defensive coordinator Ken Norton Jr. At first, head coach Jack Del Rio's comments suggested that Mack and Irvin were given the day off to process emotions over their coach's departure. But later in the week, Del Rio backtracked, saying the pair's absence from practice had nothing with the firing. The whole affair reeked of the kind of dysfunction that has torpedoed many a Raiders' season. And that perception only intensified when Sunday's game began with a brawl resulting in the ejection of Michael Crabtree and Gabe Jackson, along with Denver's Aqib Talib. But the Silver and Black, cheered on in the rain by another sold-out Oakland Coliseum crowd, kept their playoff hopes alive with the gutty win. At 5-6, Oakland is now just a game back from the fading Kansas City Chiefs. …
Kudos to the Oakland A's
front office for improving their marketing approach — in ways big and small. First, the Green and Gold continues to showcase the Athletics' unusually rich history, featuring charismatic legends like Vida Blue and Jose Canseco in social media posts. More important, A's officials continue backing up their "Rooted in Oakland" talk with action. Over Thanksgiving weekend, the A's posted a number of videos promoting small Oakland businesses. Posted under the hashtags #SmallBusinessSaturday and #TownBizSaturday, the videos featured a comics book store, a music records shop, and a small clothing store — all based in Oakland. A's fans suffered more than 20 years of past ownership's relocation threats. Now, A's President Dave Kaval is rewarding the East Bay fandom's loyalty, and showing he understands that community roots are half the battle in capturing fans' hearts and minds. The team's newfound pro-Oakland attitude of the past 12 months is a wonderful contrast to the Steve Schott/Lew Wolff years from 1995-2016. Give Kaval and the A's credit for making that change. …
Chip Kelly
, last seen going 2-14 with the 49ers a year ago, landed the head coaching job at UCLA last week. Kelly will be paid $23.3 million over five years. That's great for him, but not so good for arguments in favor of college football's amateur status. The NCAA must start paying football players. If universities have enough money to pay Kelly $4.66 million a year — and $7 million per season to Alabama's Nick Saban — then they easily can set aside money for student-athletes who risk paralysis and long-term brain damage on every play. Currently, the NCAA is one of this nation's most exploitative business models, which is saying a lot. It's an understatement to say the NFL has its flaws, but even the empty suits at Roger Goodell & Co. actually pay their most important employees. The NCAA can't say the same, and that's shameful. After all, if your business model is more greedy and unfair than that of the NFL's, it might be time to reassess.
Chris De Benedetti, a co-founding member of Baseball Oakland, writes a regular sports column for the
Express.