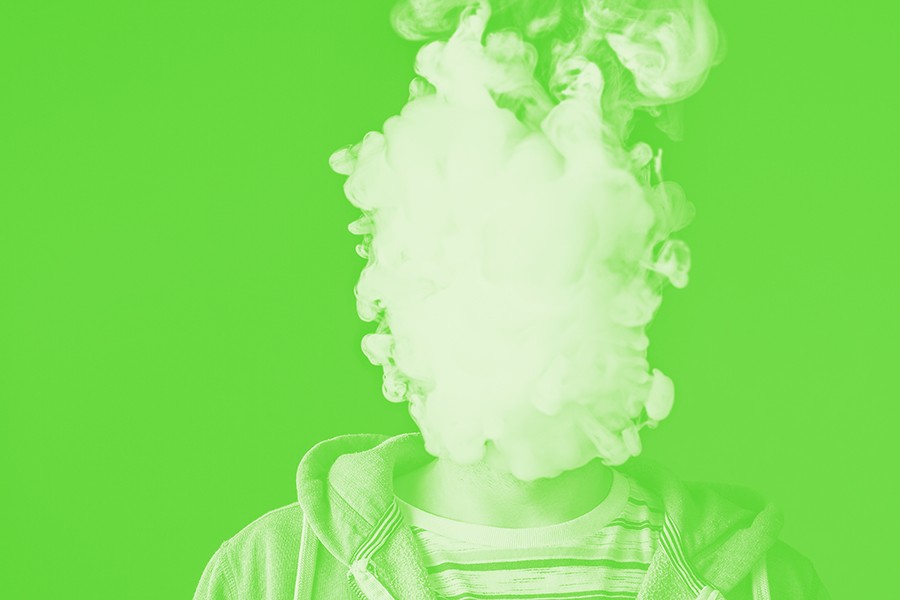 Of all the methods of ingesting cannabis, vaping (short for "vaporizing") has grown the most in popularity in recent years. It involves heating — but not burning — cannabis and then inhaling the vapor. It's generally thought to be safer than smoking, and it's more discreet and convenient. But is it actually safe?
Well, it depends on your vaping device, and there are a few factors to consider.
Vaping is commonly done via a portable vape pen, and while you can use raw cannabis in some vape pens, most require cartridges of concentrates. These concentrates are created through the use of solvents, such as butane, CO2, or ethanol, which extract compounds from the plant and leave behind a more potent substance.
Hydrocarbon extraction, such as using butane or propane, is more likely than CO2 extraction to result in residual solvents ending up in the concentrate. A 2015 study published in The Journal of Toxicological Sciences found that more than 80 percent of the concentrate samples were contaminated by residual solvents.
There can also be issues with the raw cannabis itself. In the same 2015 study, pesticides were detected in one-third of the concentrate samples. While there are new requirements for testing cannabis (in all its forms) before it goes to market, they won't be enforced until July 1.
Of particular concern with vaping is propylene glycol (PG), a chemical that's added to cannabis oil products as a thinner. (It's also used in everything from shampoo to ice cream.) Although the FDA classifies it as "generally recognized as safe," there are concerns about propylene glycol when it's heated to high temperatures, according to a 2015 report by Jahan Marcu, chief scientific officer for Americans for Safe Access. That's because it transforms into carbonyls, "a group of cancer-causing chemicals that includes formaldehyde, which has been linked to spontaneous abortions and low birth weight," Marcu wrote. In the same report, Project CBD research associate Eric Geisterfer looked at hemp-derived CBD vape oil and found that nearly every one contained PG or polyethylene glycol (PEG), another toxic additive.
A more recent study, published in November 2017, tested four common thinning agents — PG, PEG 400, vegetable glycerin (VG), and medium chain triglycerides (MCT) — used by the cannabis industry, heating them to 230-degrees Celsius (or 446-degrees Fahrenheit), the temperature appropriate for cannabis oil vaporization. The results showed that PG and PEG 400, in particular, produced high levels of acetaldehyde and formaldehyde when heated. With PEG 400, formaldehyde production was nearly the equivalent of smoking one cigarette, the researchers found.
Marcu said another issue of concern are added terpenes, which give cannabis its distinctive odor. "They're generally regarded as safe," he said in an interview. "But not all are safe to be inhaled at a high concentration."
While cannabis oil only needs to be heated between 160- and 190-degrees Celsius to begin to aerosolize, vaping devices do not heat evenly or consistently. People also use the products differently.
Jeremy Green, COO of vape pen company Dosist, noted that almost all vape pens are made in Shenzhen, China, which bills itself as the headquarters of the e-cig industry. (Vape pens are made from the same device as e-cigarettes.) The actual heating element can vary, from ceramic to glass to metal. Green said the nichrome (or nickel-chromium) wire — the same type of heating mechanism you'll find in a toaster — is the most common heating element found in vape pens.
"A lot of people say they have a ceramic heating element, but really that's not true," said Green. "The nichrome [wire] is wrapped around the ceramic or embedded in the ceramic." (Green said Dosist pens use a custom blended alloy.)
The problem? In a peer-reviewed study published in 2013, a researcher at UC Riverside found a high concentration of heavy metals and silicates in the vapor of e-cigarettes, which came from the device's heating element — nickel-chromium wire coated in silver.
Just how much heat is being generated depends on the device's battery and how long the user engages it. Some vape pens are activated by pushing a button, while others are powered when the user sucks on it.
Green said many vape pens also have silver tips (the part you suck on), which are nickel or chrome plating. "You don't see those on medical devices because they aren't safe," he said. (He said Dosist uses medical-grade plastic for its exterior.)
There are no regulations for these devices in the e-cig or cannabis industry, so there are no standards, Green noted. While some vape brands, such as Brass Knuckles and Stiiizy, test their concentrates for pesticides and residual solvents and list the results on their websites, others may only tout potency.
So how can consumers stay safe? Marcu recommends looking for a third-party seal of approval on products (such as PFC, or Patient Focused Certification, of which he is the director), critically reviewing the label (beware of propylene glycol), and not being afraid to ask the company questions about its ingredients and testing. Also, don't buy any product that doesn't come with storage and usage guidelines. And when it comes to using the device, don't inhale or hold down the button for too long because you may be smoking the concentrate. All that said, "true vaporizers are absolutely safe," he noted.
But with cannabis testing regulations going into effect July 1, Green believes many vape brands will go under due to a lack of compliant product and increased costs related to compliance. "So, you're going to start to see some consolidation among the brands," he said. "There won't be 45 vape pens on the shelf."
Considering the lack of standards thus far, maybe that's a good thing.