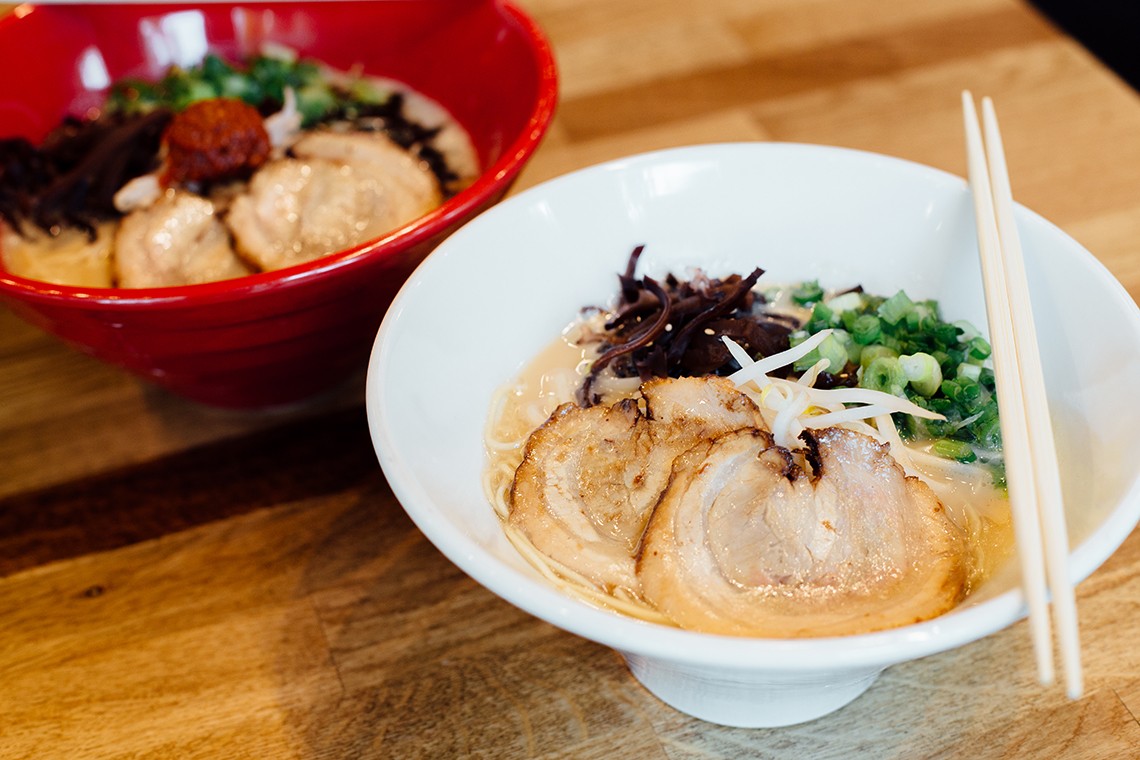 You should know something about me before we go any further. I love ramen, but I'm not obsessed with it.
You have probably met one of these ramen-obsessed people at some point in your life. They happily wait in line for two hours at Mensho Tokyo SF and drive all the way to San Mateo when the craving calls. They log onto Hungry Onion to share their opinions on every ramen house from here to San Jose. And they were alarmingly stoked when Ippudo finally came to Berkeley.
Ippudo's history dates back to 1985 in Fukuoka, Japan, where it quickly emerged as one of the most popular Hakata-style tonkotsu ramen destinations in the region. The way the Ippudo team tells it, most ramen houses back then were small, cramped, and hurried. Ippudo became a star, not only for its top-notch tonkotsu ramen but for its more upscale dining experience. Now, there are more than 60 locations around the world, and the chain has partnered with the same restaurant group behind Panda Express. After New York City, Berkeley is the second city in the United States to nab an Ippudo.
These days, it feels like there are few dishes that draw as much infatuation and lovelorn angst as the once-humble bowl of ramen. Consider The Mind of a Chef, the PBS show in which celebrity chef David Chang dedicates many scenes to slurping ramen. Then again, he also famously proclaimed ramen "dead" in 2015 — the nationwide craze wound up yielding far too many mediocre bowls of noodles.
We know this sad fact in the East Bay. Until recently, there weren't any places to get premium, traditional ramen. Ramen Shop, while delicious and beautiful in its own way, takes too many liberties to fit the bill.
My lack of ramen obsession means I haven't braved the line at Mensho yet. I also haven't ventured to San Mateo for ramen in several years. Despite multiple food-focused trips to New York, Ippudo New York never broke my top 10 list of restaurants to try.
So I can't tell you how Berkeley's Ippudo compares with any of these destinations. My opinion is probably not as well-informed as your ramen-obsessed friend. However, I can confidently say Ippudo is serving some of the best traditional ramen in the inner East Bay. Again, there isn't a ton of competition.
You have four ramen options at Ippudo: Shiromaru Classic, Akamaru Modern, Karaka Spicy, and Shoyu. The first three are all versions of tonkotsu ramen, the rich, milky, and most popular style in the United States. Ippudo chefs boil pork bones for 20 hours to get the intensely flavored, velvety broth. None of the four options is vegetarian.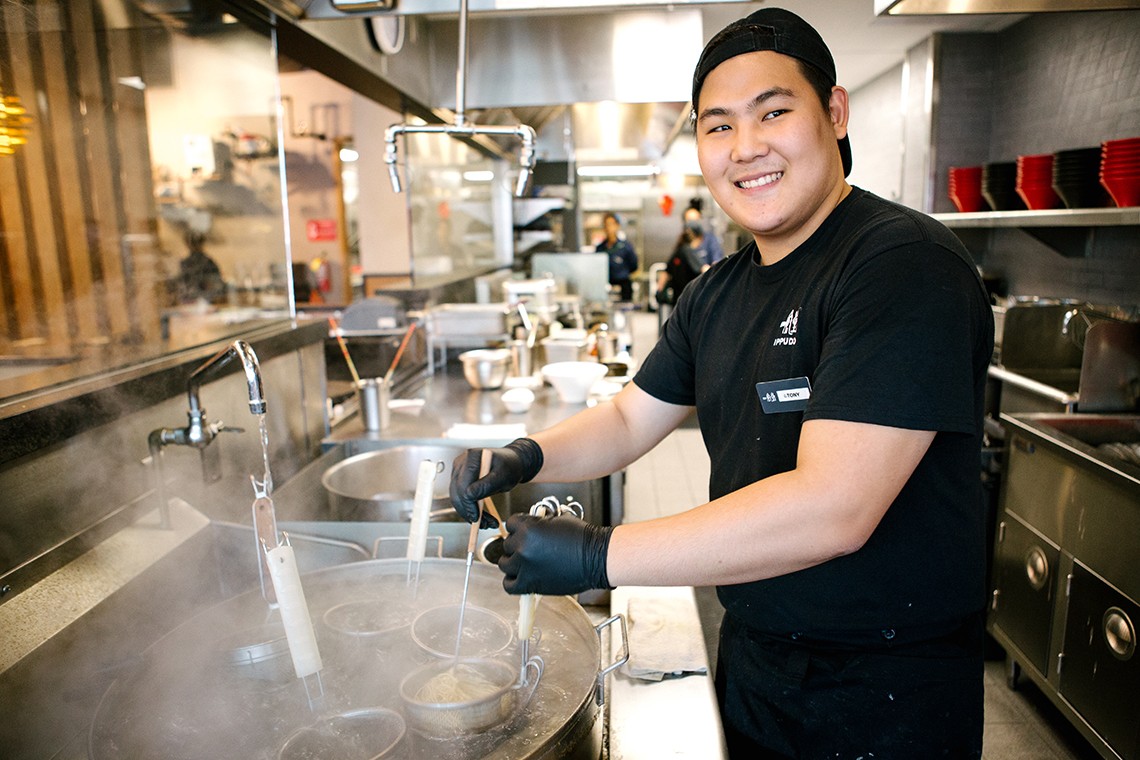 The Shiromaru Classic is the most basic of the tonkotsu options, served simply with two thin rounds of pork belly chashu, bean sprouts, wood ear mushrooms, and scallions. The Akamaru Modern gets miso paste and garlic oil, while the Karaka Spicy is enlivened with spices.
The Akamaru and Karaka ramens actually tasted more balanced than the one-dimensionally fatty Shiromaru. Like much of Japanese cuisine, the Karaka wasn't all that spicy, although the funky pungency was a nice addition. The Akamaru proved to be the clear winner, packed with umami and complexity.
If you usually find tonkotsu too rich, the Shoyu offers a lighter option. It's more flavorful and layered than most other versions I've tried, with dashi at the forefront.
When you order your bowl, you get to choose how firm you'd like your noodles — a boon for the ramen-obsessed. I preferred kata, the second-most-firm option, which resulted in a consistently satisfying bite. Ippudo makes its thin, straight noodles fresh in-house. They're very good, though I prefer the bouncy, thicker style more popular in Tokyo.
My favorite part of most ramen bowls is the perfectly soft-boiled egg, with its luxuriously creamy texture and salty blast from soy sauce, mirin, and sake. I always debate whether to eat it right away when its texture is most optimal or wait and save it for my final, blissful bite. For these purposes, I dove into Ippudo's eggs right away. Unfortunately, three out of the four eggs I tried were overcooked. They're also not marinated. And they cost $2 extra. This level of disappointment is difficult to overstate.
Perhaps it's impossible for Ippudo to completely live up to the hype, but I often felt like the Berkeley restaurant should have been better. Yes, the ramen was always at least good and sometimes truly great. But Ippudo serves a variety of small plates, too, and these largely under-delivered, seemed overpriced, and marred the overall experience. One partial exception is Ippudo's line of fluffy steamed buns, filled with pork belly, crispy chicken, or an unusually tasty vegetarian patty. They are all worth devouring, but they're also quite expensive.
The fryer does not seem to be Ippudo's strong suit. The fried chicken had decent flavor but no discernible crust. The shishito peppers came out soggy and tasted like oil.
The tofu salad, described as "healthy" on the menu, consisted of soft tofu cut into rectangles, topped with crispy sardines, and surrounded by unevenly dressed greens. I hoped to see a bit more skill from such a reputed restaurant.
Ippudo also serves a few small rice bowls that can be combined with a starter or salad for a noodle-averse diner or serve as a good option for kids. Just stay away from the rice topped with spicy cod roe, a deceivingly beautiful thing that was so salty I could only handle one bite.
As with the other Ippudos of the world, Berkeley's location is sleek and stylish with exuberant service. The place feels festive, if a little loud and chaotic. It's also full of thoughtful touches, like baskets on the floor to hold your bags, plastic utensils for children, and a descriptive sake list. On a slightly more controversial note, Ippudo doesn't provide containers for to-go orders or to take leftovers home — the company stance is that it wants customers to experience its food in only the best possible conditions. I wish that attention to detail carried over to more of its menu.
When Ippudo opened in July, the line stretched toward University Avenue for hours. It continued like that for a few weeks, but now, you can often score a table without waiting. That means it's a safe, completely reasonable time to finally check it out — especially if you're not ramen-obsessed.
Ippudo
2015 Shattuck Ave., Berkeley
510-666-8807
Ippudo-US.com
Hours: Mon.–Thu. 11 a.m.–11 p.m., Fri.–Sat. 11 a.m.–midnight,
Sun. 11 a.m.–10 p.m.
Cash, all major credit cards
Sample Menu
Akamaru Modern $15
Karaka Spicy (with egg) $18
Shoyu Ramen $13
Pork buns (2) $9