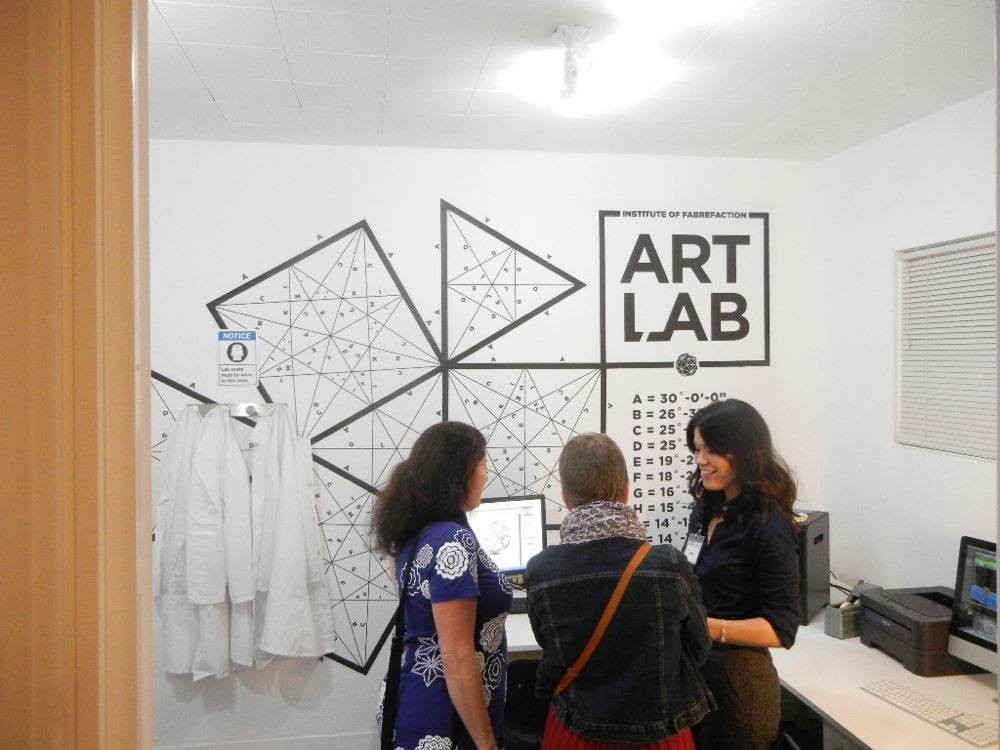 The Institute of Fabrefaction is the name of the newest part of
The Compound Gallery
space that opened this past Saturday. The moniker comes from the "17th century word for 'making of art'" as described on the project's 
Indiegogo
page. But nothing seems archaic about the newly renovated space, which features an Art Lab (you can only enter if you don a white lab coat) equipped with technology such as 3D printers for artists to further their media experimentation.
[jump]
Compound's pre-existing studio space is well-known for its facilities supporting 2D art such as letterpress and printmaking, but the Institute of Fabrefaction is dedicated to 3D artists. Co-director Matt Reynoso said in a phone interview that the expansion was due to outgrowing the main gallery's studio space. Juggling bulky equipment used for letterpress, ceramics, wood-working and metal-working, the Reynosos jumped on the opportunity when they saw that the former metal fabricator space next door was for rent.
The addition makes Compound's total property over 12,000 square feet, housing the "facilities of a school without an art school," as Reynoso puts it, as well as a common area and a small gallery space dedicated to 3D art.
Jeff Hantman
's solo show inaugurated the Fabrefaction gallery, featuring mixed-media collages bubbling out from the wall on curved, sculptural surfaces made from assembled found plywood. The gallery currently has an
open call
for artists to submit work for upcoming shows in the smaller, less intimidating space as well. 
Also on Saturday was the launch of the internal currency for the studios called STAKE (Skill Trade and Knowledge Exchange). "In the studio, we noticed that everybody has some knowledge that other people don't have," Reynoso said. But artists are often too afraid to interrupt others' work, or conversely, too afraid to ask for compensation for their help. The Compound STAKE, inspired by the
Ithaca HOUR
internal community currency, provides for a balanced trade among Compound artists. This is symbolized by the scale and shaking hand pictured on the letterpress-printed currency, each of which is an original work of art itself, Reynoso noted.
The
Indiegogo
campaign, which began June 28th and ran until August 10th, raised over $11,000. These funds went towards an almost complete renovation of the interior, revamping the façade, and updating some of the equipment. Artists and supporters of Compound also helped with the physical labor side of the renovation, which actually looked fun (you can see the "Building the Institute Blog"
here
). Reynoso said that the outpouring of support in the fundraising and renovation efforts was inspiring — over 400 people attended the Institute of Fabrefaction opening
party
on Saturday night.