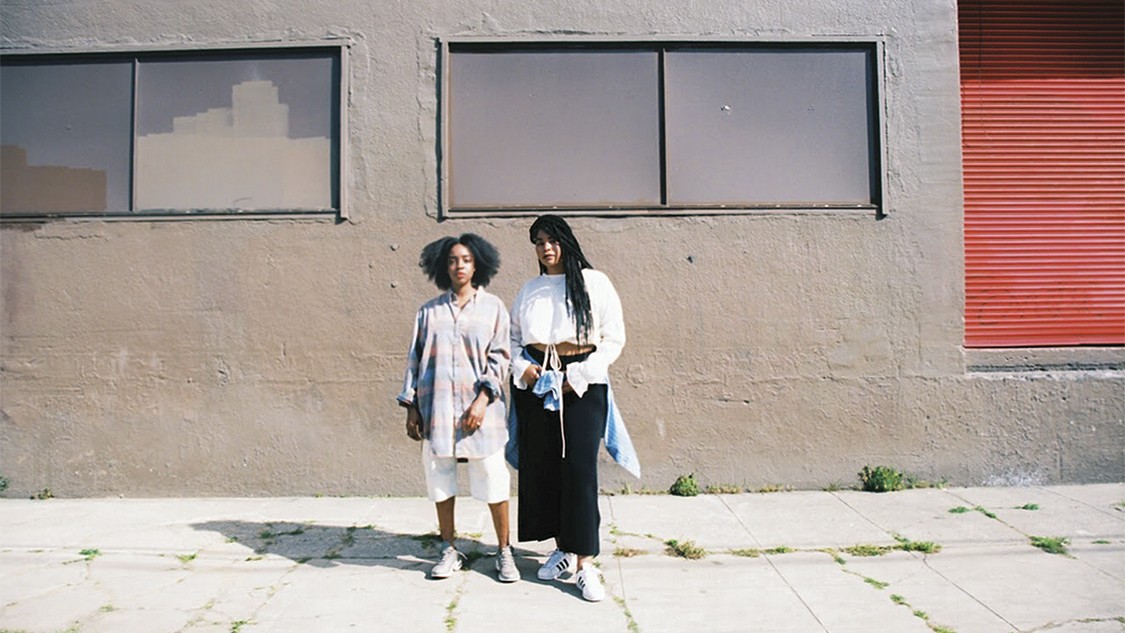 Even though Evangeline Elder and Carmena Woodward are two prominent women in the Bay Area music scene, they've had to jump through plenty of hurdles throughout their careers. That's why they founded Oakland's Women in Music Festival last year as a response to the rampant misogyny present in the industry.
"You jump over one hurdle and you sigh in relief that you're done with the hurdle, but the next hurdle is not far ahead," Elder said.
This unwelcoming environment, she said, is why women supporting each other in the industry is so important.
"Women have done more favors for us than men have done," she continued. "And that is the basis of the festival: you need your girl allies in the music industry."
Last year's four-day series of panels, performances, and parties gathered an impressive turnout despite a very tight budget. This year, they're expanding with larger venues and partnerships with big companies such as Pandora, Eventbrite, Glossier, and the Oakland Museum of California. Panelists and attendees are flying in from Los Angeles and even outside of California.
"We really wanted to up the experience," Elder said. Woodward, who is also known as DJ Red Corvette, is adding new details to make the festival extra special, including tapas in the greenroom for artists, specially curated cocktails, and bathroom installations.
And while last year's festival was memorable for its intimacy, they don't expect to lose that energy with its growth. The venues aren't expanding by massive proportions — they're merely jumping from capacities of 80 to around 150.
"The intimacy will still be there," promised Elder. "We're definitely anti-convention and anti-conference, where everyone holes into some hotel conference room for a day-long thing." Instead, they're spreading events across six venues and three days. Panels will be formatted to allow attendees to ask questions, start conversations, and approach panelists one-on-one afterwards.
This year, Elder and Woodward also wanted to expand the festival beyond just women in music to include women in all forms of media. The Boss Brunch event on Sunday, Apr. 8, will feature four speakers: Shavone Charles, who leads Instagram's global music and youth culture communications; Jane Hervey, who manages her own content creation studio called Group Work; Shayla Jamerson, the founder and creator of SoOAKLAND Collective (a safe event space for Black and Brown communities); and Jena Dominique, who works in social media strategy, content creation, and curation.
"This year we're just trying to make sure we serve all women who are coming out," Elder said. She noticed last year that there were "women coming out who weren't even interested in music, but they just loved the energy and how women were holding space together."
Among these other changes is a shift in how purchasing tickets works for the festival. Last year, a full-access pass cost under $30. This year, there are no general passes — instead, attendees can purchase tickets for individual events. Some events, such as the Women Breaking Ground in Music panel held at the Pandora HQ, are free. Others run between $20 and $40.
"I would say it's still as accessible this year as last year," said Elder. "You can curate your own experience and go to what you're interested in the most. You can choose how much money you want to spend."
One event new to the festival this year is the Women in Hip-Hop Panel at the Oakland Museum of California, which includes access to its brand new hip-hop exhibit, RESPECT: Hip-Hop Style & Wisdom. Woodward organized this panel, which will focus on educating women on how to stand out and make it in the genre as well as celebrate women in hip-hop. The event also coincides with the weekly Friday Nights at OMCA, so Off the Grid food trucks, cocktails, and live music will make for a full night.
This year's Saturday night concert is also poised to be an incredible dance party with some amazing musicians: Tiffany Gouché, Raveena, B-Side Brujas, Ah Mer Ah Su, LadyRyan, and Sweetest Threat. Another event the festival just announced is a women-only DJ and producer workshop on Thursday, led by Woodward in partnership with DJ software company Serato.
"I noticed that a lot of women up-and-coming DJs are just not comfortable with playing on all the different equipment," Woodward explained. "I think this [workshop] will help women get more confidence and move into being able to play music on turntables."
Woodward said learning the technical side of music from other women helps lessen the pressure of entering a largely male-dominated field. It becomes a more welcoming environment, where women don't have to worry about men acting standoffish or intimidating and can just focus on learning to hone their craft.
Formerly referring to the Oakland party scene as a "bro fest," Elder and Woodward have seen the landscape start to change in the past year.
"Since the festival, we're seeing more women throw events, we're seeing more men booking women, and we're seeing more people come to women-first events," Elder said. "Just because things are the way they are doesn't mean we have to leave them that way."

[embed-1]
While inclusivity is on the upswing, there's still work to be done. The Women in Music Festival is extremely dedicated to building an intersectional platform, which Elder said is still a fairly new concept. "We're always thinking about what an intersectional platform looks like, what does it feel like, from social media and branding to the actual selection of speakers to make sure we're representing every single party appropriately," she said.
While Elder and Woodward plan to offer more one-off events throughout the year before the next festival, they're currently looking forward to another successful weekend.
"There's no limit to what the festival will bring to people," said Woodward. "The goal is for everybody to get something out of it. Dudes can take something away from the festival, women can take something away from the festival — anybody with any background."
The Women in Music Festival runs Apr. 6-8, various locations, WIMBayArea.com.