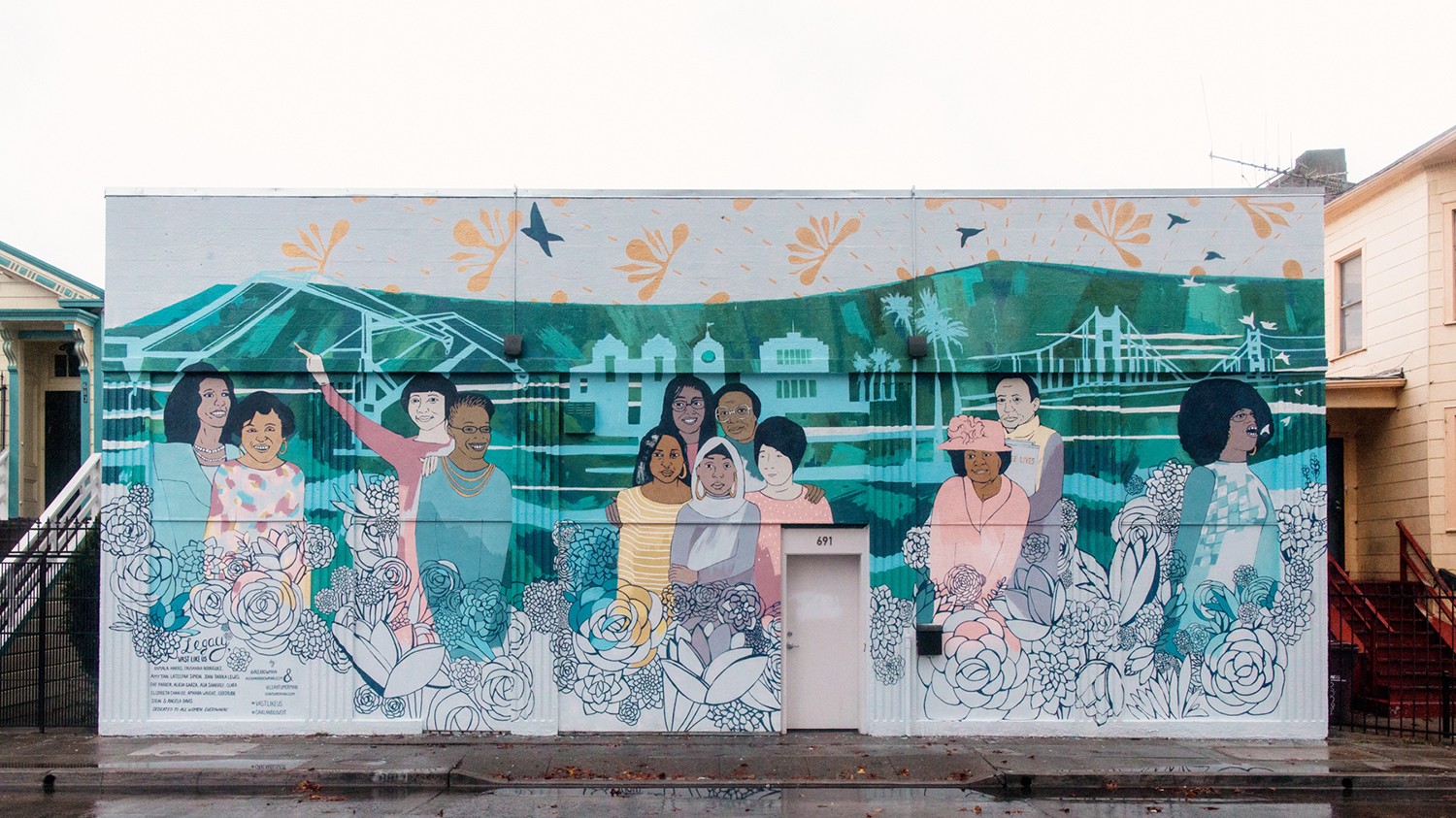 Twenty-five-feet tall and dressed in her Sunday best, Amanda Wright stands next to Gertrude Stein, just a little to the left of Angela Davis, on 27th Street in West Oakland. She is one of a selection of notable women from the East Bay whose likeness was captured by local artists Leah Tumerman and Alex Bowman for a neighborhood mural.
While you may not recognize her name, the folks on the block recognize her face as a dedicated community member, good neighbor, and a loving mother. She takes her place alongside other great women from the East Bay and represents countless other women whose names we don't know, who are just like her.
The mural, "Legacy, Vast Like Us," is a local Mt. Rushmore of sorts featuring a "small selection of women who've contributed greatly to Oakland's civic, cultural and political identity," according to the artist's website. It was funded by Visit Oakland's 2017 Public Mural Grant Program.
On the website for the program, it states that "the arts community within Oakland is valuable in building visitor interest, as well as vital in establishing a strong sense of place for local residents of the city." The program's goal was to enhance the "aesthetics" of the city while monetarily supporting the city's artists. Artists were able to apply for grants of up to $5,000 per project, with funding set aside for at least five projects. Ultimately, only two were funded.
It's true that artists are important for establishing place in a city. In January 2016, after a campaign led by a coalition of Black artists and business people, Oakland City Council established the Black Arts Movement and Business District, or BAMBD, a corridor spanning the Lower Bottoms, downtown, and ending near Lake Merritt. In 2017, BAMBD was selected as one of 22 semifinalists for designation as a California Cultural District in a new statewide program.
If you're wondering why you don't know more about the district, one reason might be because besides establishing the district in 2016, the city hasn't done much with it. On the streets, there are no physical markers letting visitors or pedestrians know that the district exists. As of writing this, even the landing page for the BAMBD on the Oakland government website is full of wonky HTML and broken contact links.
"This was a Hail Mary chance for Black artists to stay in Oakland," said Ayodele Nzinga, the founder and director of The Lower Bottom Playaz and one of the BAMBD stakeholders who helped push for its initial recognition by the city. "Culture is signs and symbols of how to live and how to thrive, and a lot of those places [in Oakland] that supported those notions of thriving through art and culture and community have been disrupted by development."
In establishing the district, the city hoped it would give some economic support or investment to the businesses and people working and creating in the community who represent its interests. As Oakland continues to develop, with construction happening in and around the BAMBD, there is a worry that these people will be left behind as the city expands.
"Fighting development is a moot point, but we have to be intentional about being neighbors so that the traditional communities here don't find Oakland to be a place where they can't live, or have businesses, or create art," said Nzinga.
However, some artists have also been blamed for paving the way for gentrification in Oakland — by moving into disinvested areas where prices were low, and then creating an arts scene that made it attractive to a higher-income demographic. But now, artists themselves are being priced out. At this moment in our collective history, making art isn't just a tool for personal expression, it's a tool for preservation.
In the original, approved design of "Legacy, Vast Like Us," Amanda Wright doesn't appear. She was added in at the suggestion of folks who knew her on the block, people who participated in creating the mural on the ground level. With any piece of artwork there's an implicit conversation that takes place between the work and the viewer. With public art, Tumerman, an artist in the East Bay who has made murals around the Bay Area and the country, makes sure that conversation is explicit.
"We were coming into this neighborhood with an image that was approved by an entity outside of the neighborhood to put up a semi-permanent piece of public work," she said. "We hoped that [the neighbors] would be on board, but there was no actual confirmation of their participation and approval."
Tumerman and Bowman spent 12-hour days on the block for the month they were installing the artwork. They shared the project design with the people who lived around the mural and listened to feedback, opinions, and feelings.
"You can't control the overarching problem and you can't absolve yourself from responsibility," said Tumerman. "You can only participate in an empathetic and open way."
Participating in and building community seems to be the key to preserving the very particular histories of neighborhoods and individuals living in our changing city.
In response to the lack of city investment in the BAMBD, Nzinga founded the Black Arts Movement Business District Community Development Corporation (BAMBD CDC), a nonprofit dedicated to community stewardship and "enlivening the Black Arts District Business." Next February, BAMBD CDC will host a monthlong festival at multiple venues throughout the BABMD and around Oakland. There will be art, theater, film, dance, literary events, and information about the BAMBD.
"Our city needs to be clear about what it values," said Nzinga. "Artists who have chosen to live and create in Oakland are clear about their values and are living them. It's time for the city to do the same."