The thing about breakfast sandwiches is that, on a most basic level, they aren't especially hard to make: All you need is a package of Kraft Singles, some half-decent bread, and the ability to properly fry an egg. The classic, all-American breakfast sandwich is
delicious
— but so simple it almost feels like a stretch to call it a "dish," much less a dish that's in need of elevating.
That might explain why the East Bay isn't home to many restaurants wholly dedicated to breakfast sandwiches. Or it wasn't, anyway, until The Gastropig opened in Uptown Oakland in January, and the Cracked breakfast sandwich pop-up settled into its new semi-permanent home — inside the Temescal bar Blackwater Station — a couple weeks prior to that.
If the line that stretched out the door at
The Gastropig
on a recent Saturday morning was any indication, the market for fancified bacon, egg, cheese is pretty strong after all. The restaurant is located around the corner from the Uber building, where co-owners Ann Thai and Loren Goodwin were initially tapped to operate a massive, ambitious hybrid restaurant-supermarket called Newberry Market. (According to Thai and Goodwin, the market is currently on hold, and its future is uncertain.) Goodwin and opening chef Lance Dean Velasquez collaborated on most of the menu items, but if you're eating here for the first time — and you aren't a vegetarian — there's really no reason to order anything other than the restaurant's signature item: the #Baconslut.
Let me get my quibble out of the way: I don't know if I could hate a sandwich name any more than I do "#Baconslut" — because of the ingratiating hashtag, and because in the year 2017, it just doesn't feel particularly edgy to have a menu item that requires your customers to say the word "slut" over and over again, all day long. For what it's worth, Thai and Goodwin said they just love bacon a whole lot, and Thai is pretty sure that Goodwin called her a "bacon slut" at some point. (The name also isn't an homage to the popular SoCal breakfast-sandwich chain Eggslut.)
All that said, this was an exemplary breakfast sandwich. Every component was just right — the soft, buttery brioche roll; the subtle smokiness of the Aleppo chili aioli; the saltiness of the melted cheddar; and bacon cut just thin enough that it crisped up perfectly, and wasn't overly chewy and difficult to bite through.
Make no mistake: Even though the pig gets top billing, this is essentially an entire restaurant that's branded around what I would call "runny egg-yolk porn." After all, isn't the whole point of the hashtag to encourage folks to Instagram that borderline obscene money shot of the yolk oozing out of the sandwich? And these yolks were
uncommonly
runny — to the point that my shirtsleeves wound up covered in the stuff on one occasion. Goodwin said there's no particular secret; the cooks just fry the eggs, very carefully, over-easy in a nonstick pan — not with "rainbow sprinkles and unicorn sneezes," as Thai quipped. But that extra richness really makes the sandwich.
Everything else I tried at The Gastropig was solid if not extraordinary. In a breakfast sandwich that substituted housemade sausage patty for the bacon, the sausage itself was a bit bland, as was another sandwich stuffed to overflowing with soft-scrambled eggs. The other standout item was the "waffle iron hashbrowns": potatoes cooked in a waffle iron until they resembled a web of cheesy, scallion-y tater tots. On weekends, sometimes the kitchen does a decadent version of biscuits and gravy that subs these hashbrowns in for the usual biscuits.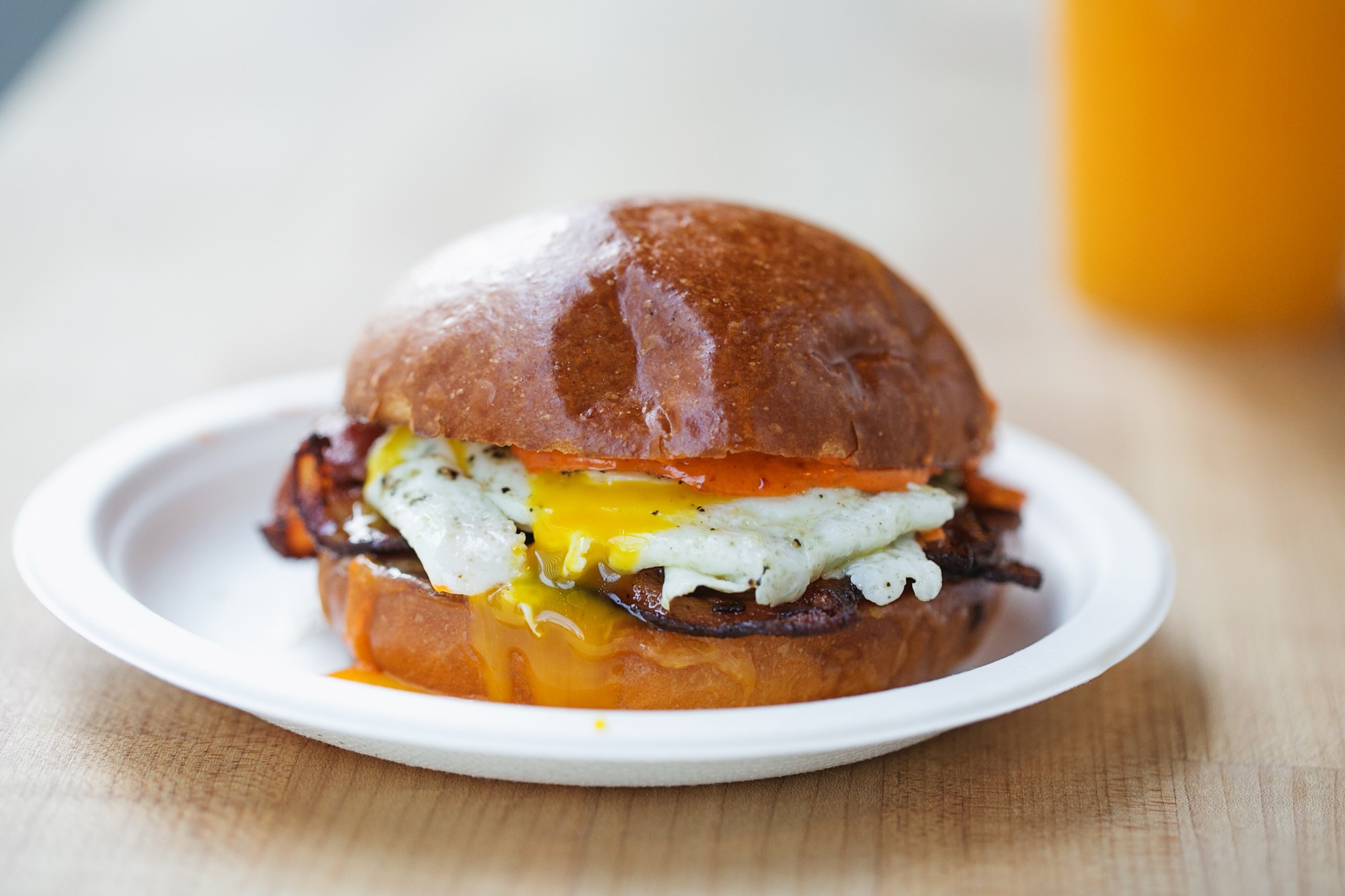 Part of me wonders how many people would want to eat this kind of gut-busting fare first thing in the morning on a regular workday. What seems to really work, though, is the casualness and brisk efficiency of the place, which is set up more like an upscale airport food kiosk than a sit-down restaurant. On the weekend, you might have to wait in line for ten minutes to place your order. Compared to the most popular brunch spots around town, that hardly seems like anything at all.
The most pertinent part of the story of how Buna Babilla, a music-industry veteran, started a second career as a breakfast-sandwich popup maven was the stint he did as a consultant at the Filipino fast-food chain Jollibee — a job he only sought out because his wife happens to be Filipino. It was at the Concord location of Jollibee that Babilla first fell in love with the simple pleasures of sautéed corned beef from a can and — even more crucially — with the soft, sweet
pandesal
rolls at Valerio's, the Filipino bakery next door.
At
Cracked
, Babilla uses Valerio's
pandesal
for all of his breakfast sandwiches. At this point, he says he's up to 1,200 bags of bread a week, and business has been good enough that he outgrew the pop-up's initial location at the Taiwanese fried chicken shop Chick & Tea.
What Babilla says he took away from his stint in the fast-food world was a desire to "feed the people," rather than create some high-concept cuisine. You see that in the price point — $7 a sandwich makes Cracked one of Temescal's more affordable breakfast options. You see it in the $2 McDonald's-style hash browns, which are just the regular frozen supermarket variety, which Babilla initially started keeping in stock because homeless folks near his original location asked for a small, simple meal that they could pay for with dignity. And you see it in Babilla's embrace of the salty, processed meats that many Asian Americans grew up on. One sandwich features that canned corned beef. Another one — my favorite — had grilled Spam, toasted seaweed, and miso mayonnaise, like a deconstructed Spam musubi. The sweet
pandesal
serves as a nice contrast to the salty ingredients.
Indeed, the best thing about the sandwiches are how well balanced they are. Each one abides by what Babilla calls the "rule of five": No sandwich has more than five ingredients total, and all of them straddle the line between salty and sweet. One of the best combinations was a bacon-and-egg sandwich topped with mashed avocado and a sweet housemade tomato jam — Babilla's grandmother's recipe. The most traditional breakfast sandwich was a ham, egg, and cheese number, but that one, too, had a hint of sweetness from a "maple butter" made by emulsifying melted butter with maple syrup. (The maple butter also serves as the dipping sauce for the deep-fried French toast bites Babilla makes with leftover
pandesal
.)
A runny egg yolk is the central feature in all of the breakfast sandwiches at Cracked, too, though here, they're less outrageously runny, despite the fact that the restaurant's catchphrase is "Mind the Yolk." The eggs are actually fried over-medium by default to avoid having the yolks explode before to-go customers have a chance to take a bite. Runny-yolk connoisseurs can have their eggs cooked over-easy by request.
There are wrinkles that need smoothing over, most of which have to do with speed of service, which slowed to a crawl during the Sunday brunch rush. The logistics of the pop-up also meant I had to order my coffee separately at the bar, where a lone bartender doubled as the barista, so she had to finish mixing several cocktails before she could even take my order.
These are the kinds of details that Babilla should be able to sort out. As it stands, he has already gone from just running a morning pop-up to taking over the Blackwater Station kitchen altogether. (During dinner service, he sells
pandesal
"Bunaburgers.") What Babilla shares in common with the proprietors of The Gastropig is a desire to eventually open multiple locations across the Bay Area. And why not? A breakfast sandwich might not be hard to make, but when people find one they like, they'll come back for it again and again.