Museums
For young children, there's the HABITOT Children's Museum (2065 Kittredge St., Berkeley, 510-647-1111), featuring prize-winning exhibits, art programs, multicultural performances, and even a toy-lending library. … Animal-loving kids will want to check out the Lindsay Wildlife Museum (1931 First Ave., Walnut Creek, 925-935-1978), which affords visitors close encounters with eagles, owls, bobcats, opossums, snakes, turtles, and other animals once treated at LWH's wildlife hospital but deemed unreleasable. … Junior scientists will enjoy tinkering at the Exploratorium (Palace of Fine Arts, 3601 Lyon St., San Francisco, 415-561-0399). The ornate Gilded-Age architecture of the 1916 Palace of Fine Arts clashes with the hands-on, family-friendly exhibits inside, but that's the charm of this science museum. … Kids (big and small) seeking retro fun will enjoy Lucky Ju Ju Pinball & Neptune Beach Amusement Museum (713 Santa Clara Ave., Alameda, 510-205-9793). Juju is magic, which may be needed for pinball wizardry. This pinball palace features Evel Knievel, Lady Luck, Mars Trek — and Wizard, among many others, along with rotating art exhibits. … Nascent propellerheads will be thrilled with the USS Hornet Museum (Pier 3, Alameda Pt., Alameda, 510-521-8448). The carrier, which played a crucial part in WWII, recovered the Apollo 11 and 12 astronauts in 1969, and has been docked here since 1998. … If art or history is your thing, the Bay Area has plenty to offer. In the East Bay, the Berkeley Art Museum (2625 Durant Ave., Berkeley, 510-642-0808) is top art dog. In 1963 abstract painter Hans Hoffman donated 45 paintings and $250,000 to the university; in 1970 the striking, modernist structure opened. With a collection of 14,000 objects, and its influential, experimental MATRIX program, BAM is a preeminent university museum. … Also on campus is the Phoebe A. Hearst Museum of Anthropology (Kroeber Hall, Bancroft Way at College Ave., Berkeley, 510-643-7649). In 1911, the Lowie Museum opened in San Francisco; resident there was Ishi, last of the Yahi Indians, who helped anthropologists record his tribe's lost culture until his 1916 death. Nowadays, PAHMA, now renamed and relocated to Berkeley, with almost 4 million objects, is the West's oldest, largest anthropological museum. … Focusing on one eminent human tribe is the Judah L. Magnes Museum (2911 Russell St., Berkeley, 510-549-6950), preserving tradition for the Bay Area's large Jewish population. Its 8,000-plus ceremonial and decorative items and extensive library offer ample material for enjoyment, enrichment, and study. … The African American Museum and Library at Oakland (659 14th St., Oakland, 510-637-0200) memorializes black history. Founded in 1946, AAMLO houses an archive of 160 collections of diaries, newspapers, oral history, and video recordings focusing on the Bay Area and Northern California; a 12,000-volume reference library; and a museum featuring changing exhibits. … The Oakland Museum of California (1000 Oak St., Oakland, 510-238-2200), an East Bay cultural institution since 1969, specializes in art, history, and the natural sciences of California. Recently, a new curator has helped contemporize its exhibits while the museum undergoes a major renovation to expand its collection (the Art and History galleries are closed until 2009). … For quiet art viewing, try the Mills College Art Museum (5000 MacArthur Blvd., Oakland, 510-430-2164), focusing on women artists and curators — pretty radical for 1925! (Males are now included, by the way.) Well-installed, thoughtful, eclectic shows, and free admission. … Moving across the bay, a cluster of museums awaits in downtown San Francisco. The Museum of the African Diaspora (685 Mission St., San Francisco, 415-358-7200) traces the breakup and scattering of African blacks across space and time with exhibits, programs, and events. The web site features additional photos, transcripts, and recorded voices. … The San Francisco Museum of Modern Art (151 Third St., San Francisco, 415-357-4000), established in 1935, moved into its distinctive striped brick building in 1995 and began a period of exciting programming and collecting. Ensuing high-profile exhibitions like the Frida Kahlo retrospective have fixed it at the center of the city's art scene. … Across Third Street lies Yerba Buena Center for the Arts (701 Mission St., San Francisco, 415-978-2700), founded in 1993 in order to serve as a populist alternative to the gallery-museum system. It has morphed into a venue for new-media conceptualism, a good place to see what's shaking in visual art before it migrates to SFMOMA. … A bit west, in Civic Center, lies the Asian Art Museum (200 Larkin St., San Francisco, 415-581-3500) inside the refurbished old Main Library building. Opened in Golden Gate Park in 1966 to house the huge collection of Chicagoan Avery Brundage, the museum, now housing 17,000 artworks, moved to the more accessible site in 2003. … But the de Young Museum (Golden Gate Park, 50 Hagiwara Tea Garden Dr., San Francisco, 415-750-3600) made good use of the Asian's old site. Founded in 1895, the museum moved in 2005 into a new, enlarged, copper-clad showcase befiting its extensive collections of American painting, sculpture, and decorative arts; Mesoamerican, Central, and South American artifacts; African art; and Oceanic art, particularly the thrilling, spooky Friede Collection. … Finally, moving west, to Land's End, we conclude with the Palace of the Legion of Honor (Lincoln Park, 34th Ave. & Clement St., San Francisco, 415-750-3600). Commemorating America's war dead, this 1924 duplicate of the Paris Légion d'Honneur is the last of San Francisco's old-style museums, but it boasts an unbeatable view of the Golden Gate, along with collections of ancient art, illustrated books, European painting and decorative art, fine prints, and Rodin bronzes.
Performance Venues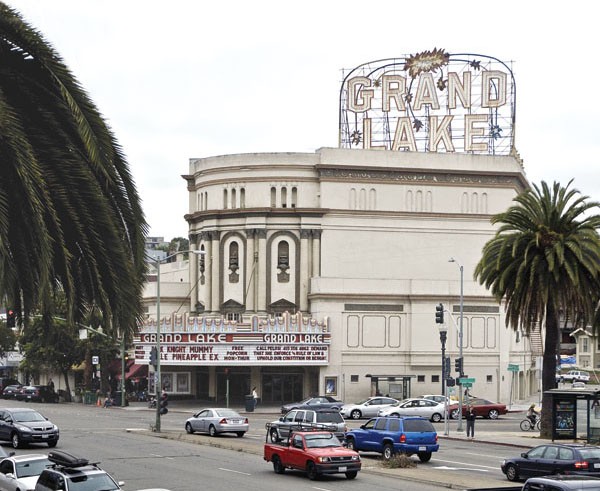 The Art Deco landmark Paramount Theatre (2025 Broadway, Oakland, 510-465-6400) has been a fixture in downtown Oakland since 1931. During the Depression it served as a movie palace, and it's now home to the Oakland East Bay Symphony and touring musical and comedy acts, theater, and ballet performances. … The architectural landmark Julia Morgan Center for the Arts (2640 College Ave., Berkeley, 510-845-8542) hosts a wide variety of events including the Berkeley Opera, Berkeley Ballet Theater, a whole bunch of children's theater groups, a storytelling series, and world music and dance events. … Zellerbach Hall (UC Berkeley, 510-642-9988) hosts the Cal Performances series of truly world-class performances. From Russian ballet to Mark Morris, Australian punk circus to Peking acrobats, Ladysmith Black Mambazo to Cecilia Bartoli, Italian commedia to Chinese opera, the 2,000-seat hall brings the world much nearer to your door. … You can't leave Berkeley without attending at least one concert at the Greek Theatre (Gayley Rd. at Hearst Ave., Berkeley, 510-809-0100), one of the most picturesque outdoor settings for live music in the Bay Area. Although strict regulations (sound levels, ending show time) due to proximity to university dorms can keep things tame, the Greek's promoters always bring stellar lineups, and there's not a bad seat in the house. … The Berkeley Community Theatre (1930 Allston Way, Berkeley, 510-644-6348) — a 3,500-capacity venue located on the Berkeley High School campus — doesn't host shows often, but when it does, it's guaranteed to be intimate — though somewhat awkward because of the fixed seats. Its stage has seen the likes of the Grateful Dead, Bruce Springsteen, and Metallica. … A magnificent 12,000-square-foot ballroom, Historic Sweet's Ballroom (1933 Broadway, Oakland, HistoricSweetsBallroom.com) channels an earlier, more glamorous era of Oakland's past. In addition to hosting big-name acts (R. Kelly held his after-party there), Sweet's also features community events. … Opened in 1966, the ORACLE Arena (7000 Coliseum Way, Oakland, 510-569-2121) and adjacent Coliseum are home to beloved local sports teams the Golden State Warriors, Oakland Raiders, and the Oakland A's (for now). That means they're also the biggest venues for entertainment in the East Bay — from the Ringling Bros. and Barnum & Bailey Circus to Disney on Ice to the Rolling Stones. The indoor arena holds 19,200 and features 72 luxury suites. … A host of Contra Costa companies call the three stages of the Lesher Center for the Arts (1601 Civic Dr., Walnut Creek, 925-943-7469) home, including Center REPertory Company, Contra Costa Musical Theatre, Diablo Light Opera Company, Festival Opera, Diablo Ballet, and dozens of frequent visitors like Lamplighters, California Symphony, and Smuin Ballet. … The Sleep Train Pavilion (2000 Kirker Pass Rd., Concord, 925-676-8742) is a midsize outdoor amphitheater (12,500 capacity) nestled in the hills of Concord's outskirts toward Clayton, and kitty-corner from the Concord Naval Weapons Station. Known for being one of the larger and nicer outdoor venues in the Bay Area — and with the tightest security — the Sleep Train is often the only East Bay stop for big-name musicians of the caliber of Bonnie Raitt and Sheryl Crow. … Located 35 miles south of San Francisco on the Peninsula, Shoreline Amphitheatre (One Amphitheatre Pkwy., Mountain View, 650-967-3000, ShorelineAmp.com) is the largest outdoor venue in the Bay Area — it sits on more than sixty acres and holds 22,000. Accordingly, the biggest names stop here — framed pictures of who's who in musical history are displayed around the walls circling the backstage area. … A sense of history pervades the Fillmore (1805 Geary Blvd., San Francisco, 415-346-6000, TheFillmore.com). The huge hardwood main room is the same place Jimi Hendrix and Miles Davis recorded live albums back in the day. The Fillmore's demographic has shifted younger in recent years, but it's still one of the best places in the world to see a show. … Located in the War Memorial Veterans Building, the Herbst Theatre (401 Van Ness Ave., San Francisco, 415-392-4400) is a stately venue featuring large murals, chandeliers, and a gold-leaf ceiling. It's an exquisite place for watching the finest arts and culture performances, including dance, lectures, classical music concerts, films, and more. … Intimate music shows can be seen at the Grand Ballroom at the Regency Center (1290 Sutter St., San Francisco, 415-673-5716), a 1,000-capacity venue that can also be rented out for special occasions. The midsize room boasts Scottish Rite architecture, high ceilings, and a balcony for maximum viewing pleasure.
Visual Arts
So much activity; so little column space! Oakland's Art Murmur scene on First Fridays gets a lot of attention, as it should, but there's plenty more that art mavens should explore and support. Starting inland, there's Bedford Gallery (1601 Civic Dr., Walnut Creek, 925-295-1417). Bedford does a fine job balancing public accessibility with aesthetic excellence, assembling shows of museum quality. … Eclectix Gallery (7523 Fairmount Ave., El Cerrito, 510-364-7261) goes for weird humor. Pop surrealism, kitsch, gothic, and other lowbrow absurdism might seem out of place in placid El Cerrito, but in the postmodern society of spectacle, whether tikis, tin toys, lava lights, or R. Crumb lunch boxes, all is one. "Newbrow" is the password. Closed for September: moving and reopening in October. … The Bay Area's oldest art center, Richmond Art Center (2540 Barrett St., Richmond, 510-620-6772), offers classes in ceramics, paintings, weaving, and jewelry, and workshops for artists of all ages in its 25,000-square-foot facility, which includes a 6,000-square-foot. gallery space and a sculpture courtyard. … For unbearable heaviness of being, try the Float Center (1091 Calcot Pl. #116, Oakland, 510-535-1702). If you've dreamed of a flotation tank/alpha-wave retreat combined with an art gallery, well, as they used to say in the movies, it's just so crazy it might work. A meditative hour relaxing in body-temp saline water apparently works wonders on your health and outlook, and the professionally curated art exhibits will help you to resume, gently, your pedestrian existence. … Also helpful might be a visit to Expressions Gallery (2035 Ashby Ave., Berkeley, 510-644-4930), a gallery/community art center where various media (painting, films, music, printmaking, fiber arts, photography, jewelry) and styles (Robotic? Cetacean?) coexist and cross-fertilize. Classes, demonstrations, concerts, poetry readings, and monthly meetings of the Collectors and Critics Circle help celebrate and foster creativity. … Giorgi Gallery (2911 Claremont Ave., Berkeley, 510-848-1228) also features an appealing mix of painting (including fresco), photography, sculpture, and music. … Rolling into Oakland, we find LoBot (1800 Campbell St., West Oakland). Founded in 2004, this "lower bottom" 7,000-square-foot space shows thematic group shows of regional, national, and international artists. It seeks proposals in drawing/painting, sculpture/installation, and video/performance (including music), and offers one-month residencies to young (18-38) artists. … Next are a couple of neighbors in the Jack London Square area. Swarm Studios + Gallery (560 2nd St., Oakland, 510-839-2787), now two years old, shows contemporary art (new media, installations) in its large gallery and smaller project space, while offering eleven studio spaces for rent. Well-curated shows. … Next door is Pro Arts (550 Second St., Oakland, 510-763-4361), sponsor of East Bay Open Studios since 1979. It mounts contemporary art exhibits at its 2,500-square-foot gallery and dedicated project space, while its Gallery Store displays the artwork of member artists. … And now we come to Art Murmur, Oakland's First Friday downtown art stroll and Gen X/Y tribal gathering: Critical Mass without bikes, Woodstock without mud. Come to see the art or be a scenester, it's all good. Many of the galleries open late, but hours vary, so check OaklandArtMurmur.com first if you have ambitious plans — and don't forget the nearby Blank Space and its new neighbor, the Compound on San Pablo Avenue, or NoneSuch Space, and WellSpace & Gallery up Telegraph and Broadway. … Following are a few of the murmurous venues. Mercury 20 Gallery (25 Grand Ave., Oakland, MercuryTwenty.com) is a co-operative gallery of "twenty elemental artists" that mounts monthly shows of two of its mid-career members. There's always work by the other artists in the back room, too. Limited hours, but always a good turnout for First Friday receptions. … Chandra Cerrito Contemporary (25 Grand Ave., Oakland, 415-577-7537) is located on the mezzanine above Mercury Twenty Gallery. It generally shows two or three mid-career California artists who make conceptual work with strong visual form — or is it vice versa? Cerrito is an art consultant and an artist as well, so she approaches the work from a number of perspectives. … Johansson Projects (2300 Telegraph Ave., Oakland, 510-444-9140), located at 23rd & Telegraph, in the midst of the First Friday crowds, presents thoughtfully assembled, eclectic shows with professionalism and polish, but free of art-world attitude. The artwork is conceptual, i.e., non-representational, the form arising from the process, but made with great skill and precision. … Across the street is Rock Paper Scissors Collective (2278 Telegraph Ave., Oakland, 510-238-9171), an organization of volunteers that encourages cooperation and sustainability: "anti-reptilian and pro-love" behavior, to quote musicians/artists UZI RASH. Offerings: classes in fashion, skateboarding, DJ-ing, crocheting, knitting, web design; a gallery; a sewing and screenprinting art lab; a zine library; and a retail store for local artists and crafters to sell their clothes, prints, zines, music. … Around the corner is the indispensable Mama Buzz Cafe and Gallery (2318 Telegraph Ave., Oakland, 510-465-4073). A rather cozy, funky casual food joint by day, Mama Buzz comes alive at night with live music to accompany the art exhibitions. … Slightly north of Buzz Central is Rowan Morrison Gallery (330 40th St., Oakland, 510-384-5344), a contemporary art gallery, book publisher, and store, featuring zines, fine-art prints, paper goods, and artist's books. If you can't afford original art, collect art books. Nice art book blog, too.
Movie Theaters
Parkway Speakeasy Theater (1834 Park Blvd., Oakland, 510-814-2400, SpeakeasyTheaters.com) is the place to see kung-fu and blaxploitation revivals. It's now the Funky Butt Hall of the Speakeasy Theaters mini-chain, but this relaxed neighborhood second-run house near Lake Merritt has been a place of innovation, with couches, beer, wine, and pizza for 21-and-over audiences; African Diaspora Cinema, and other special shows. … Cerrito Speakeasy Theater (10070 San Pablo Ave., El Cerrito, 510-814-2400, SpeakeasyTheaters.com), owned by the City of El Cerrito, is an attractively renovated 1937 Art Deco duplex that plays second-run features and one-offs like "Thrillville" movie parties along with Speakeasy's popular amenities: beer, wine, and upscale snacks; Baby Brigade screenings for infants and their parents, etc. Terrific popcorn. … The schedule of the Pacific Film Archive (2575 Bancroft Way, UC Berkeley, 510-642-1124, BAMPFA.berkeley.edu) includes a year-round film festival, with tributes and retrospectives, visiting filmmakers, and the best projection in the Bay Area. If the archive's holdings of Japanese features from the '60s, West Coast avant-garde cinema, and Soviet silents don't grab you, traveling series on Mexican classics or "United Artists: 90 Years" surely will. A world-class repository of films and cinematic lore since 1966. … Landmark Shattuck Cinemas (2230 Shattuck Ave., Berkeley, 510-464-5980, LandmarkTheatres.com), the art-house chain's spiffiest East Bay outpost, plays first-run movies on ten screens, with auditoriums decorated in faux-Egyptian, ersatz-Arabian, and late-period Plex Moderne. Check the calendared screen — the last vestige of Landmark's late, lamented UC Theatre — for the latest hard-to-find French import. … Though it was met with some public opposition, the Alameda Theatre & Cineplex (2317 Central Ave., Alameda, 510-769-3456, AlamedaTheatres.com), a rehabbed 1937 historic theater and mega-plex, does have a certain charm — namely, its fifty-foot screen, balcony, and Art Deco architecture courtesy of Timothy Pflueger (who also designed the Paramount in Oakland). Yet another example of a municipality subsidizing a movie theater in hopes of injecting some life into a shopping district — in this case with mixed results. … Two theaters in the Renaissance Rialto circuit merit visitation. In Oakland, there's the Grand Lake Theater (3200 Grand Ave., Oakland, 510-426-3556, RenaissanceRialto.com), a restored old movie palace from the 1920s. Attend a movie here on a Friday or Saturday night and get serenaded by a Wurlitzer organ prior to the feature. Or just enjoy the retro elegance of the 900-seat main auditorium, complete with Art Deco murals. Its marquee lit up at night is dazzling. … The sight of the Orinda Theater's (2 Orinda Square, Orinda, 925-254-9060, RenaissanceRialto.com) majestic blade at night is worth the trip all by itself, but go inside and catch The Dark Knight in an appropriate setting. This Art Deco gem nestled in the Orinda Village center is hardly the ugly stepsister of the Grand Lake. It's a beautiful place to see a movie. … Run by Santa Rosa-based Rialto, the Rialto Cinemas Elmwood (2966 College Ave., Berkeley, 510-433-9730, RialtoCinemas.com), a bite-sized mini-plex, has carved out a niche for itself with art and foreign films — the ideal mix for globally minded college town auds. Not afraid to show an anti-Pinochet documentary as a one-night stand. … If it's uniformity, a giant box of candy, and the latest Hollywood blunderbuss you crave, the East Bay's corporate plexes can deliver the goods with a high standard of standardness: AMCTheatres.com, BrendenTheatres.com, Cinemark.com, RegMovies.com
Theater & Dance Companies
There's almost always a ton of theater going on in the East Bay if you know where to look. (Our listings are usually a good place to start.) Berkeley Repertory Theatre (2025 Addison St., Berkeley, 510-647-2949) has kept up such a high standard of excellence on its two stages in recent years that it stands head and shoulders above larger regional rivals. Even New York has taken notice as its theaters have become filled with acclaimed productions that started at the Rep. … Aurora Theatre Company (2081 Addison St., Berkeley, 510-843-4822) offers a heady selection of smart contemporary plays, including many West Coast premieres, mixed in with a few classics by Shaw, Ibsen, Strindberg, Pinter, the Greeks, even Mae West, all in an intimate theater-in-the-round almost right next to Berkeley Rep. … California Shakespeare Theatre (100 Gateway Blvd., Orinda, 510-548-9666) boasts a lovely outdoor amphitheater in the Orinda hills, which can be nippy at night so pick up blankets and cocoa once you're there. Every summer Cal Shakes does a couple Shakespeare plays, but other offerings by Shaw, Wilde, and Dickens have proven irresistible. … After years as a nomadic company, Shotgun Players (1901 Ashby Ave., Berkeley, 510-841-6500) have become a South Berkeley fixture with their own solar-powered theater where they offer an eclectic mix of new plays (Adam Bock, Eisa Davis, Mark Jackson) and challenging work from Caryl Churchill, Mamet, Brecht, Garcia Lorca, or whoever they haven't tried yet. … Whether it's a pop-culture-laced new comedy or an action-packed take on Shakespearean tragedy, an Impact Theatre (1834 Euclid Ave., Berkeley, 510-464-4468) show might be polished or rough, but it's always fun and fast-paced, conveniently located in a pizza-parlor basement right next to the Cal campus. … Every Central Works (2315 Durant Ave., Berkeley, 510-558-1381) play is a collaborative creation of the artists involved, whether they're dramatic adaptations of literary classics or examinations of pressing political issues, all staged in a cozy theater in the round in the elegant Berkeley City Club. … The East Bay's all-female Shakespeare company, Woman's Will (510-420-0813) does one show for free in the parks over the summer — usually Shakespeare, turning the Elizabethan custom of all-male casts on its head — and often an autumn indoor show as well, whether it's Brecht or Wilde or an unusual choice like Aphra Behn or Mac Wellman. … Among several strong community theaters like Alameda's Altarena Playhouse or Point Richmond's Masquers Playhouse, Contra Costa Civic Theatre (951 Pomona Ave., El Cerrito, 510-524-9132) puts on comedies and musicals, mysteries and dramas from Sondheim to the Marx Brothers to Agatha Christie with unusually solid production values. … The Bay Area has more professional dancers per capita than anywhere else in the country. Like jazz musicians, most have day jobs and perform in shifting alliances and ad hoc projects. Some have a home theater, most don't; web sites are a must. Axis Dis/Abled Dance Company (1428 Alice St., Ste. 200, Oakland, 510-625-0110, AxisDance.org) makes ethereal dance out of the struggle to achieve grace. On crutches, in wheelchairs, or able-bodied, they epitomize the indomitable spirit of humanity: No excuses, no pity, no apology. … Oakland Ballet Company (510-465-6400, RGFPA.org,) dances the Ballet Russes classics as if they were Shakespeare — with heart, soul, passion, and grace. Its fall season runs October 25-27, 2008. Don't miss its huge old-fashioned Nutcracker at Christmas. … Dadaist choreographer Mary Armentrout (510-289-5188, MilkBar.org) hosts fantastic avant-garde weird dancers doing strange things with the furniture in her monthly Milkbar series at studio #223 in the old Sunshine Biscuit Factory (81st Ave. off San Leandro Blvd., Oakland). Witty, civilized refreshment for college types. … Diamano Coura (1428 Alice St., Oakland, 510-733-1077, DiamanoCoura.org) is a first-rate troupe that does classic dances of West Africa. They train with their drummers at the Malonga Casquelourd Center and move like flames: the whole body is light and elastic, the spine works like a whip, the arms blaze like tongues of fire. The drum calls the dance. … Savage Jazz Dance (510 490-6068, SavageJazz.org) fields sexy, high-energy musical movers in a big range of moods, from haunting melancholy (Ellingtonian blues) to hilarious. Don't miss it when they dance with Marcus Shelby's Jazz Orchestra. … Omega West (Geocities.com/athens/ithaca/3186) is the foremost liturgical dance company in the US, based at the Pacific School of Religion in Berkeley. Director Carla da Sola makes dance of austere grandeur based in Graham and Ailey traditions. See them at San Francisco's Grace Cathedral, Berkeley's Newman Hall, and other venues.
Classical
Drop those ear buds! Home to some of the finest early, classical, and new music ensembles in the country, the Bay Area offers countless opportunities to hear the full range of color and expressive nuance that give classical music such transcendent and transformative power. For period-instrument fare (through Beethoven), look no farther than the Philharmonia Baroque Orchestra (415-252-1288, Philharmonia.org), whose buoyant Music Director Nicholas McGegan showcases some of the finest soloists and guest conductors on the planet; American Bach Soloists (415-621-7900, AmericanBach.org), who specialize in music of Bach's era; Magnificat Early Baroque (800-853-8155, MagnificatBaroque.org), which often programs rare fare; AVE/Artist's Vocal Ensemble (Ave-Music.org) and the concert series of the San Francisco Early Music Society (510-528-1725, SFEMS.org); and MusicSources (510-528-1625, MusicSources.org). … Symphonically speaking, don't miss the internationally acclaimed San Francisco Symphony (415-864-6000, SFSymphony.org). Berkeley Symphony (510-841-2800, BerkeleySymphony.org) is often more adventurous, if nowhere near as polished, and Oakland East Bay Symphony (510-444-0801, OEBS.org) Music Director Michael Morgan programs with the community in mind. … For opera, the world-class San Francisco Opera (415-864-3330, SFOpera.com) has all the star power, glamour, and cheap standing room one could ask for. Several small companies, notably Berkeley Opera (510-841-1903, BerkeleyOpera.org) and Oakland Opera (510-763-1146, OaklandOpera.org), surprise with sometimes brilliant, sometimes bizarre productions. In a class by itself, Pocket Opera (415-972-8934, PocketOpera.org) offers the indefatigable octogenarian Donald Pippin's witty translations and priceless spoken commentary. … For thought-provoking electronic and new music, Mills College's Center for Contemporary Music (510-430-2171) and UC Berkeley's Center for New Music and Audio Technology (510-643-9990, CNMAT.berkeley.edu) is always on the cutting edge. So are a host of extraordinary new music ensembles — the award-winning Del Sol String Quartet (415-374-0074, DelSolQuartet.com), world-renowned new music champion Kronos Quartet (KronosQuartet.org), San Francisco Contemporary Music Players (415-278-9566, SFCMP.org), Earplay (415-585-9776, Earplay.org), Left Coast Chamber Ensemble (415-642-8054, ChamberMusicPartn.org), Grammy-nominated Quartet San Francisco (QuartetSanFrancisco.com) — and concerts sponsored by Composers, Inc. (415-512-0641, ComposersInc.org), and the remarkable Other Minds (415-934-8134, Otherminds.org). … Choral groups are too numerous to list, but the world-famous men of Chanticleer (415-252-8589, Chanticleer.org) and cutting-edge Volti new music specialists (415-771-3352, VoltiSF.org) lead an extraordinarily rich pack. … Finally, two performance series, Cal Performances (510-642-9988, CalPerfs.berkeley.edu) and San Francisco Performances (415-398-6449, Performances.org) together offer perhaps the finest assortment of classical, jazz, dance, and world music concerts you will find west of the Hudson River.