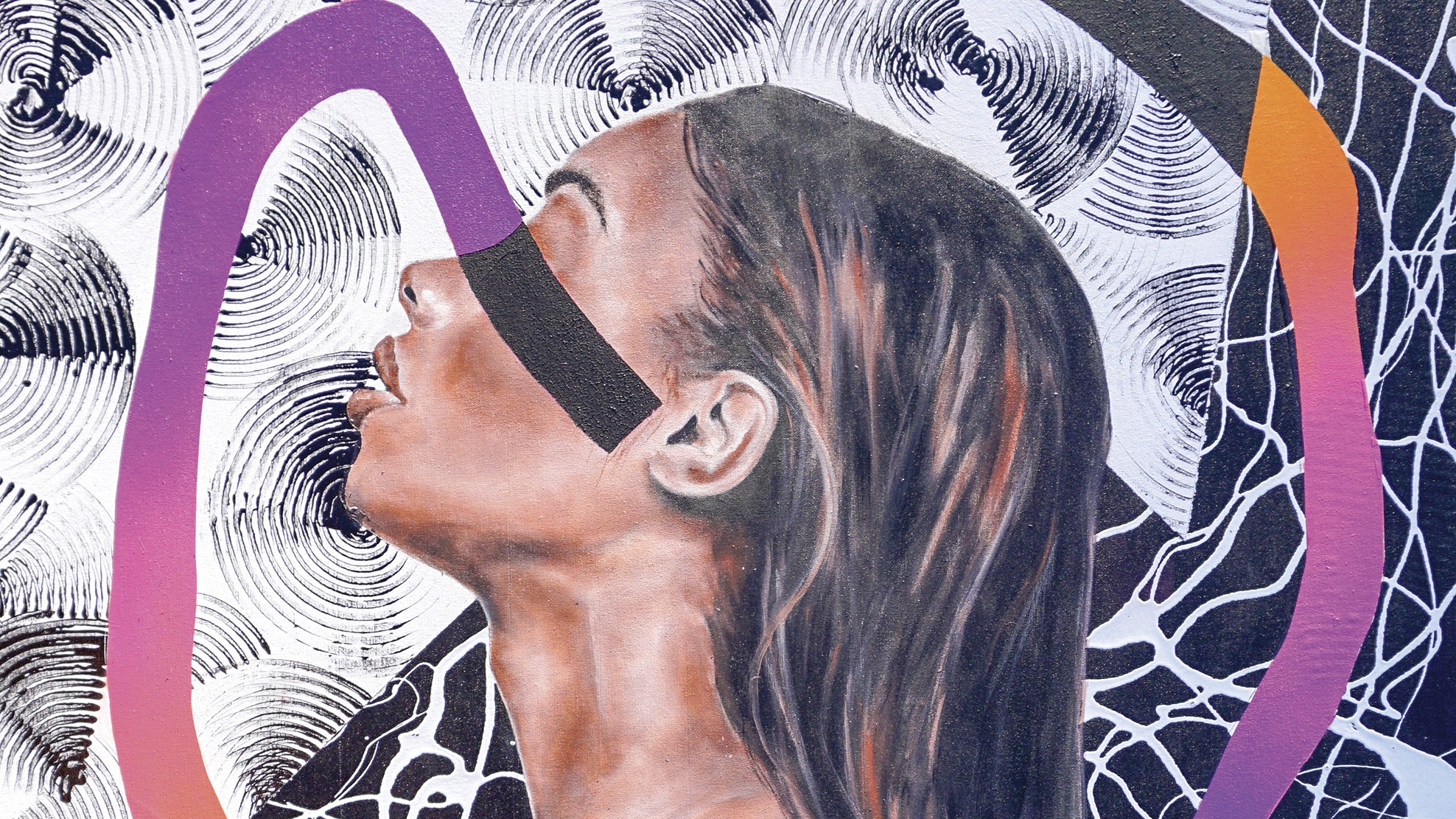 In November, pop superstar Bruno Mars played a sold-out show at Oracle Arena in Oakland. The morning of the show, he sent out an excited tweet to his 38 million followers, accompanied by a photo of a painting of the singer. The artwork, which was hung in a hallway of the venue backstage, was made by a little-known Oakland artist, Jon Kalani Ware (who goes by the name Kalani Ware).
Chances are you've never heard of Ware before, but in the last six months, he appears to have become Oracle Arena's go-to artist. Since July, he's been commissioned to produce paintings for J. Cole, Kendrick Lamar, and the Weeknd. Oracle Arena also commissioned him to do an art piece for Jay-Z's 444 Tour, which stopped at the arena on Dec. 16. Ware said he's the first visual artist to produce pieces for concerts at the Oakland venue. (Representatives from the Oracle did not respond to requests for comment.) The first commissioned piece for the J. Cole show was painted on hallway walls — other than photos, there is nothing left of it since it was painted over due to the quick turnover of events at the venue. Every piece since has been done on canvas, preserving the artwork for future use. "Kendrick's crew ended up taking the piece after the show," Ware said proudly during an interview.

[embed-1]
Ware, an Oakland native whose grandmother is from Hawaii, began sketching as kid. He attended the University of Hawaii at Manoa, where he studied graphic design. It was a trip to the POW! WOW! Festival while in Hawaii that triggered his desire to tap into his creative side more. "We are all born creative," Ware said. "I had taken art classes as a teen, and I decided to give this a go and use it as my zen."
Although Ware's work continues to evolve, it currently combines elements of abstraction and realism. His paintings contain black and white, lines of bright colors, and graphic patterns. "Abstract work is subjective and open to interpretation, and certain colors attract people," Ware explained a few weeks ago, while showing some of his latest work at the Good Mother Gallery in downtown Oakland, where he had a solo show in November.
Shades of blue, red, and purple dominate most of his canvases. These colors represent his time in Hawaii: Blue represents the ocean, while the shades of red, orange, and purple symbolize Hawaii's sunrises and sunsets. The use of black and white, meanwhile, reflects the concrete jungle that is Oakland. Most of his paintings are done with oil, acrylic, or spray paint.
Ware said Hawaiian artist Solomon Enos once challenged him to think deeply about his work and question its meaning. "He aha ka mana'o," Ware said Enos told him. "When I paint something, I think of what I can give back to my community, my friends, my family, society."
Ware also paints people, but these are no ordinary portraits. One includes the silhouette of a woman, while another juxtaposes half of a face with waves of color and a block of pattern. "I'm very strategic about how I paint certain pieces," he said. "I don't want money to drive what I create, but I have to be mindful of what I create that is beautifully pleasant and can also sell here in the Bay Area and elsewhere in the world."
Ware spreads the word about what he does in order to build relationships. "For every piece I create, I post it on Instagram and tag art curators, art galleries, and music festivals," he said. "I probably annoy them because I tag them all the time, but at least I got their attention."
So far, his efforts appear to be paying off. In 2016, his work was featured inside the VIP area of the Outside Lands Music Festival in San Francisco. The artwork was printed onto lanterns that hung alongside the VIP tents. The same work was also shown at the Life is Beautiful Festival in Las Vegas and the Kaaboo music festival in San Diego.


[embed-2]

It was that hustling mentality that got him the gig at the Oracle. As an up-and-coming artist living in the pricey Bay Area, Ware works full-time in order to help fund his passion. His 9-to-5 job installing signs took him to the Oracle. While doing a walk-through of the space, Ware casually mentioned that he's an artist. "I knew it was a potential conflict of interest saying that, but I am a struggling artist," he said. "I am trying to strive to reach my greatness. I am building a brand."
Ware hopes to one day hold art workshops for young aspiring artists and follow in the footsteps of other local artists like Jet Martinez and those part of the Illuminaries and TDK crews by plastering murals on walls across The Town. "I want the murals to bring up a conversation about diversity," he said.
In the meantime, he's still honing his style. "Artists have a specific signature that can be recognized anywhere in the world," Ware said. "I know that I have a long way to go, and I'm enjoying the process."