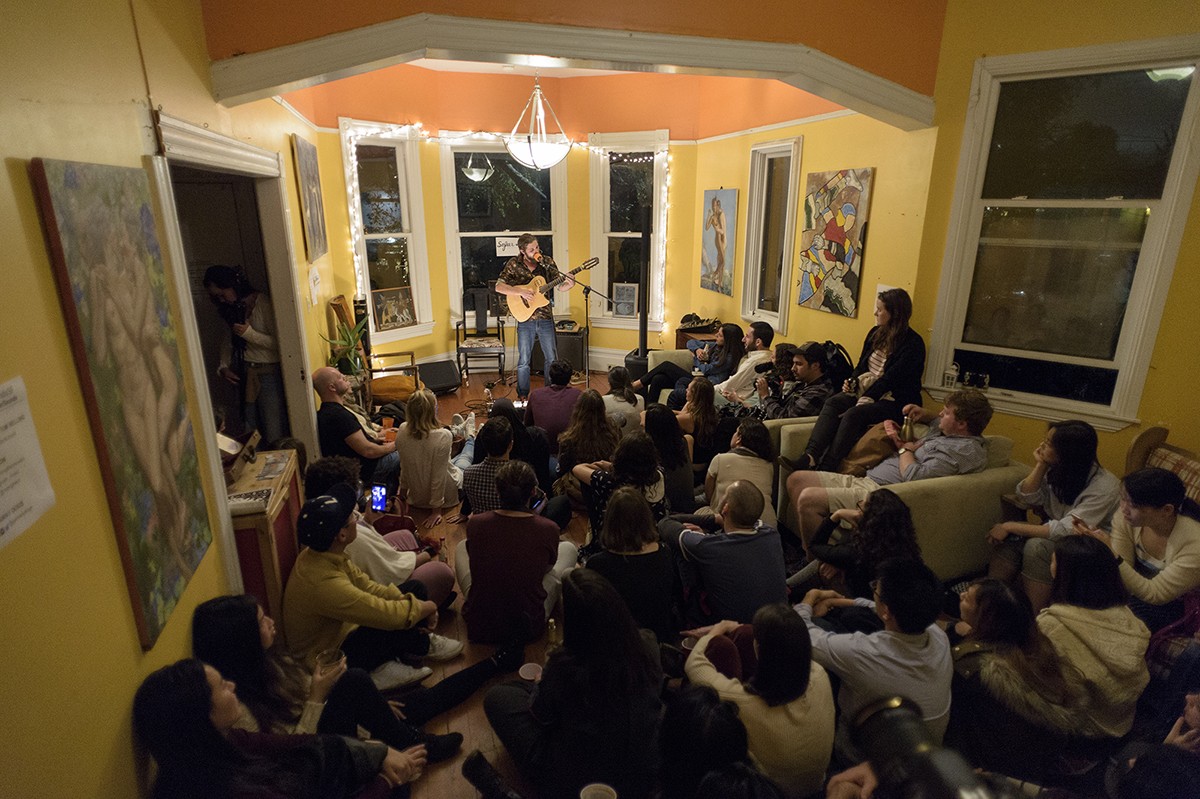 The hum of conversation and laughter drifts from a tree-shrouded house in an otherwise quiet South Berkeley residential neighborhood. Inside the warmly lit home, two men sit behind mics, sound-checking their instruments, as about forty eager-eyed people shuffle closer together: The show is about to begin.
The audience members, who brought their own booze, only learned of this gig's secret location the previous day. And they didn't even know what bands would be playing. The only guarantee was that the performance would be intimate, the crowd would be friendly, and the evening might provide exposure to something new.
As the room filled, the front doors closed and a young woman took the mic: "Hello Berkeley!" she said with a smile. "Welcome to Sofar Sounds!"
Sofar is actually an acronym — Songs From A Room — and this latest incarnation of the international live-music series featured three performers, each with an approximately twenty-minute set. Attendees are expected to stay and watch until the end. They're instructed to put their phones away (unless they are snapping a quick photo to post online).
The whole thing started as a hobby in a London living room in 2009 after founder Rafe Offer was frustrated by trying to enjoy live music amid the din and distractions of crowded bars. He and two friends eventually gave it the name, and expanded the concept to New York and Paris.
The organization officially launched five years later. Offer, who has a background in marketing and has worked for global corporations like Coca-Cola and Walt Disney, said he didn't intend to grow into a big company.
"We knew there were people outside of our community who felt the same way" about live music, he told the
Express
. "It made me think, 'Hey, this would play in Mumbai, and not just Montana.'"
Now, Sofar operates in more than 320 cities, and it recently arrived in the East Bay, with secret shows scheduled throughout Oakland and Berkeley this spring.
But despite Sofar's growth, the company still faces obstacles. First, there's a legacy of house shows and secret gigs in the Bay, and whether a branded, ostensibly corporate "sharing economy" experience vibes with that culture. Also, there's the matter of a company, not unlike Uber or AirBnb, that skirts the rules, foregoing entertainment permits and regulations that traditional music venues must abide.
Sofar also arrived just as the Bay Area's DIY scene is being forced even further underground, in the wake of the tragic Oakland Ghost Ship fire. "Because of what happened, everyone who hosts house shows, all over the world, are under the microscope, which is something we are taking very seriously," said Dean Davis, who heads the Bay Area Sofar team.
He emphasized that organizers have strong protocols in place for all their shows, and that they prioritize safety. "We want to figure out a way to make all of our events super safe, and still make sure that we are not disrupting anything we want to do," he explained.
Every aspect of a Sofar show is curated by a mix of paid professionals and passionate volunteers. People who want to attend must apply through an online-ticketing system. Those invited are hand-picked by organizers. Sometimes, big-name acts such as Oakland's Rogue Wave drop in to perform. But most musicians are unknown up-and-comers. This means audiences are sure to hear something completely new — and new musicians are guaranteed a room full of attentive listeners.
Guitarist Tom Relling, who performed at the recent South Berkeley gig, praised the series. "Sofar provides a wonderful avenue of exposure," he told the
Express
.
Back during the recent Saturday night show, Relling's set was a stripped-down performance with a friend, singer-songwriter Daniel Erik. But he said he's played ten Sofar gigs with his full band, Hibbity Dibbity, including one in Colorado.
Artists can choose to either accept a small $50 stipend as payment, or a receive a high-quality video of their performance. And Relling says his band has grown its following, and benefited from being part of Sofar's network.
"As an artist, you become part of a community that transcends geography," he said.
Offer agrees, and hopes that the 7,000 shows put on without incident are an indication of doing something right.
"We want to lead the way. We want to show that you can have shows that are safe," he explained. "I think sometimes there are regulations around the world that are outdated, but when you have this sharing economy, you have to figure out where to meet in the middle and figure out a way forward."
There are also questions about how the company will increase access to the shows while they work toward covering costs. To pay for insurance, financing fees from the third parties that do their ticketing, and business-employee operations, ticket prices recently rose to $15 a show.
Sofar has also partnered with other companies to increase exposure. Earlier this month, they announced a collaboration with Airbnb, which will allow travelers that use the short-term-rental platform in San Francisco to buy Sofar show tickets without having to apply and be approved by organizers.
Davis said that, even though the initial draw for many is Sofar's exclusivity and a sense of adventure, what keeps the series going is the connections that people make while they are at the shows, and its ability to link musicians and audiences across the globe.
"You just meet cool fucking people," Davis said. "That's really all it comes down to. I am excited to see more people come together and listen to the things that bring us together."
Learn more at SofarSounds.com.