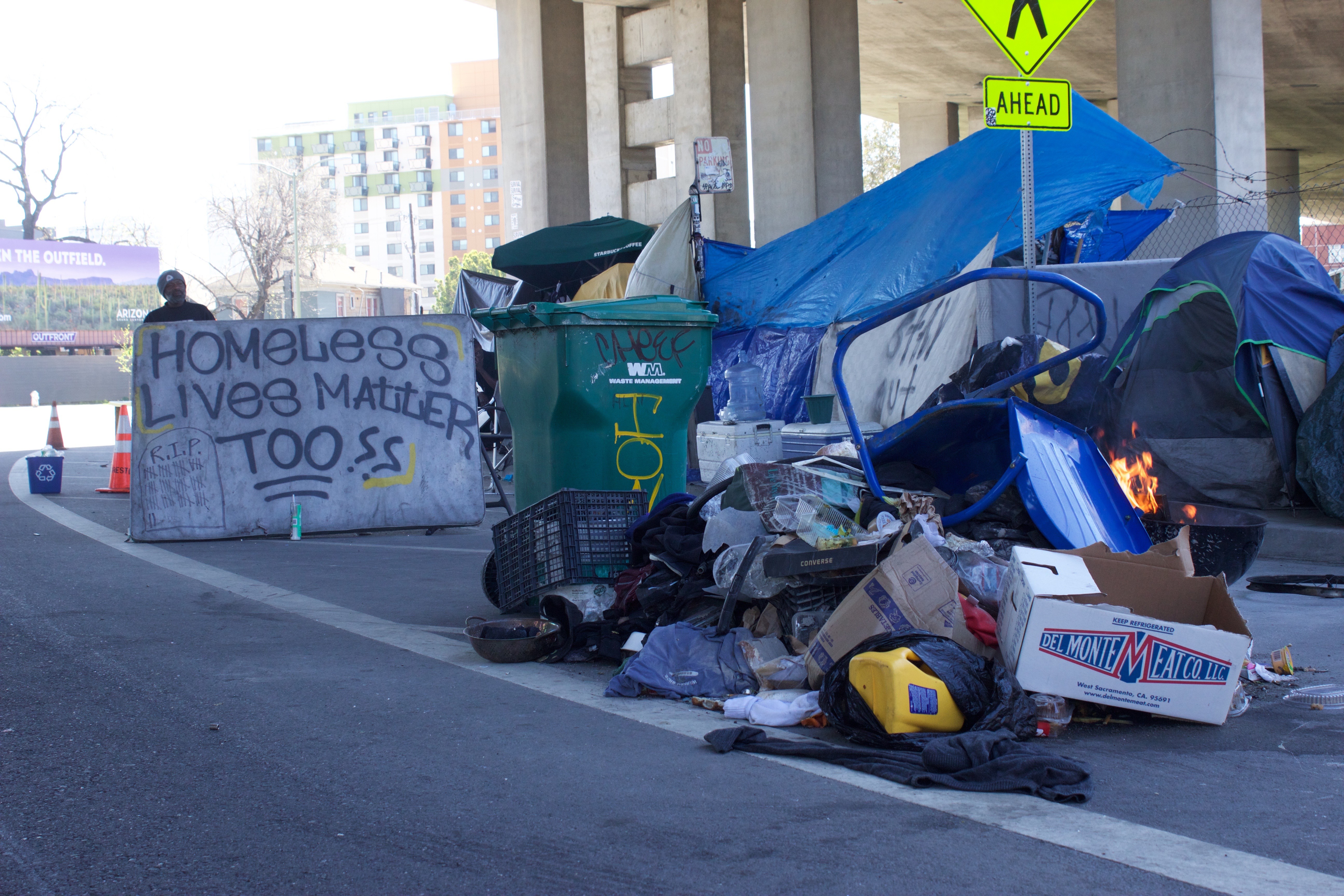 It is never really quiet on Northgate Avenue. For the residents living in tents and makeshift shelters in the shadows of two downtown Oakland freeways, the hum of motors and wheels bumping over cracked pavement defers only to the loud screech of BART trains as they snake by on tracks overhead.
"After three years of being here, my hearing is just shot," Shawn Moses shared while standing outside a home he constructed out of tarp on the sidewalk. A few years ago, he was one of the first to settle on the busy street, where traffic spills off from Interstate 980. In recent months, though, he says many have joined him, others who were priced out of their homes.
Now, there are around 50 residents in the encampment, Moses estimated. "Welcome Home," in dripping black ink, has been sprayed onto a concrete pillar next to piles of crumpled clothes, broken glass, and illegally dumped trash. The smell of urine wafts from the gutter, mixing with the aroma of a large, donated cardboard box full of strawberries, over-ripened and sweating in the late-afternoon heat.
Clad in a baseball cap and a buttoned-up shirt, Moses is clean-cut and soft spoken. He described how he makes money by selling Street Spirit newspapers and recycling, but his main focus is advocating for his fellow unsheltered Oakland residents, who he feels have been forgotten by the city they call home.
"I was born and raised here, and I have never seen Oakland like this," Moses explained, gesturing at the tents tucked against a chain-link fence that lines the block. He feels that the city views the homeless community as expendable.
He also says little has been done to help those living in the encampment find housing. The harsh conditions of sleeping outside takes a toll. Posted on the side of the street next to the camp, in clear view of the thousands of cars that pass by every day, there's a large sign with "Homeless Lives Matter too," drawn above a tombstone, which features more than 40 tally marks. Moses made the sign as a reminder that more must be done, and to honor the homeless people he knows who have recently lost their lives.
"I can't explain it any other way," he said, adding that if Oakland doesn't "keep the citizens — the ones that were born here and live here and had a chunk of their life experience here — it's just not a city anymore. Now, this is almost normal — and it is growing and growing and growing."
Over the past few years, an increasing number of tent communities have popped up, clustered throughout Oakland's cityscape. In 2015, more than 2,200 people were counted as homeless, with 1,400 unsheltered, during the county's official "Point In Time" census. But the actual number of homeless residents and housing vulnerable is believed to be double or triple that — or more. The most recent count, conducted in January, is expected to show an increase when the data is released this Thursday.
At City Hall, officials are evaluating what tactics will produce the best outcomes. But, money is tight — it is likely even more funding cuts will be coming from the Trump administration. Officials say there are limited options and hard decisions to be made, regarding Band-Aid approaches and long-term solutions.
A list of potential short-term strategies, which together are estimated to cost more than $2.5 million a year by the Department of Human Services, is currently being considered by city council.
But Mayor Libby Schaaf, who listed homelessness among her top priorities in a budget proposal released earlier this month, only allocated $250,000 for homelessness and shelters. Residents and councilmembers have strongly criticized the proposed amount, and her office responded saying the number is just a starting point.
"We are still seeking council direction on prioritizing additional investments as well as assessing the outside resources we can leverage to maximize our impact on this critical problem," mayoral spokesperson Michael Hunt wrote in an email.
While the bulk of the funding for these programs is supplemented by county, state and federal dollars, the shortfall is still expected to be steep.
"The budget projections over the next two years are not as rosy as they were over the past two years," explained Councilmember Dan Kalb. "It is not going to be as easy to find that money, but I am committed to doing something — we have to do more when it comes to our homeless population."
Kalb added that, while the council is devoted to working on the issue, they are still trying to figure out what will be most effective. "It's not like we are not doing anything," he added, "but we clearly needed to up our game, and we haven't yet figured out what that means."
Most of the programs are currently financed by a patchwork of funding from other agencies, but the city provides roughly $1.2 million from the general fund, and close to $2 million in subsidies from the Oakland Housing Authority. Many of the housing vouchers provided go unused, however, because Oakland landlords refuse to take them.
According to a recent city report, one-quarter of Oakland's unsheltered residents are chronically homeless and have high levels of need. This population is seen as the costliest, and is given priority when it comes to assistance, often requiring permanent supportive housing that combines affordable units, subsidies, and continued intensive social services, to bring them off the streets.
The remaining 75 percent, classified as "medium" and "low-need," could primarily be housed with greater access to more affordable units, with only some needing more social services or subsidies.
"It's not like most people are living out there by choice," Department of Human Services Director Sara Bedford said. "If we did have more housing, we could make a big dent in this problem much more quickly." But, especially in a city like Oakland, where costs are high and space is limited, developing that housing will take time and money — both of which are in short supply for this urgent issue.
"We have a crisis of people living on our streets right now," Bedford explained. "We have to invest in what is, in my mind, a Band-Aid, while we develop housing."
That is why her team suggested several short-term strategies, considering the funding constraints in the mayor's budget proposal, including opening a new pilot "safe ground" camp-park site, which would serve forty people at a time and cost more than $425,000; in addition to the creation of a second Henry Robinson Multiservice Center, which would provide 137 beds. This would be the costliest option, requiring more than $2 million to sustain. That expenditure would be on top of any leasing or building costs, which would be funded by the Measure KK bond approved by voters last year. But it is seen as one of the most effective, serving more than 300 of the highest-need individuals and achieving an 80 percent success rate at permanently housing them.
The proposal also recommended the city procure roughly $364,000 over two years to provide toilets, wash stations, and trash services to ten already-in-place encampments over the next two years.
The strategy would expand on the so-called "Compassionate Communities" pilot program — a city-sanctioned encampment under the 580 freeway in West Oakland — which erupted in flames on a Monday evening earlier this month. Twelve tents were destroyed in the fire and the forty residents living there have now been evicted by the city.
Before the fire, officials considered the pilot a success, noting that twenty-four people — more than half of the original residents — were successfully housed during the six-month trial. But the site, which was scheduled to be closed in March, remained at capacity through April as new residents filed in when others were placed in housing. Roughly forty people lived there at the time of the fire, and have once again been displaced.
Joe Devries, assistant to the city administrator who serves as an intermediary between homelessness advocates and city officials, said the pilot was still helpful to identify important lessons going forward as new strategies are being considered. "If we are going to start a sanctioned site with the city's stamp on it," he said, "we are going to have to run a much tighter ship."
He explained that the initial residents were placed in housing quickly, and that the area was improved, but more site control and security was needed.
He also said the city is improving trash-pickup and site-cleanup services at homeless sites. Recently, city workers refused to clean up camps due to safety and sanitation concerns.
Devries said that even if the city is able to implement these strategies, the crisis won't likely end anytime soon. "I think we are going to be working on this problem for a number of years," he said. "Based on what I have seen develop in the last two years in Oakland, and the numbers that are going to come out shortly on the increases in unsheltered persons in Alameda County — we are going to be at this for a while."
That's why some advocates are concerned that the city will invest too much of its limited resources into quick fixes that do little to actually solve the problem. Elaine de Coligny, the executive director of EveryOne Home, an agency that is working to end homelessness across Alameda County, said homelessness directly results from the dire lack of housing and officials need to remain committed to increasing access.
"The housing market in Oakland, in Alameda County, has just hit us like a tsunami," she explained. "Our housing-first policies remain the right thing to do, but in this market we cannot keep up."
She cautioned Oakland officials not to spend funds and political capital on interim solutions that could lead to "the permanent fixture of homelessness."
De Coligny also emphasized that individuals and community members can do more to help, including starting YIMBY, or Yes In My Back Yard, campaigns to counter critics who don't want the poor in their communities, and donating parking lots for safe-sleeping at night.
But she re-affirmed that housing should be the priority. "That is the only thing that solves homelessness," she argued.
Still, for Oaklanders like Shawn Moses, it's hard to wait for the city to figure it out. While Moses said he appreciates that the city allows residents at his encampment to stay where they are — providing they try to keep the area clean — and has even started providing weekly trash pick-up, he hopes something will be done before more people die.
"You know, you have to embrace the bad and the good," he added. "And got to stay fighting the good fight — at least that's what I'm going to do.
"Everyone of us is precious."