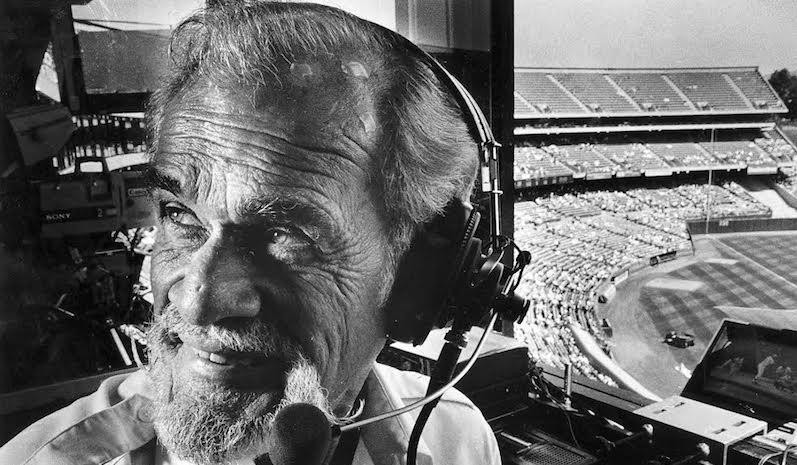 A familiar Oakland fan debate about the late great Bill King centers on whether the announcer was better at calling games for the Athletics or for the Raiders. It's a trick question because, in my opinion, King was at his best behind the mic for the Warriors, for whom he called NBA games from 1962-83.
In his prime, King's rapid-fire delivery and volatile emotion fit perfectly with basketball's fast-paced twists and turns. The NBA's oft-questionable officiating also made the perfect target for King to aim his fiery temper. And his infamous "Mother's Day" call, in which King hurled an on-air expletive at referee Ed Rush, is a prime example of his fierce anti-authoritarian streak. That late 1968 broadcast took place about five months before the next Mother's Day, which should give you a clue about which curse word the mic caught King screaming at the NBA ref.
It's a shame that younger fans haven't had the chance to hear the broadcasting legend's stellar work. But now they can at least get a sample of it at BayAreaRadio.org – the online home of the Bay Area Radio Museum and Hall of Fame, which celebrates all things tied to vintage local airwaves. The nostalgic website has articles, video interviews, and web links featuring old-school radio stations, deejays, and programs. The site also offers past game broadcasts of Bay Area sports teams, from current pro franchises to long-defunct ones like the San Francisco Seals of the Western Hockey League.
East Bay native David Ferrell Jackson – founder and executive director emeritus of the Bay Area Radio Museum and Hall of Fame – said he has culled together the vast majority of the website's broadcast links. And he's done a great job curating the museum's lost audio treasures; the sampling of King's play-by-play work showcases his greatness. You don't have to be a Raiders fan to enjoy the audio snippet of the thrilling and bizarre "Holy Roller" victory in 1978, for example.
Sure, you can find some great King moments on YouTube. But if younger Warriors fans really want a taste of King's brilliance at the peak of his career, they
can click on a link
that will transport them back to Nov. 25, 1977, when the Golden State Warriors battled the Philadelphia 76ers at The Spectrum in Philly. In that game, Rick Barry, Clifford Ray, and Phil Smith lead the Dubs against a Sixers team stacked with legends, like Julius "Dr. J" Erving, George McGinnis, and Lloyd Free – who would join the Warriors a few years later and rechristen himself, "World B. Free."
But King is the vintage broadcast's real star. I strongly recommend checking out BayAreaRadio.org, which takes older NorCal listeners back to their youth, if only for a short while. Plus, fans of all ages will love it. And Jackson deserves a lot of credit for preserving this local history. …
While we're discussing Bay Area airwaves … Does anyone on the radio do a better job discussing Oakland sports than Rick Tittle? Tittle frequently hosts weekend slots on 95.7 The Game, as well as a regular weekday slot from 1-3 p.m. on SportsByline.com. And he's all about Oakland sports teams, along with frequent forays into San Jose Sharks hockey, European soccer, and show biz interviews. In a Bay Area radio landscape that too often ignores Oakland's sports teams, it's good to know we at least have Tittle offering well-informed and witty takes on the A's, Raiders, and Warriors. …
I can't give the same level of praise for 95.7 The Game, which calls itself the flagship station of the Oakland A's but, in fact, never misses a chance to promote the orange-and-black team across the bay. With friends like these … The A's' deal with The Game ends after this season, and most Oakland fans I know would be thrilled if the team found a new radio home. After all, part of the San Francisco Giants' marketing success has come through its affiliation with KNBR, the 50,000-watt superstation that spreads the gospel on all things Giants throughout Northern California. Hopefully, the A's can land somewhere on the dial where they can create their own KNBR. …
Raiders fans trying to keep the team in The Town are calling for all Silver-and-Black supporters to join them for a rally next week in downtown Oakland. The rally will start at 4:30 p.m. Tuesday, Feb. 20, outside City Hall, 1 Frank Ogawa Plaza, Oakland. Forever Oakland and other fan groups aim to convince city and county elected leaders to join them in a citizen-driven legal action against the NFL and the Raiders, with the goal of keeping pro football in town. After a 60-minute rally, the fans will enter City Hall and take their case to the Oakland City Council. The city and county still owe around $90 million on the Coliseum's 1995 renovation for the Raiders. Oakland council members surely will ask why they should join the lawsuit. Don't they have around 90 million reasons to do so? …
The A's have hired Dave Stewart as a guest pitching instructor this spring training. Stewart, of course, is an Oakland-raised A's legend who remains beloved among fans after leading the green and gold in the late 1980s and early 1990s. He was named MVP of the 1989 World Series after the A's' four-game sweep over the Giants. Stewart has worn a lot of hats post-retirement, serving at times as a players' agent, an A's studio analyst, and a team executive in Toronto and Arizona. He also was San Diego's pitching coach under then-manager Bruce Bochy in 1998, when they led the Padres to the 1998 World Series. I'd love to see Stew back on the field in an Oakland baseball uniform, as a full-time coach in any capacity. …
Likewise, it was cool last week to see video of Oakland's 1971 MVP and Cy Young Award winner, Vida Blue, and current A's outfielder Stephen Piscotty roaming around the Jack London district together, visiting two iconic East Bay businesses: Oaklandish and Everett & Jones BBQ. When plans for the Peralta ballpark site fell apart in December, many an A's fan fretted that it might lead to the team's departure from the East Bay. So, it's reassuring to see the A's front office respond to that setback with maturity and loyalty and continue to embed themselves within the fabric of Oakland. …
On the other hand, Billy Beane's staff continues to disappoint. Kendall Graveman recently lost his arbitration case with the A's front office. He'd wanted $2.6 million, while the A's offered $2.36 million. A mediator sided with the A's, so they, ahem, "won." Yay? Not really. It might seem minor, but why battle a player and risk depressing his morale over just 10 percent of his salary? Oh, I'm sure Graveman is a true, tough-minded pro. He'll be fine. But he might be the ace on a team whose pitching was last year's biggest flaw, so it seems counterproductive to pick a fight with him over such a relatively small amount of money. I've never seen a front office so intent on telling its players in myriad ways that they're replaceable and not valued. Beane has famously said the concept of team chemistry is overrated. Could be true. Know what else is overrated? Highly praised general managers whose teams have never come close to appearing in a World Series. …
Even though the Tuck Rule virtually made Tom Brady a star, he continues to be followed by a weird, karmic dark cloud connected to that infamous play in the Foxboro snow in 2002. First, Brady and the Patriots lose the 2008 Super Bowl, largely because a New York Giants lineman named Justin Tuck dominates New England's offensive line. Then during Super Bowl LII last week, Brady fumbles the game away on a play that looked a lot like the Tuck Rule play that ended Oakland's season 16 years ago. The NFL did away with the Tuck Rule after the 2012 season. But it will stay with Oakland football fans – and with Brady, apparently – forever. …
Comedian Rob Riggle
mocked
Mark Davis for his unusual hair style during his monologue at the 7th annual NFL Honors ceremony, held the night before Super Bowl LII. Riggle pointed to Davis' haircut on the big screen in a packed auditorium and said, "Now that is a super bowl." As Davis smiled and clapped along with the laughing audience, Riggle added: "C'mon, the man can afford $100 million for Gruden, but nothing for a barber! (pause) Or a mirror, apparently." …
And if you thought that was a harsh assessment of the Raiders owner, wait till you hear a new rap song by a Raider die-hard named Pookie Alzado. The tune is called "
Fuck Mark Davis
." What the tune lacks in subtlety, it makes up for in sincerity. One of the song video's scenes show Raiders fans holding a poster board photo of Davis with the words: "Wanted for Treason." Those hard feelings for Davis will only intensify as the team's relocation date approaches. …
It's been an unusually intriguing NBA season. As the Warriors head into the All-Star break, notable subplots and challenges are popping up around the league. Boston, which has given the Dubs fits the past few years, is still going strong. And Toronto, led by DeMar DeRozan, has been on a tear, challenging the Celts for the East's best record. Cleveland's big trade-deadline deals reeked of desperation, but LeBron and the Cavs actually seem to be rejuvenated by them. Lastly, the Houston Rockets, who barely trail the Dubs in the standings, are nearly undefeated when James Harden, Chris Paul, and Clint Capela play together. Houston is a legitimate threat to the Dubs' title hopes. Meanwhile, the Warriors seem to be playing on cruise control, exerting little consistent energy on defense and sleepwalking through a few recent losses. The path to another title for Oakland's Warriors has never been this crowded. Is it time for Dub Nation to worry?
Chris De Benedetti, a co-founding member of Baseball Oakland, writes a regular sports column for the
Express.