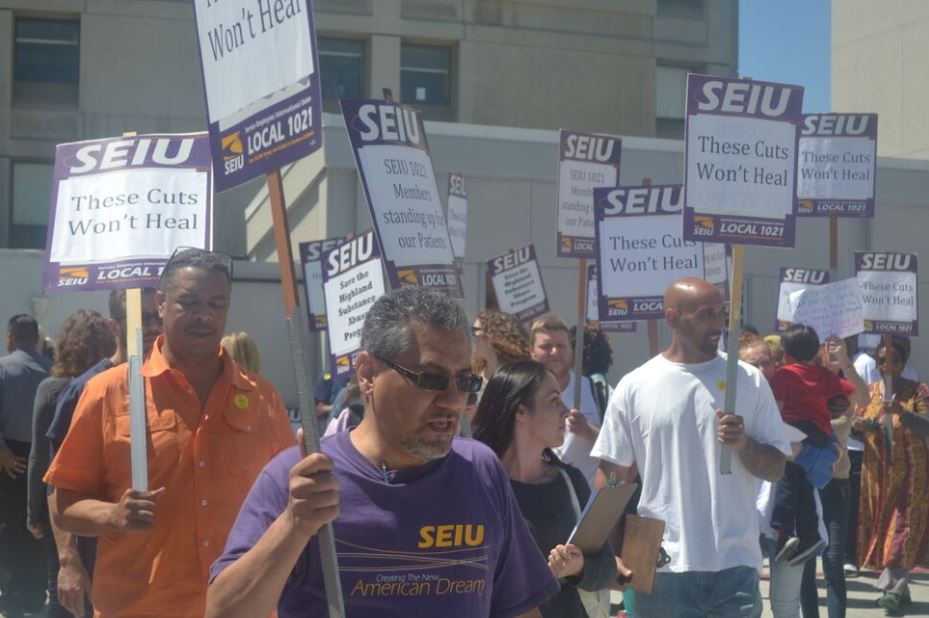 Blaming two years of financial hardship and low patient volumes, the Alameda Health System is closing a substance abuse treatment center at Highland Hospital. Several dozen nurses, patients, and members of SEIU 1021, the union that represents workers at Highland Hospital, rallied on Monday against the plan to shutter the center. The substance abuse center is an intensive outpatient drug treatment program that serves uninsured and Medi-Cal insured populations in Alameda County.
[jump] The center is funded through a grant from Alameda County's Behavioral Health Care Services Agency. The Alameda Health System, the county's public health services provider that runs Highland Hospital, said it's allowing this contract to expire, and that people in need of substance abuse treatment will be referred to other contractors around the county. According to the Behavioral Health Services Agency
website
, these contractors are smaller nonprofits. 
BJ Wilson, a program nurse at the Highland substance abuse center, said the center has served Alameda County residents for more than 25 years. "I think they're trying to close it because they felt we were a small group of employees that we weren't that vital and needed, but they don't realize the impact we've had," said Wilson. "We may have only thirty people in our department, but the impact on our community would be devastating." Wilson said the Highland treatment center is the only one in Alameda County that is attached to a full hospital, offering access to emergency medical care and many other services in one stop.
A flier distributed by SEIU 1021 said that closure of the Highland drug treatment center will reduce the services available to those seeking help, especially pregnant women and mothers addicted to drugs, a population the Highland center specializes in serving. A media statement issued by AHS said the healthcare system has "worked to ensure appropriate placement of the current patients with other programs in the county."