It is rare to walk out of an exhibit feeling stunned by what you've seen — even, or maybe especially, for serious art lovers. But that's not too strong a description of the experience of viewing Or, The Whale, an epic piece by Berkeley artist Jos Sances.
Part of the Richmond Art Center show Here is the Sea, Sances' life-size scratchboard drawing of a sperm whale contains within it an astounding pantheon of other images: surfers and the Point San Pablo whaling station, Native Americans and immigrants, corporate boardrooms and robber barons, Steve Jobs and Martin Luther King, Jr. among them. The 14-x-51-foot piece covers an entire wall of the main gallery and took Sances eight months to complete. Comments heard in the gallery from other viewers included, "a historically important piece," and "a tour de force."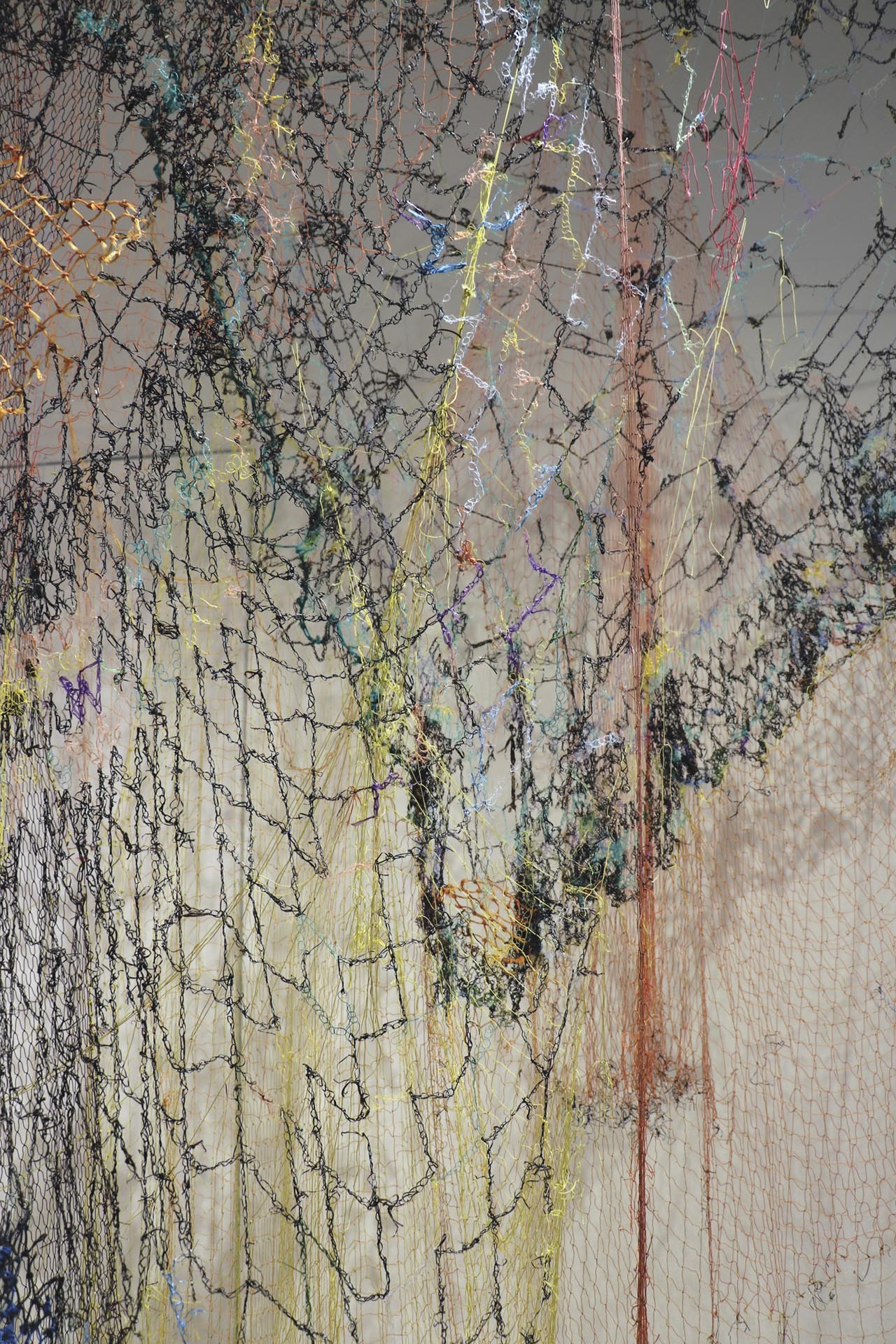 Sances was inspired by Herman Melville's most famous book, the full title of which is Moby-Dick; or, The Whale. Gallery materials note that Sances has embedded "a history of capitalism in America" within the body of his whale. Part of the genius of this conception is that much of Moby-Dick itself also was about the interior of whales. But Sances's piece also depicts survival and nature's resilience despite humans' self-centered ravages. Like the novel, it is a masterpiece.
Though Or, the Whale literally dominates the exhibit, Here is the Sea has many more pleasures to offer. The exhibit's brochure notes that it was curated to "bring together artworks that use the ocean and its coasts as a site for investigating the fraught relationship between humans and nature. Richmond is a city with 32 miles of shoreline, and through this exhibition visitors to the Richmond Art Center are invited to reflect on what is at stake and what has already been lost in our local maritime environment."
Stephen Bruce's two large panels, Cascade and Watershed (acid on copper, 2017), evoke both the colors and movement of water. As viewers look closer, sparkles appear, like water shimmering over rocks or sand. In Christy Chan's video I'm Here For You (2019), we see dolphin statues spouting water, someone's lawn being watered, people doing yoga underwater, and then simply the sea's waves rolling endlessly toward us. The convoluted relationship of humans with water and the oceans is examined.
Littoral Demon II and Littoral Demon III by Tanja Geis (San Francisco Bay mud in watercolor on paper, 2015) were inspired and partially created by flotsam and debris the artist found while walking the Bay Trail through the Richmond mudflats. The large images, reminiscent of Polynesian totems, incorporate "digital collages" of plastic cups, bags, and other items. Geis writes, "We can't make sensible decisions about the environment until we comes to terms with our impact."
Equilibrium (2017) is a series of photos taken by Marie-Luise Klotz from a boat just outside the San Francisco Bay, capturing the ceaseless variety of waves. Richard Lang and Judith Selby Lang manipulate images of nefarious "nurdles" — the name for those tiny beads of plastic now found everywhere on shorelines and in the oceans — to make bizarrely beautiful prints that bring to mind an embryonic fish egg … or the moon … or a Petri dish. The archival inkjet prints (2010) OMA 1, OMA 2, and Golden Seven seem ominously removed from the actual nurdles, which the center's brochure calls "poisonous little bombs." Lang and Selby Lang play with perception again in their two Nurdle Rings (2014), gold bands in which diamonds have been replaced by nurdles.
Silk banners are imprinted with rust and water to create Katie Revilla's Ingress (2019). The artist hid buckets under the stair entrance to Angel Island Immigration Station to soak in which to soak the banners, commemorating the location her grandfather arrived at when he immigrated from the Philippines. Decay, Revilla seems to imply, contains its own beauty.
The Richmond Art Center deserves great credit for the lighting of Dimitra Skandali's "Oceans and Seas II, v3, 2016-19). Fishing nets, nautical strings and seaweed are crocheted together to make this ethereal piece, whose shadow on the wall becomes part of the artwork. The artist sees it as a depiction of the "fragile networks" that are the seas' ecosystems.
The five short videos that comprise the contribution from the Love the Bulb artists' group were all filmed at the Albany Bulb, a mile-long landfill poking out from the East Bay shoreline that has become an art space and garden. The videos run the gamut from a solo dance executed on what look like wood pallets by Tapper Dan, to musical artist Evie Ladin's "MoToR/dance," to violinist Hannah Young with dancers Alex Lau and Jocelyn Reyes. (Note that the annual "Bulbfest" happens May 5.)
Here is the Sea will stay with you for a long time. And perhaps your dreams, like those of Melville's Ahab, will be haunted by a whale.
Here is the Sea, through May 17, free, Richmond Art Center, 2540 Barrett Ave., Richmond, 510-620-6772, RichmondArtCenter.org