Oakland metal trio High on Fire has announced the details of its new album De Vermis Mysteriis, to be released April 3 on eOne Music. The ten song, 45-minute album (the band's sixth) was recorded at GodCity Studios with producer and Converge guitarist Kurt Ballou. The album name, meaning Mysteries of the Worm, is, not surprisingly, an H. P. Lovecraft reference.
The band's PR describes it thus:
"… tough, burly stoner metal that is at once devastatingly epic and mercilessly metallic as superstar guitarist Matt Pike's sizzling ax and avenging-angel riffs fuse with Des Kensel's double-kick-drum onslaught and Jeff Matz's concrete crushing, Burton-esque bass guitar."
Those are some intense adverbs, indeed.
Here's the track listing:
1.) Serums of Liao
2.) Bloody Knuckles
3.) Fertile Green
4.) Madness of an Architect
5.) Interlude
6.) Spiritual Rites
7.) King of Days
8.) De Vermis Mysteriis
9.) Romulus and Remus
10.) Warhorn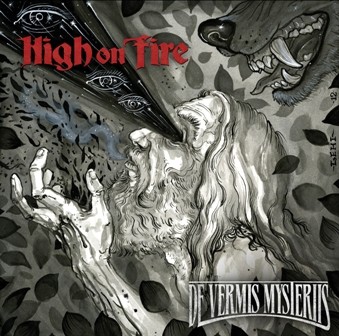 The band is also on its way to SXSW, where it will play six shows. After that, it will join Slayer, Slipknot (!), and Anthrax for the Rockstar Energy Mayhem tour, which stops at Shoreline on July 1.
March 13 Austin, TX Emo's East (Non-SXSW headline show)
March 14 Austin, TX SXSW (MetalSucks day party)
March 15 Houston, TX Fitzgerald's
March 16 Austin, TX SXSW (Brooklyn Vegan day party)
March 17 Austin, TX SXSW TBA
March 18 Austin, TX SXSW (High Times day party)