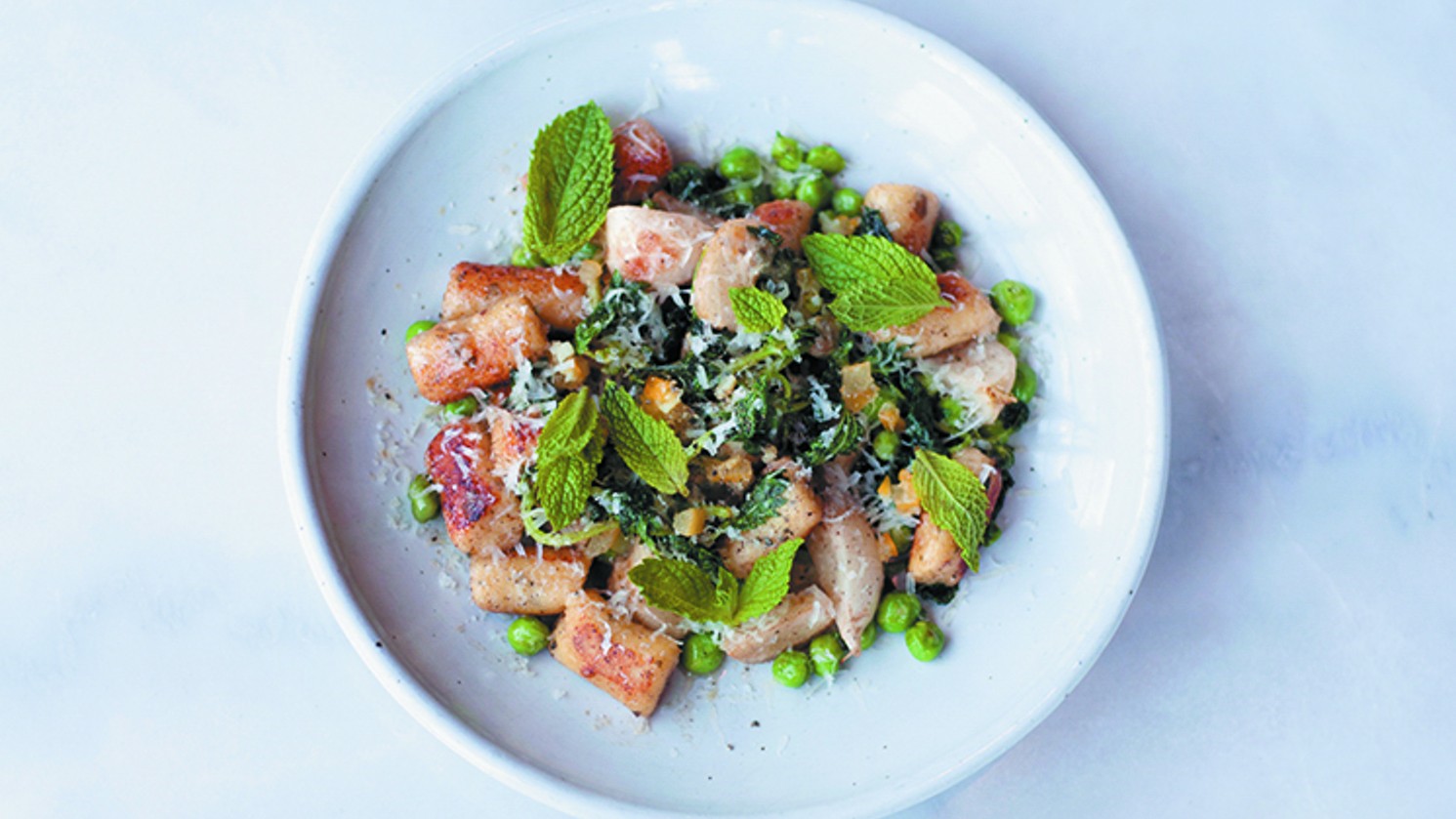 When I asked Chris Kronner about the difference between the burgers he served at his recently closed Kronnerburger and his new restaurant Henry's, I expected a quick answer. Instead, Kronner launched into a 10-minute explanation of the musculature of dairy cows, the ethos of Cream Co. Meats, and, in a sense, the history of Kronnerburger itself.
That should not have surprised me one bit. Kronner notoriously spent years toiling over his burger recipe with a unique level of detailed obsession. In February, a fire temporarily closed his popular shrine to the humble hamburger on Piedmont Avenue. More recently, he decided to close Kronnerburger for good.
It's still possible Kronnerburger could be resurrected at a new location, but for now, Kronner is focused on his new project, Henry's. Yes, this is the same restaurant located inside the Graduate Hotel near UC Berkeley — the place known more for its rowdy Cal football tailgate parties than for its food. For years, Henry's lacked a culinary identity.
Then, the hotel owners shut down Henry's, remodeled the place, and brought in Kronner to oversee what feels like a dramatically new and ambitious restaurant. The wood-paneled walls, olive-green booths, sparkling marble tables, and globe light fixtures create an atmosphere that's both classic and contemporary. It debuted in April.
If you think Kronner is just a burger chef, one glance at Henry's extensive menu will prove you wrong. It shows a range of bar-appropriate bites, complex salads, and elegant entrées. But for folks who have followed Kronner's career, this also isn't a surprise. Kronnerburger's salads were always far more composed than its restaurant concept would suggest, and prior to that, Kronner worked at revered San Francisco restaurants Bar Tartine and Slow Club.
The menu changes frequently, but there are some staples. The marinated feta is justifiably destined to stay put, with chunks of the briny cheese soaked in fragrant olive oil. It's served with thin, toasted slices of Tartine country bread — aka the good stuff — slathered with charred-onion honey and za'atar, the Middle Eastern spice blend. The sweet-salty combo, amped up with the addition of Medjool dates, and creamy-crunchy contrast make it the ideal refined bar snack.
Kronner also plans to always have some version of Parisian gnocchi available. More challenging to find than its Italian, potato-based counterpart, Parisian gnocchi starts with a cheesy choux pastry dough that gets poached and, at Henry's, pan-fried until golden brown. I tried these creamy dumplings with English peas and Tokyo turnips, which tasted far more incredible than its ingredient list would suggest. The chefs mixed Meyer lemon segments, preserved lemon, and miso brown butter to form a bright, cinematic sauce that complemented rather than distracted from the springtime bounty.
Miso covertly added oomph to an excellent sugar snap pea-frisée salad, finished with cherries, walnuts, and a lively dressing featuring blended pumpkin seeds, miso paste, and champagne vinegar. Just about every dish I tried at Henry's similarly excelled with contrasting textures and a richness that felt satisfying while remaining light. Another example was the halibut tartare, which featured chunks of raw fish bathed in crème fraiche. A thin layer of kiwi added more tang, while a dusting of sesame seeds and peanuts provided crunch. Spooned over toasted fennel seed crackers, which offered the airy texture of meringue, it tasted like a welcomed surprise.
Another standout dish was the lamb neck, roasted in coal to an ideally smoky effect. The fist-sized hunk seemed to melt in its gooeyness, with thick layers of creamy, delectable fat. The richness was offset by a healthy layer of labne resting beneath as well as fresh, crunchy strips of carrots, snap peas, and mint on top that glistened with chili oil — an unexpectedly flawless combination of flavors and textures.
Between the execution of the food and the service, Henry's does not feel like a two-month-old restaurant. No one wanted to say goodbye to Kronnerburger, but if the restaurant did have to close, the timing was serendipitous — Kronner was able to shuffle much of his front-of-house and kitchen staff to Henry's, allowing it to quickly feel like a smooth operation. Kronner had already recruited Jeffery Hayden, who was most recently chef de cuisine at Del Popolo in San Francisco, to serve as executive chef. With the end of Kronnerburger, Henry's also got a co-executive chef in Justin Huffman, formerly of Kronnerburger, as well as another strong chef in Kristian Allen, who was the sous at Kronnerburger. Julian Cox manages the bar.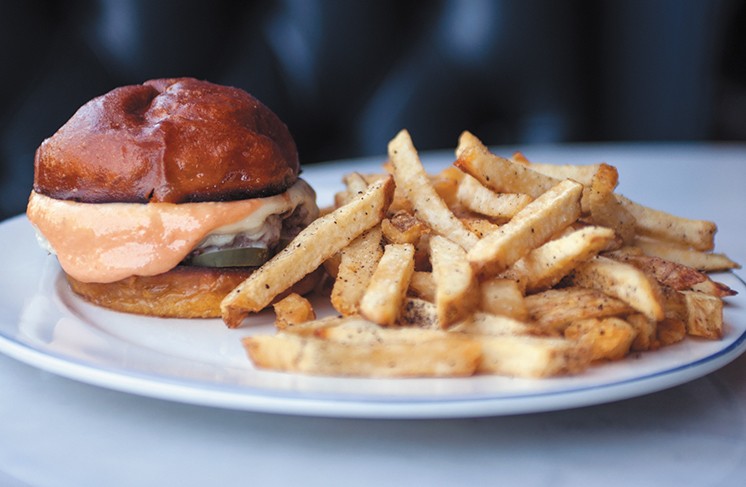 Kronner also partnered with the Tartine team to provide baked goods — and coffee — for Henry's. That's perhaps most apparent at brunch, where marionberry muffins and lemon tea cakes feel like required add-ons given their unusual proximity. As Henry's rolled out brunch quite recently, it's perhaps not surprising that the dishes didn't wow as much as those at dinner. Brioche beignets tasted great dragged through spiced chocolate, but the texture was slightly too dense. The Nashville fried chicken biscuit sandwich offered flaky, buttery, crunchy goodness — with excellent pickles on the side — but the "Nashville" label led me to believe I'd be getting something fiery hot and colored with cayenne. Instead, the chicken only had a slight peppery bite. But in another dish, the biscuit — a perfect, pristine specimen — came drenched in a reddish-orange gravy rich with nduja, a spicy, spreadable salami.
That's not to say there weren't some minor missteps at dinner. I didn't care for the broccoli and maitake mushrooms, fried in a similar fashion as tempura and served with ponzu. The chefs got a little too heavy-handed with the batter, so each bite mostly tasted like fried-ness. And the restaurant's most popular dessert, a semifreddo consisting of chocolate cake, peanut butter mousse, salty caramel, and peanuts, did not quite live up to Kronnerburger's signature salty honey pie — which is also on the menu at Henry's — due to the cake layer being slightly dry.
These are minor criticisms, though. Kronner and his team have greatly upgraded Henry's, turning it into a true dining destination while also strengthening the bar program and keeping its proximity to UC Berkeley in mind. Kronner said Henry's will still host big game day events and perhaps also add some fun, outdoor programming when big acts come through the Greek Theatre.
Plus, Henry's serves a Kronner burger, if not the Kronnerburger. Labeled as "Henry's Burger," it remains a deceivingly simple ensemble of patty, pickles, onion, lettuce, and sauce, this time on a Tartine sweet potato bun. The big difference is that, while Kronnerburger used 100 percent dry-aged, grass-fed dairy beef, Henry's uses a mix of dry-aged and fresh. (The sourcing from Cream Co. remains the same.) The Henry's burgers are also about a half-ounce smaller — ravenous eaters might find them frustratingly close to slider-sized — but come with a side of well-seasoned fries. I thoroughly enjoyed the CheeseBoy, which swaps out the lettuce for roasted tomatoes and white American cheese. It did taste different than my memory of the CheeseBoy at Kronnerburger, but that's not a bad thing. Now, we get to taste Kronner's thought and care into far more than burgers.
Henry's
2600 Durant Ave., Berkeley
510-809-4132
GraduateHotels.com/Berkeley/Restaurant/Henrys
Hours: Breakfast daily 7 a.m.–10 a.m., brunch Fri.–Sat. 11 a.m.–3 p.m., dinner Sun.–Wed. 4 p.m.–midnight and Thu.–Sat. 4 p.m.–1 a.m.
Cash, all major credit cards
Sample Menu
Henry's Burger … $15
Coal-roasted lamb neck … $25
Marinated feta … $11
Biscuit with
nduja
gravy … $9
Editor's Note: A previous version of this article included incorrect spellings of chefs' names.