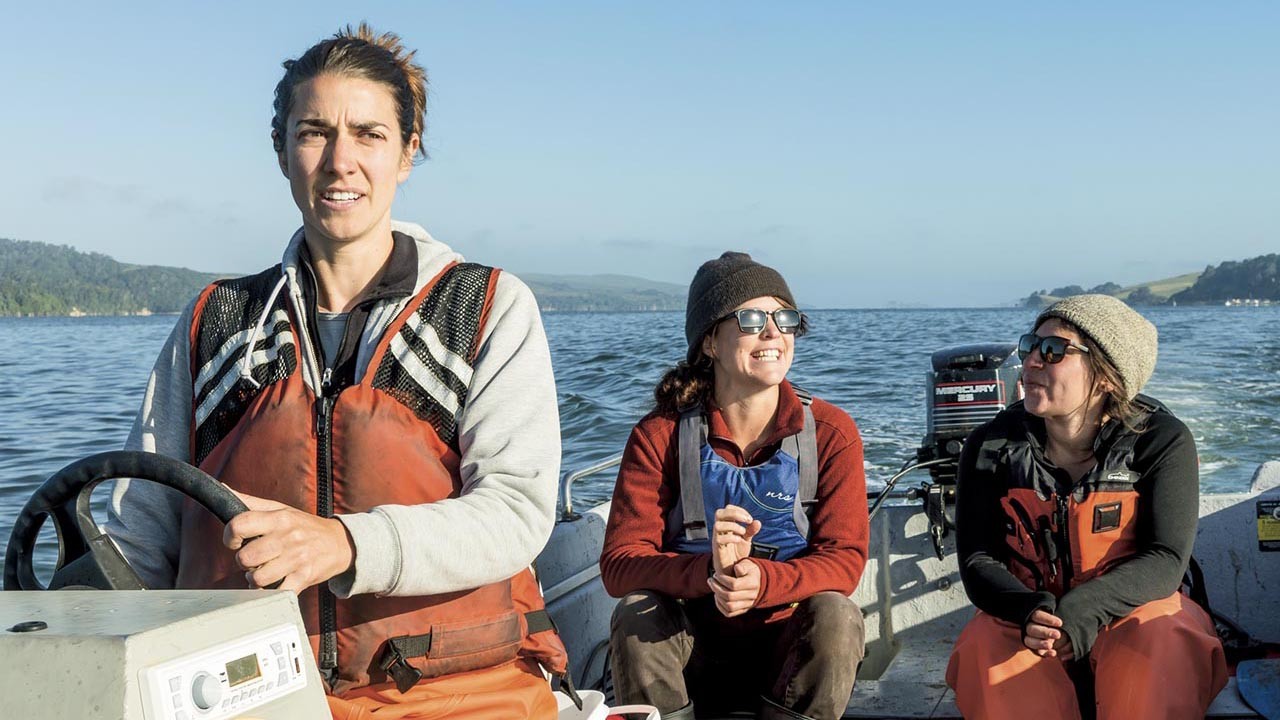 It's easy to find fresh, local produce in the Bay Area. But seaweed? That was largely a different story, up until Salt Point Seaweed came along in June 2017.
The Oakland company was founded by three Bay Area women: Tessa Emmer, Catherine O'Hare, and Avery Resor. According to Salt Point Seaweed, over 90 percent of seaweed eaten in the United States is imported from Asia — often from commercial seaweed farms. But importing seaweed across the ocean produces a big carbon footprint, so the women of Salt Point Seaweed decided to harvest and sell local seaweed to help offset that.
The three founders of Salt Point Seaweed currently harvest all their seaweed themselves from Mendocino County. The company offers three varieties: California kombu and California wakame (both of which are kelps, or brown seaweed) and nori. The seaweed is similar, but not quite identical, to the varieties that are imported from China, Korea, or Japan. "They're technically different species, but because they're both Pacific Ocean algaes, they're very similar in taste and use," O'Hare said.
The company is sustainability-minded, so the women are also careful about the way they harvest their seaweed. They prune the seaweed, allowing it to regrow and regenerate instead of harvesting the whole thing. They also won't touch species like giant kelp, which are in decline. "We're always adapting our harvesting techniques and monitoring how we're harvesting," O'Hare said. "Because of how fast growing seaweed is, it can be harvested — if it's done right — in a really sustainable way."
Eventually, Salt Point Seaweed also hopes to sell locally farmed seaweed, which would make it one of the first places in the country to do so. The company is currently wrapping up a pilot project with Hog Island Oyster Company, where it grew its own seaweed and monitored the resulting carbon and nitrogen levels in the water. "We're hoping to show those numbers to regulatory agencies like Fish and Wildlife and the Coastal Commision to help make the case that seaweed farming can be done with a really low impact and actually help improve the ecosystem," O'Hare said.
But O'Hare said the road to starting a seaweed farm is long and arduous, thanks to the regulatory processes required to get an aquaculture license. In the meantime, Salt Point Seaweed is focusing on expanding its line of seaweed products. The current lineup includes dried kombu and dried wakame for cooking, as well as toasted and ground seaweed flakes for garnishing. For those who don't cook with seaweed or want to take their seaweed to go, the company also recently released a ready-to-eat product called Surf Snack. It's a savory-sweet snack made with a mixture of California wakame and California nori, organic maple syrup, organic toasted sesame oil, and a blend of organic seeds including sesame seeds, pumpkin seeds, sunflower seeds, and more. The company recently launched a Kickstarter campaign to raise funds for equipment to produce Surf Snack more efficiently, and the campaign has already raised over $30,000.
You can find Salt Point Seaweed's products in East Bay stores including Preserved, Cro Cafe, Oaktown Spice Shop's Oakland location, and Third Culture Bakery's Berkeley showroom. You'll also find people cooking with Salt Point Seaweed's products at Gather, Good to Eat Dumplings, Abrothacary, and Broth Baby.