Oakland neo-soul group Ghost & the City is given to unbridled improvisation, but its tracks often find their way back from off-the-cuff instrumentation to cohesive grooves. Throughout its recent releases, the band generously shows off its virtuosic abilities: Astral keys twinkle and rollicking drums thunder; trombones, trumpets, and saxophones frolic throughout. Singer Kia Fay anchors Ghost & the City's compositions with her buttery vocals, and the group's hooky lyrics lend a familiar pop structure to its unabashedly playful tracks.
Ash Maynor, a multi-instrumentalist and Ghost & the City's chief songwriter, said in an interview that the project began as a loose collaboration with various musicians rather than a band with a clearly defined lineup. He started Ghost & the City after his indie pop group, Push to Talk, broke up in the late Aughts. Around that time, Maynor found himself with several unfinished song ideas and no ensemble. He originally envisioned Ghost & the City as a studio project. Well versed in guitar, bass, keyboards, and synth, he played many of the instruments himself on its first tracks and invited other musicians to record what he couldn't accomplish alone.
"The first things we did — which were significantly different from what we do now — were done without us ever playing live or rehearsing or anything," he explained. "It was literally built in the studio."
Ghost & the City became a way for Maynor to channel his various musical inclinations into one body of work. While previously he had played guitar in several rock bands, he also has long been immersed in the local jazz scene and is currently the marketing director at Yoshi's jazz club in Oakland. ("I'm around that world all day long so it kind of just comes out when we're playing.") He is also a longtime trip-hop fan who models his approach to making music after that of the British producer Tricky, an auteur who positions himself as a behind-the-scenes architect rather than the face of his sound.
As Ghost & the City's music grew in popularity, Maynor recruited a more permanent cast of collaborators who now make up his live band — though, depending on the context, Ghost & the City might perform as anything from a duo to a sextet. He, Fay, and drummer Justin Silva are the core members of the group, although they frequently collaborate with keyboardist Molly Smart, trombone and trumpet player Liam Staskawicz, and tenor sax player Jesse Boley. The band's dynamic live ensemble has helped it gain notoriety in the local music scene, and as a result, Ghost & the City has opened for well-known, touring-jazz-soul-hip-hop crossover acts such as The Internet (an off shoot of the hip-hop collective Odd Future) and Shabazz Palaces.
Fay became visibly flustered when she recalled opening for The Internet's recent, sold-out show at The Catalyst in Santa Cruz. "If I can rap in front of members of Odd Future, I'm okay," she giggled, describing how nervous she felt debuting Ghost & the City's unreleased track, "Mosaic," on stage.
Maynor and Fay met serendipitously several years ago when Fay's previous band, Parentz, rehearsed across the hall from Ghost & the City's practice space in Oakland's Jack London district. Fay and Maynor became fast friends, and Maynor asked Fay to join the band after she volunteered to sing a cover of Michael Jackson's "Thriller" with him at a Halloween show.
"The confidence with which this girl said, 'Yeah, I can sing Michael Jackson's 'Thriller,"" Maynor reminisced, trailing off.
Fay quipped, "I used to have the Making of 'Thriller' tape on VHS that I used to watch a lot as a kid, so maybe that was where the confidence came from."
Maynor had collaborated with other vocalists for Ghost & the City, but hadn't found one that stuck around before Fay. While its previous EP, (Tet) Sessions, reflects the band's jazz and Motown beginnings, its forthcoming release, Patchwork Soul — which drops January 15, 2016 — reins in the elaborate instrumentation in favor of more structured pop compositions.
"Steady Trippin," the first single Ghost & the City released off of Patchwork Soul, is rhythmic and percussive, with Fay's rich voice pirouetting over a staccato drum beat. As atmospheric keyboard phrases flesh out the prominent percussion, Staskawicz' guttural trombone deviates from the smooth brass section, launching into several solos that sometimes coincide with Fay's singing without ever overpowering her voice.
It might come as a surprise to listeners that Maynor pens the majority of Ghost & the City's lyrics even though Fay is the lead vocalist. He admitted that although his lyrics are deeply personal, he prefers Fay's delivery. "A lot of the time I'm thinking about how this girl is gonna sing it and how she's gonna sell it," he said of his songwriting process. "And a lot of the time she can sell it better than my little voice can do." Still, Patchwork Soul has several tracks that feature Maynor's singing, and his tense, suspenseful cadence adds a dark quality that's sometimes missing in Fay's jazzier style.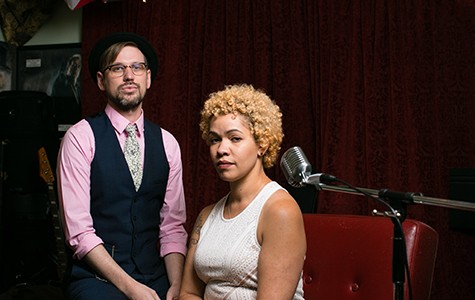 Most of the time, Maynor explained, he and Fay have an ongoing text message exchange while he pens her verses in which they send each other music and life updates. They agreed that, as a result, the lyrics Maynor comes up with often reflect both of their experiences. In the studio, Fay adjusts the verses to different vocal arrangements and makes them stylistically her own.
"Sometimes I'll be writing stuff and I don't need to explain to Kia where I'm coming from because she knows," said Maynor.
"It's my brother writing for me to so it makes sense, I guess," Fay elaborated. "Now, it feels like I have a sense of agency and I've been part of it for long enough that, even if he's written it, he's been talking to me or texting me the entire time he's writing about it. … Our brains are on the mind-fi."
Correction: A previous version of this article stated that Ghost & the City opened for The Internet at the New Parish in Oakland when it was actually at The Catalyst in Santa Cruz.